Recruitment Services Remote Assistant
Let us help you find the perfect recruitment services remote assistant for your needs.
Hire a Remote Assistant | 20four7VA Recruitment Services
Today's fast-paced world requires so much from company leaders and individuals alike. To stay competitive, companies and professionals need to find ways to be more productive, stay financially healthy, and still have time to enjoy life. One way to accomplish this is by hiring a remote assistant through outsourced recruitment services.
What is a Remote Assistant?
A remote assistant is a professional who offers administrative, organizational, and other support services to businesses and individuals. They provide their services virtually, meaning they have their own resources and tools to help clients achieve their goals.
Why Work with a Remote Assistant?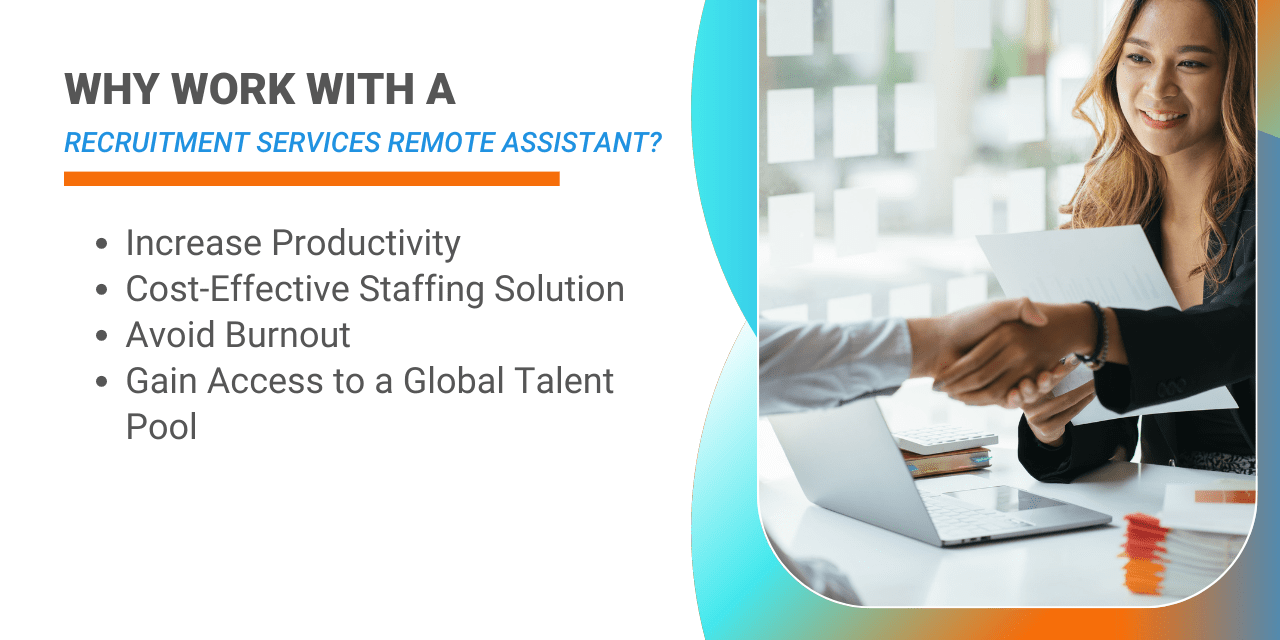 Companies across various industries can benefit from working with remote professionals. Working with remote talents is a great opportunity for employers. You can get the best remote assistant to achieve your business goals when you work with an agency with an effective recruitment process. They can help you improve business productivity, save money, and avoid burnout.
Increase Productivity
A remote assistant can take over important, time-consuming routine tasks so you don't have to. Instead, you can use the time and energy you save to focus on core responsibilities that demand your attention. When you hire a remote talent, you can check off more tasks on your to-do list and become more productive.
Cost-Effective Staffing Solution
Hiring a remote assistant is your best bet if you want to achieve business success cost-effectively and efficiently. Remote talent can do what in-office employees can, but at a fraction of the price.
Hiring a remote assistant can help reduce some of the organization's overhead costs, like salary and benefits. Remote employees provide their services using their own resources (i.e., computer or laptop, a stable internet connection, workspace). This means you don't need to worry about transportation allowances, office space, supplies, and other costs related to hiring an in-house and on-site employee.
Avoid Burnout
Keeping employees healthy and fulfilled is essential for more sustainable and attainable business success. If you want to help yourself and the rest of your team avoid burnout, consider getting support from a remote assistant.
Hiring remote talent can help improve the overall employee experience. Yes, on the surface, a remote talent will support you in getting more tasks done. But hiring them can create a more sustainable and healthy work environment, promoting better work-life balance.
Gain Access to a Global Talent Pool
Remote staffing allows you to get the top candidates for the position regardless of their nationality or country. Hiring remote talents means you can focus on their capabilities and skills more than their geographical location.
Hiring more global talents also increases your team's diversity and inclusiveness. These factors can benefit your business as a more diverse team can deliver better results. Additionally, employers that value DEI (diversity, equity, and inclusion) are more likely to attract more top talent in the future.
Tasks a Remote Assistant Can Do
The final remote assistant's job description (JD) will ultimately depend on the unique needs of your company or business. A JD will look different for every industry, organization, and requirement. This is why you need to be specific with the tasks you need.
To help kickstart your JD creation process, here are the most common tasks remote assistants can do for you:
Administrative Tasks
Email Management

Scheduling Bill Payments

File Management

Internet Research

Personal Assistance

Event Coordination

Calendar Management

Travel Planning

Other

Administrative Assistant

Tasks
Business Support
Lead Generation

and Management

Email Support

CRM Data Management

Operations Management

Report Generation

Project Management

Lead Nurturing

Appointment Setting

Onboarding Assistance

Timesheet & Payroll Processing

Market Research     

Customer Support

Process Documentation

Business Communication

And More Backend

Business Support Tasks
Marketing
Social Media Management

Public Relations

Email Marketing

Customer Engagement

Content Writing

Influencer Marketing

Video Editing

Scriptwriting & Copywriting

And Other

Marketing-related Jobs
Technical Support
Search Engine Optimization

Paid Ads Management

Business Tools & Systems Setup

Systems Integration & Automation

Data Analysis (Web Analytics)

Tech Stack Research

Online Events Management

Data Analytics & Report Generation

And More

Technical Support

Tasks
And Much More!
As you can see, remote assistants can work on a broad range of tasks. Once you've completed the job description, you can decide on the essential remote assistant skills and capabilities you must look for. This way, you can hire the right candidates for the job.
Benefits of Hiring a Remote Assistant Through Outsourced Recruiting Services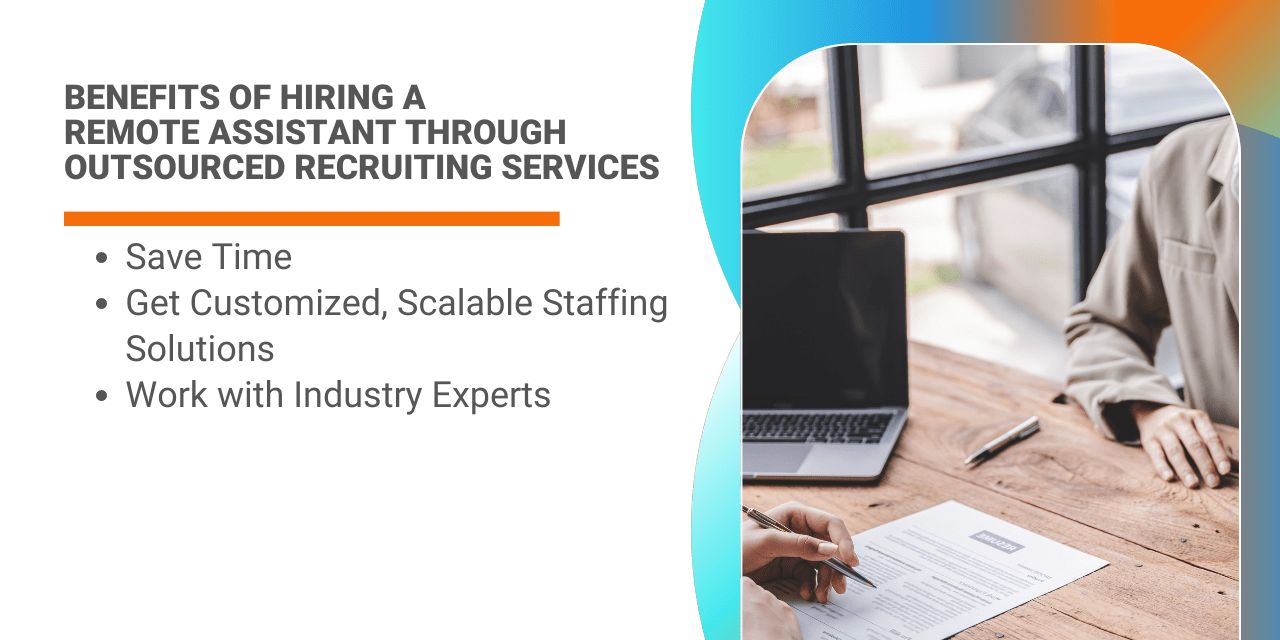 Hiring a remote assistant through a remote staffing agency is a great way to access top-notch talent from around the world. It also opens up your business to more benefits, including:
Save Time
The recruiting process requires time and energy. It can take you away from your core functions and high-level tasks. To help you save valuable time and energy, find a recruiting services partner that provides end-to-end solutions. They can help you with the complete talent acquisition process, from screening job candidates to conducting background checks. Additionally, an end-to-end recruiter services provider will assist you with more than just recruitment. They can handle your remote assistants' payroll processing, talent management, and training.
Get Customized, Scalable Staffing Solutions
The resumes of ideal candidates can look different for various employers, industries, and so on. The remote staffing solution that worked for other organizations may not work for you. This is why working with an experienced recruiting services agency that can customize and scale as needed is important.
The right recruitment outsourcing services partner will help you achieve success by providing the most apt remote staffing solutions. They will study your staffing concerns and needs to craft the remote assistant solutions you need.
Work with Industry Experts
Working with a professional recruiting services company for your hiring needs gives you peace of mind. The recruiting process requires talent acquisition experts. To hire the best candidates for the jobs, you need to work with the best recruiting professionals. Consider working with recruiters that are experienced in the remote staffing field.
Get Top Talent with 20four7VA's Recruiting Service
To help you get the top talent, you need to work with an experienced and multi-awarded remote staffing company like 20four7VA.
We've helped over 2,500 individuals and companies across various industries hire the best remote professional for the job. We aim to create a more diverse and inclusive remote workplace by providing rewarding career opportunities to talents worldwide.
The 20four7VA End-to-End Remote Staffing Services
We go beyond recruitment service; we can help you make working with a remote assistant that much easier. From payroll processing to performance management, we've got you covered.
All 20four7VA clients can access our end-to-end solutions, which include:
Free Client-Virtual Assistant Pairing Service
We can match you with the top talent for the job for free. Based on the consultation call, we'll craft the most suitable remote staffing solution for your needs. From there, we'll scour our talent pool of pre-vetted remote assistants to find qualified candidates. The top candidates will be chosen based on the approved job descriptions, which include the required skills and candidate experience. 
HR Support Services
Our services go beyond talent acquisition. We offer a complete approach to remote staffing. By recruiting a remote assistant through 20four7VA, you also get support from our HR team. We'll handle backend tasks like timekeeping and payroll processing, so you don't have to. Instead, you can focus on other more critical and high-level responsibilities.
Dedicated Client Support
All 20four7VA customers are assigned an account manager to handle concerns promptly and effectively. Account managers will also manage remote assistants. They provide guidance, review performance, and address remote assistant concerns.
In-house Training
Of course, hiring the right candidates is important. But organizations and the business landscape are continuously evolving. This calls for the need for continuous learning and improvement. 20four7VA offers in-house training and upskilling to all remote assistants. We encourage our remote talents to grow and enhance their skills for their career and your organization's benefit.
IT Helpdesk
We'll still extend our support even after filling in the open remote assistant positions. You and your assistant will have access to our IT Helpdesk team. Our IT experts will help you troubleshoot your tech concerns.
And much more!
Ready to work with a Remote Assistant to achieve success? Let 20four7VA help you with remote talent acquisition and management. Schedule a free consultation with our Growth Experts today!
Ready to find a Recruitment Services Remote Assistant?