Real Estate Transaction Coordinator
Hire a Real Estate Transaction Coordinator and see your business grow!
HIRE A REAL ESTATE TRANSACTION COORDINATOR
If you're unfamiliar with the real estate agency, you'd think that closing a deal is like it is in the movies. A real estate agent shows home buyers around a property, and a few minutes later, the real estate agent puts up a big red "SOLD" sign by the mailbox. Just like what they've done for most jobs, Hollywood has oversimplified the work of real estate agents. Every licensed real estate agent knows that many real estate transactions happen behind the scenes before they finally consider a deal as closed. And to help them close more deals, an agent can greatly benefit from hiring a real estate transaction coordinator.
WHAT IS A REAL ESTATE TRANSACTION COORDINATOR?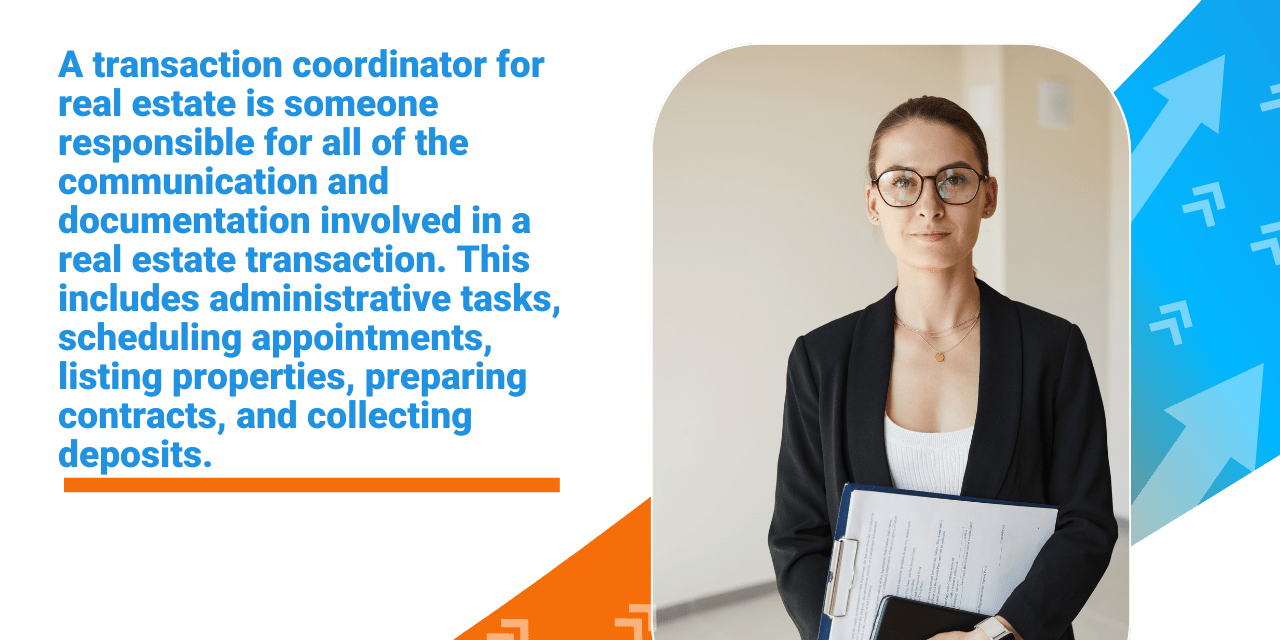 A transaction coordinator for real estate is someone responsible for all of the communication and documentation involved in a real estate transaction. This includes administrative tasks, scheduling appointments, listing properties, preparing contracts, and collecting deposits. To put it simply, a real estate transaction coordinator is an individual that can help ensure a real estate deal pushes through.
KEY BENEFITS OF HIRING A VIRTUAL REAL ESTATE TRANSACTION COORDINATOR
Hiring a real estate transaction coordinator is a great move if you're a real estate office that needs transaction management support. You can hire an in-office employee, but hiring a virtual transaction coordinator allows you to enjoy having transaction coordinator tasks done without worrying about bloating your labor costs.
COST-EFFICIENT STAFFING SOLUTION
Real estate agents know they need help with all the time-consuming real estate transactions, but they're also worried about the labor cost of hiring someone to help them. A great solution is to hire a virtual real estate transaction coordinator instead of someone who'll be physically assigned to the real estate office. Since the virtual assistants will execute the transaction coordination remotely, real estate businesses won't have to worry about the added costs usually tied with hiring a new employee, such as new office equipment, tools, and office supplies.
BETTER TIME MANAGEMENT
Transaction coordination activities may seem routine and simple, but they are deceptively time-consuming. These tasks can take up a lot of an agent's day. A virtual transaction coordinator helps free up more time so real estate professionals can do more of their core functions, such as creating a sales pipeline strategy, conducting open houses, and closing deals.
IMPROVED PRODUCTIVITY
By hiring a virtual transaction coordinator, real estate companies can allow themselves to become more productive. The real estate transaction process can take a lot of time and energy. Real estate agents are now more free to focus on more impactful, revenue-generating work by hiring real estate transaction coordinators to take over even the simplest administrative tasks.
TASKS THAT YOU CAN DELEGATE TO A VIRTUAL REAL ESTATE TRANSACTION COORDINATOR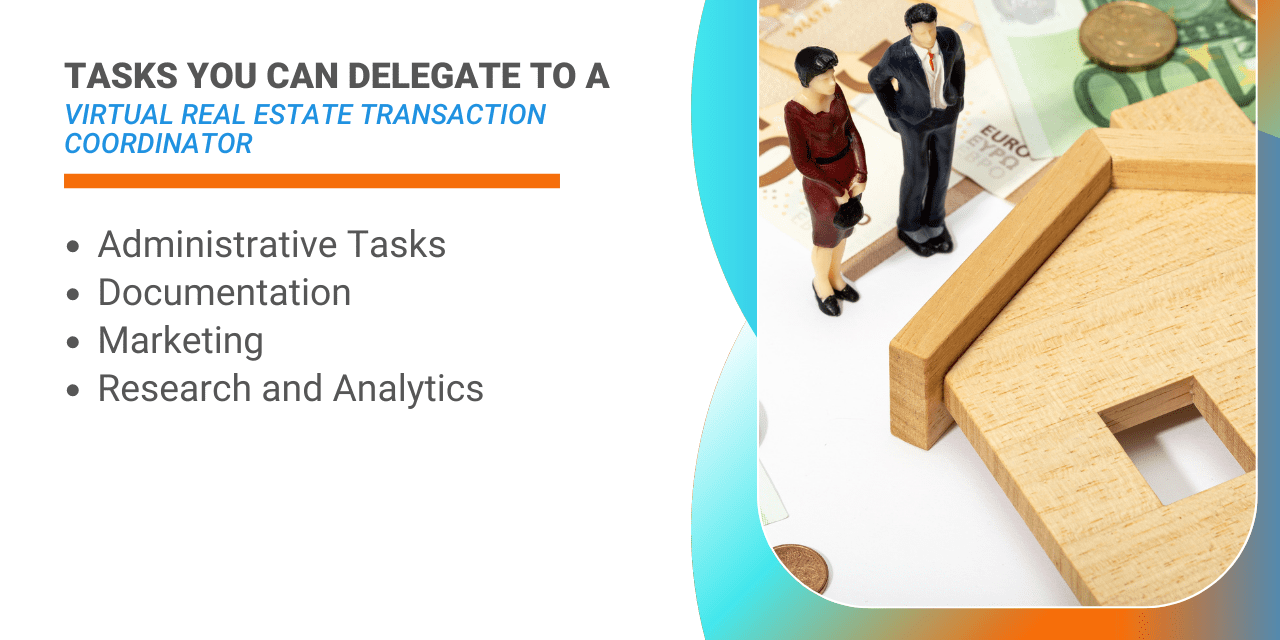 Transaction coordination is made up of a wide variety of tasks covering administrative support to contractual compliance activities. Hiring a transaction coordinator allows you to delegate tasks such as:
ADMINISTRATIVE TASKS
Updating the client database system

Scheduling meetings with home buyers and sellers

Generating client information and feedback

Act as initial contact for potential clients (through phone calls or email management)

Updating of transaction management systems

and other administrative duties
DOCUMENTATION
Drafting of a listing agreement

Proofread and manage contracts

Documentation needed for real estate license renewal

Ensuring file compliance for transactions like a mortgage loan, opening an escrow, etc.

Other support needed for any real estate transaction process
MARKETING
Managing social media platforms

Updating of each online property profile

Creating collateral for marketing activities like flyers, posters, ads, etc.

And other marketing support
RESEARCH AND ANALYTICS
Market analysis

Monthly or quarterly sales volume reports

Competitive research

Research updates on real estate law and best practices

And more
The above are just a few examples of what virtual transaction coordinators can do. But in reality, they can do much more as long as they're trained and managed well.
ESSENTIAL SKILLS TO LOOK FOR IN A VIRTUAL REALTOR TRANSACTION COORDINATOR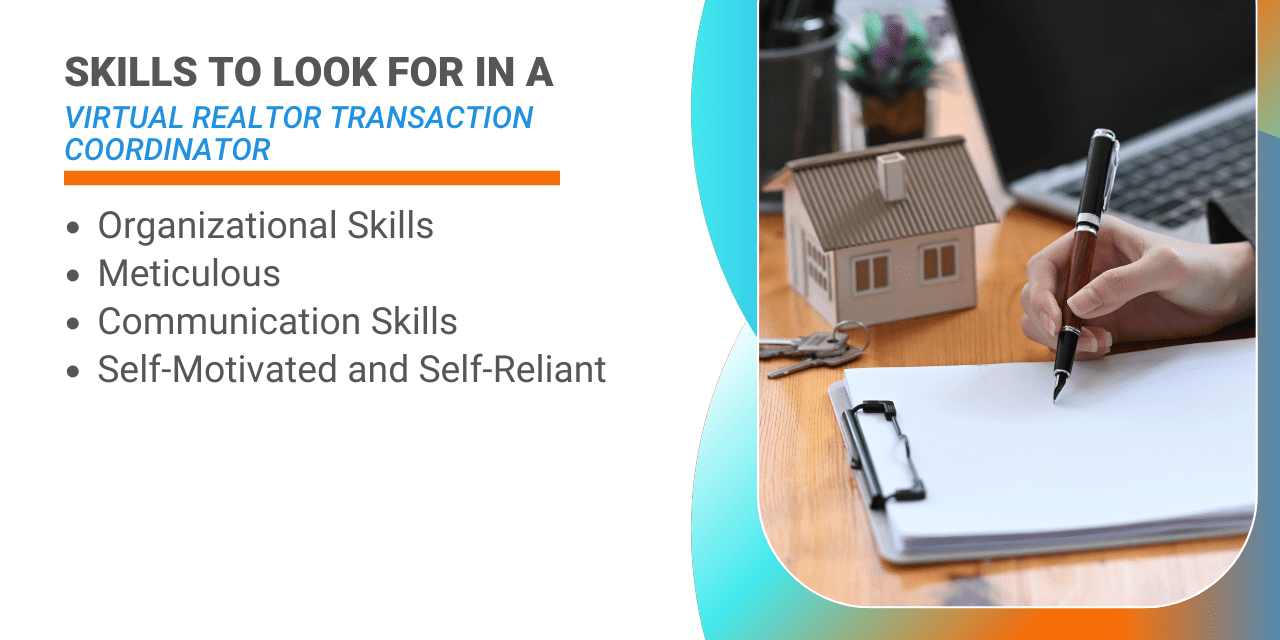 ORGANIZATIONAL SKILLS
When sourcing transaction coordinators, look for remote talents that exhibit great organizational skills. They will need it for many tasks, including updating the client database and managing files. A virtual transaction coordinator may deal with multiple agents and clients at any given time, so they must not be easily rattled and know where to find needed client information or file when asked.
METICULOUS
Transaction management requires someone who is thorough or has great attention to detail. This soft skill is important, especially when reviewing a document. Transaction coordinators must do their due diligence and check it, from the headlines to the fine print.
COMMUNICATION SKILLS
A great transaction coordinator can clearly and effectively communicate with all the parties involved. Getting the point across professionally and helpfully can help create a better client experience. Whether coordinating buyer or seller transactions, a remote talent with excellent communication skills can ensure that nothing gets lost in translation.
SELF-MOTIVATED AND SELF-RELIANT
Being self-motivated is essential to becoming a successful transaction coordinator and a remote worker. Since virtual transaction coordinators will be doing their tasks with minimal supervision, it is mostly up to them to ensure they get the job done. You'll need a driven transaction coordinator if you want someone who will positively impact your real estate business.
HIRING A REAL ESTATE TRANSACTION COORDINATOR
You have two options when you're ready to hire a transaction coordinator to help with your buyer and seller transactions. You can find one by doing the whole recruitment process on your own by crafting a job description or ad, posting the ad on remote career websites, reviewing applications, doing background checks on each transaction coordinator candidate, and scheduling interviews.
Or you can go with the more convenient, cost-effective route, partnering with 20four7VA.
WORK WITH A TRUSTED REMOTE STAFFING AGENCY LIKE 20FOUR7VA
Save even more time and resources by letting 20four7VA help you find the real estate transaction coordinator you need.
1. FILL OUT THE CONSULTATION FORM
Fill out the consultation form, so we can set up a call to get to know your company and staffing needs a bit more.
2. SOURCING YOUR VA
We will search our database of thoroughly-vetted virtual assistants that match your approved virtual transaction coordinator job description.
3. SCHEDULE INTERVIEW AND TEST TASKS
We'll schedule candidate interviews and administer test tasks to help you see which of the shortlisted transaction coordinator candidates is the best fit for your real estate business needs.
4. CHOOSE YOUR VA AND SUBSCRIPTION
Once you've chosen the best out of the best transaction coordinators, we will then set up your VA subscription.
5. IT'S TIME TO WORK WITH YOUR NEW REAL ESTATE TRANSACTION COORDINATOR VA!
We'll also assist with onboarding and training your new virtual transaction coordinator so that they can provide the best service for your real estate business.
Don't waste the opportunity to improve your business performance and be a real estate industry leader. Schedule a free consultation with our Growth Experts and find the right real estate transaction coordinator for you!
Ready to find a Real Estate Transaction Coordinator Virtual Assistant Assistant?