Quickbooks Virtual Assistant
Hire a Quickbooks virtual assistant and see your business grow!
HIRE A QUICKBOOKS VIRTUAL ASSISTANT
Are you a business owner looking to grow your company while managing your finances? Then a QuickBooks Virtual Assistant (VA) might just be what you need to help you do both without breaking the bank.
WHAT IS QUICKBOOKS?
There are many tools that can help small-to-medium-sized companies operate more effectively and efficiently; QuickBooks is one of them. QuickBooks is an accounting software businesses can use to stay on top of their financial transactions. The software has many helpful features, including:
Invoicing

Payment reminders

Expense tracking

Bank syncing

Inventory management

Financial reporting

And many more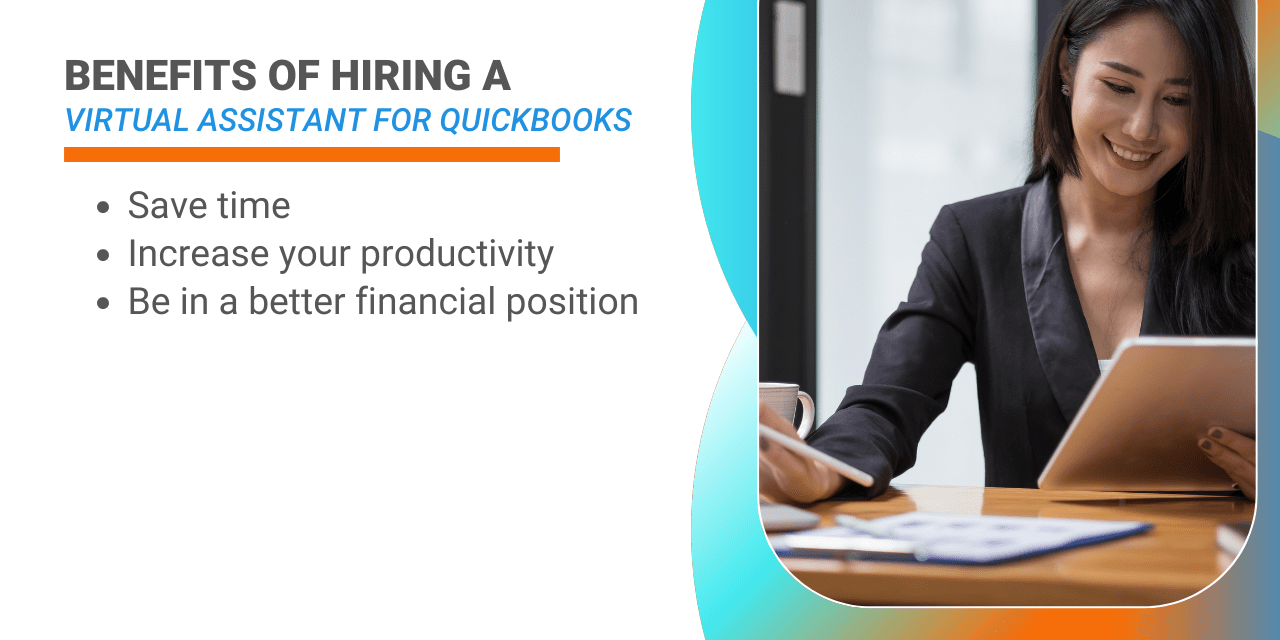 BENEFITS OF HIRING A VIRTUAL ASSISTANT FOR QUICKBOOKS
Hiring a virtual assistant (VA) to help you with accounting and bookkeeping doesn't mean you won't have any visibility of your business's financial position and day-to-day profit and loss reports. It simply allows you to have someone with the right expertise to manage the nitty-gritty of bookkeeping and accounting while supplying the important data you need to make responsible business decisions for your company.
SAVE TIME
Business owners wear many hats to help their companies thrive and grow, and many are involved in various business processes, from sales to marketing to operations. And when you add an accounting hat, it may be too much to carry for one person.
Using QuickBooks makes staying on top of the financial side of your business easier. However, you can't deny that accounting and bookkeeping duties demand so much of your time and attention. Hiring a virtual assistant to handle QuickBooks can help you reserve your valuable time and energy for only the most important tasks.
INCREASE YOUR PRODUCTIVITY
With one less hat to wear, you'll be able to focus on the other aspects of your job as a business owner or manager. By seeking help from a virtual assistant, QuickBooks will be the last thing on your mind. Having a VA on your team allows you to focus on value-adding tasks while worrying less about whether or not your finance books are updated.
BE IN A BETTER FINANCIAL POSITION
Hiring a VA with relevant experience can help you better oversee your accounts. You can ensure that you're getting paid by clients and suppliers on time. A VA can also help ensure that your expenses are well-organized well before tax season starts, saving you from the headache of cramming and potential penalties.
A virtual assistant is a great addition to your team as they can help you earn more (through timely invoicing and payment follow-ups) and avoid spending more than you need to (minimize potential penalties for late payments to vendors or late tax filing). Plus, hiring a VA is more cost-effective than getting an in-office bookkeeper, so you're also saving on labor and overhead expenses!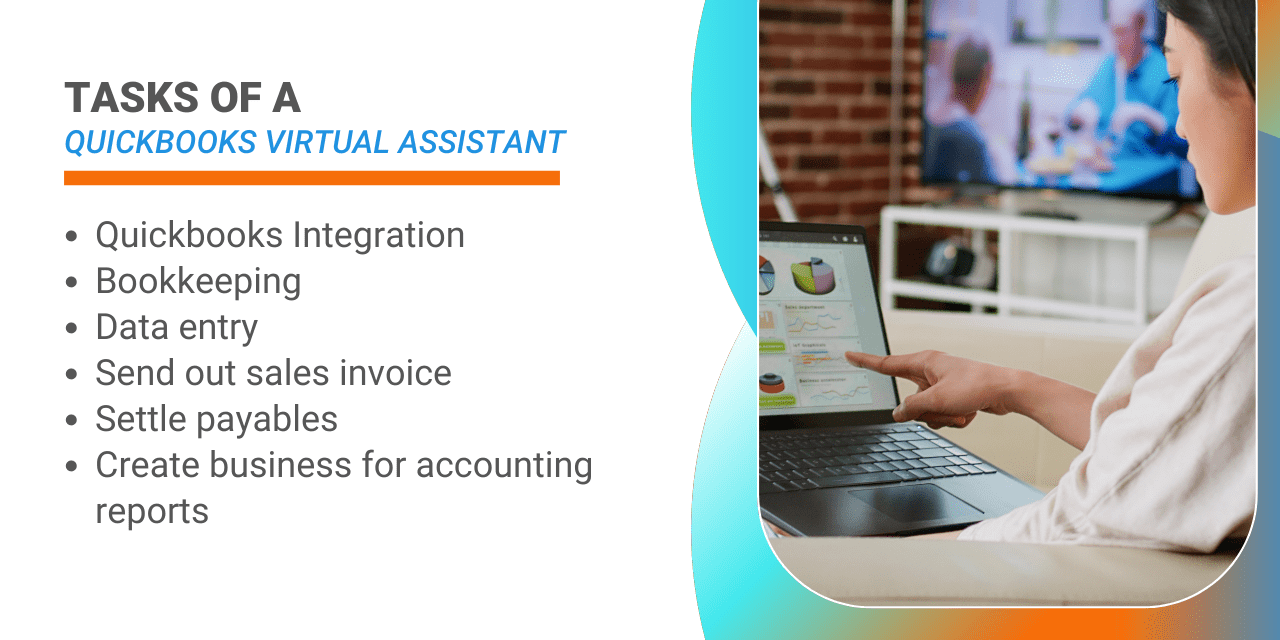 TASKS A VIRTUAL QUICKBOOKS ASSISTANT CAN DO
QUICKBOOKS INTEGRATION
If you're new to QuickBooks, your virtual assistant can help you set up your account. They can also assist with integrating your old bookkeeping methods, whether from Microsoft Excel or other accounting solutions.
BOOKKEEPING
Your virtual assistant can act as your bookkeeper or someone who keeps track of your company's financial transactions. Their duties can include recording sales, payables, receipts, etc. A VA can do all these tasks for you so you have an up-to-date and accurate view of your business's financial standing.
DATA ENTRY
Suppose your company uses a manual daybook format. In that case, a QuickBooks VA can also act as a data entry or administrative assistant and input the relevant data into the accounting software.
SEND OUT SALES INVOICE
A high volume of pending accounts receivables can be a thing of the past for your business. The most important step to ensure you're paid on time is to bill clients on time. Hiring a skilled VA for the job can help ensure invoices are sent out on time and follow-ups are scheduled.
SETTLE PAYABLES
As much as you would like to be paid for your products and services on time, you should also ensure that your business pays your vendors and employees promptly. A VA can help you schedule payments for expenses ranging from payroll to utility bills to contractors' billings.
CREATE BUSINESS OR ACCOUNTING REPORTS
As a business owner, you're still responsible for staying on top of your accounts. But hiring a skilled virtual assistant can help with the organization of the financial data and create reports that will give you a complete overview of where your business is at financially. These reports can also support you when making business decisions since these are derived from quantitative and objective information.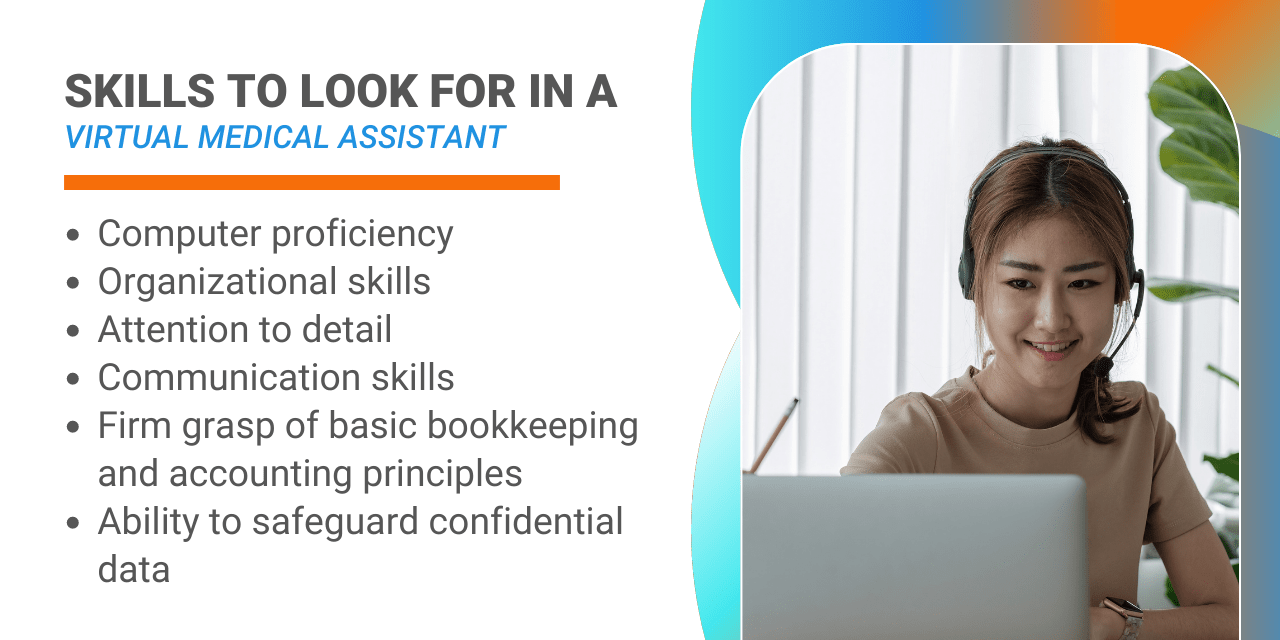 ESSENTIAL SKILLS VIRTUAL ASSISTANTS FOR QUICKBOOKS MUST HAVE
COMPUTER PROFICIENCY
A VA is an independent contractor that relies a lot on their laptop or desktop to fulfill their job responsibilities. They must be comfortable working online and familiar with basic tools such as Microsoft Office or Google Suite applications. QuickBooks VAs also need to know how the software works or can at least quickly pick up how to navigate it when training for the job.
ORGANIZATIONAL SKILLS
Being an accountant VA requires excellent organizational skills. Clients rely on their VA's support to keep their expenses and receivables complete and, more importantly, well-organized. Any misstep in filing projects or expenses can potentially start a domino effect, and a costly one at that.
ATTENTION TO DETAIL
Not only must VAs in this field be good at organization, but they should also have great attention to detail. Being focused and detail-oriented is crucial when dealing with numbers, especially for accountant jobs.
COMMUNICATION SKILLS
While being an accountant may not require as much communication as customer-facing jobs, communication skills are still important for virtual assistants in this field. Accountant VAs may need to contact their teammates via phone or email to clarify some entries in the daybook. Additionally, they will also need excellent written communication skills to ensure that the contents of their financial reports are easily digestible by end-users or decision-makers.
FIRM GRASP OF BASIC BOOKKEEPING AND ACCOUNTING PRINCIPLES
Hiring someone with a working knowledge of the software and general accounting principles can save you a lot of time. You can look for someone who has previously held bookkeeping jobs or a VA with relevant educational background or training in fields such as accounting, finance, or business administration. When you hire a VA with a firm grasp of their role, you won't need to provide such close supervision or extensive training.
ABILITY TO SAFEGUARD CONFIDENTIAL DATA
The specifics of your projects and financial data should be kept confidential by every member of your business, including the VA you hire. Make sure to hire someone that can help you safeguard your information.
HOW TO HIRE A QUICKBOOKS VIRTUAL ASSISTANT
There's no denying that hiring a virtual assistant will get you the support you need on the financial side of the business. But searching for the right person for the job can consume much of your time and energy. Why not work with a reputable remote staffing services company like 20four7VA?
20four7VA is an Inc. 5000 company with a decade of experience matching multiple companies and business owners with highly skilled remote talent. The company also provides complete remote staffing services, which include:
VA Recruitment and Screening

HR Services: Payroll Processing, In-house Training, etc.

Dedicated Customer Support and VA Management

Access to the 20four7VA IT Help Desk

And more
Keep your business financially healthy with a 20four7VA QuickBooks VA. Calendar a free consultation with us today!
Ready to find a Quickbooks Virtual Assistant?