Medical Virtual Assistant
Hire a medical virtual assistant and see your business grow!
BENEFITS OF GETTING MEDICAL VIRTUAL ASSISTANT SUPPORT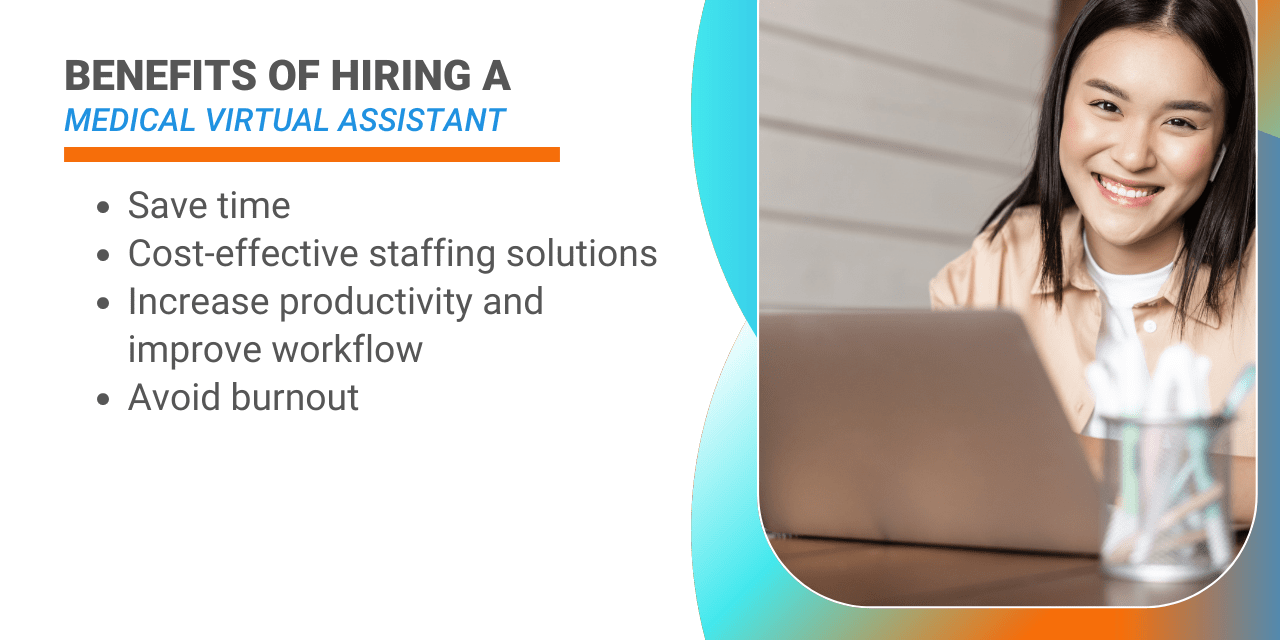 Whether you manage a general medical or healthcare facility, a dental practice, or a veterinary clinic, getting a skilled medical virtual assistant can help you handle back-office tasks, improve workflow, and promote better work-life balance for all members of your team, including doctors, registered nurses, etc.
SAVE TIME
As much as some medical professionals would want to handle all the tasks related to patient care, there isn't enough time in one day. Instead, they can delegate tasks that do not need their full attention to focus their time on treating patients or attend training and seminars to stay updated on the latest medical innovations. Healthcare virtual assistants can help your medical practices team save time and manage their work schedule better.
COST-EFFECTIVE STAFFING SOLUTION
Virtual assistants work remotely with their own tools and office setup. You don't have to worry about spending more on office equipment, supplies, and other related new hire costs. When you consider the savings on just the overhead costs, it's clear that remote staffing is a better solution for your medical assistant needs than hiring an onsite person for the job.
Additionally, working with a healthcare virtual assistant means you have access to a global pool of skilled workers. Some virtual medical assistants are even registered nurses or have worked in the healthcare sector in their home country. This means you can hire someone with a working knowledge of the healthcare field and the right training at a fraction of the cost of hiring someone to work onsite.
INCREASE PRODUCTIVITY AND IMPROVE WORKFLOW
With a medical virtual assistant, both your practice and your staff of medical professionals can improve productivity. Instead of staff doctors or other medical staff using their valuable time on monotonous tasks such as navigating your medical software or updating electronic medical records, they can focus on their core function: treating patients.
AVOID BURNOUT
Adding a virtual administrative medical assistant to your team can help take routine, time-consuming tasks off your plate. Your medical virtual assistant can also provide administrative support to the rest of your onsite team.
Medical professionals are already handling many tasks that consume their time and energy. And getting virtual assistants that can handle the back-end or administrative tasks can work wonders for the overall well-being of your staff.
TASKS A VIRTUAL MEDICAL OFFICE ASSISTANT CAN DO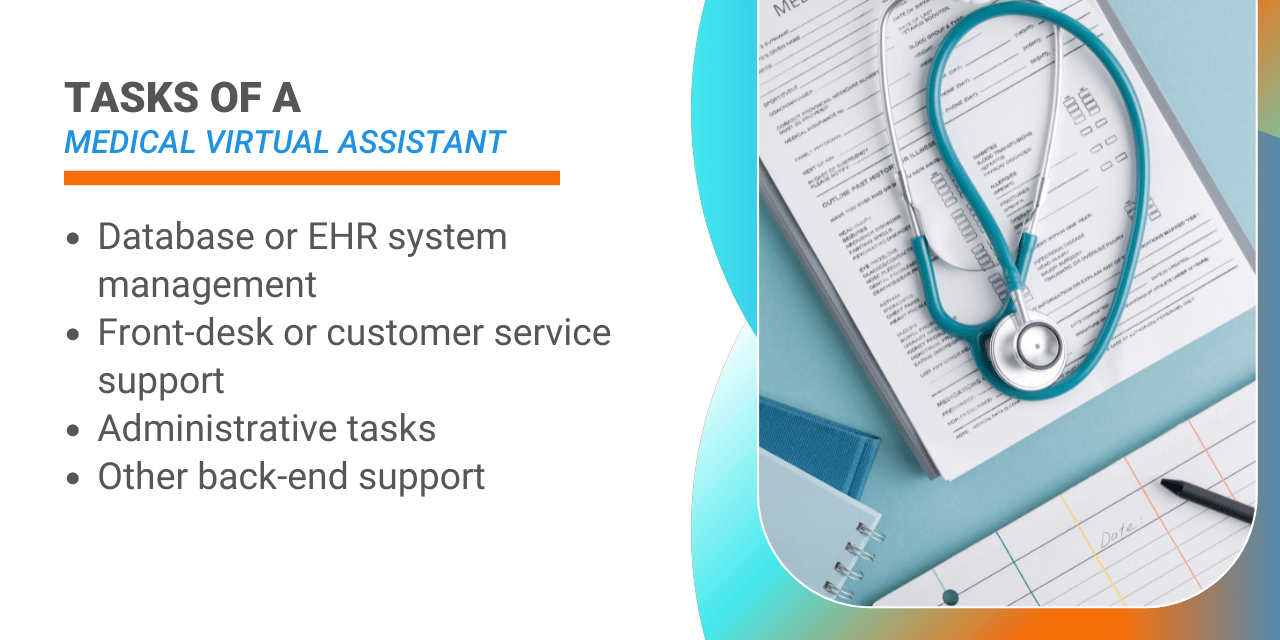 A healthcare virtual assistant can become a hugely valuable addition to your practice. They can help you save time by working on routine tasks. They can also help improve the overall productivity of your healthcare practice and provide initial assistance to your patients or clients.
DATABASE OR EHR SYSTEM MANAGEMENT
Transcription services

Entry of new patients' information (medical history, emergency contact details, etc.)

Updating of patient information

Checking of prescription refills
FRONT-DESK OR CUSTOMER SERVICE SUPPORT
Taking phone calls

Scheduling appointments

Confirmation of patient appointments

Patient follow-ups

Answer questions or general patient inquiries
ADMINISTRATIVE TASKS
Inventory management

Email management

Shift scheduling

File organization
OTHER BACK-END SUPPORT
Coordination with insurance providers

Updating of encrypted video conferencing software for teleconsultations

Medical billing updates

Cyber Security or IT support
These are just some tasks virtual medical assistants can work on. With the right training and coaching, your virtual assistant can help you with many tasks to ensure your practice is in a great position to help even more patients.
ESSENTIAL SKILLS  AND TRAITS TO LOOK FOR IN A VIRTUAL MEDICAL ASSISTANT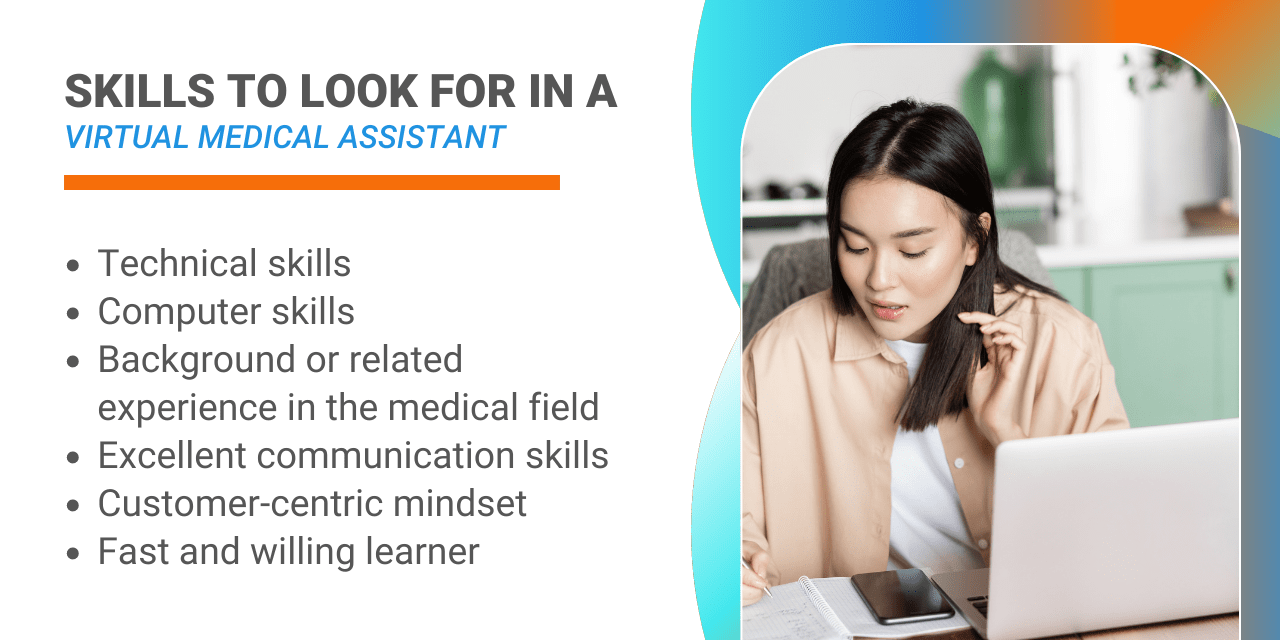 TECHNICAL SKILLS
COMPUTER SKILLS
Google and MS Office Suite proficiency should be a given for any virtual assistant, including a healthcare virtual assistant. Depending on the healthcare practice's data management system, a virtual assistant may need to undergo additional training to navigate the clients' preferred electronic health record (EHR) system or other patient appointment scheduling tools.
Additionally, healthcare VAs must have a good grasp of which communication apps to use and when. They are providing their services from a remote location, so they should be able to maximize the availability of various tools to make working with the onsite staff easier.
BACKGROUND OR RELATED EXPERIENCE IN THE MEDICAL FIELD
Adding someone with a working knowledge of medical terms and how healthcare services work is beneficial for a medical practice. They will still need to onboard and train their new virtual assistant so they'll be familiarized with the practice's specific workflow and systems, but the training will be relatively easier and quicker due to the virtual assistant's familiarity with the healthcare field. In no time, a virtual assistant with previous related experience can help provide support to patients.
SOFT SKILLS AND ATTITUDE
EXCELLENT COMMUNICATION SKILLS
A healthcare virtual assistant must have excellent communication skills. They need it with a wide group of people, from physicians, dentists, and other medical practitioners to patients and external partners such as insurance providers. A virtual assistant that knows how to handle difficult conversations with tact and grace can be a priceless asset to any clinic or healthcare practice.
CUSTOMER-CENTRIC MINDSET
Any healthcare appointment (general doctor, dental, etc.) can be stressful for patients. Practices should train all staff members to keep this in mind when interacting with patients. Staff must treat every patient with compassion and professionalism to keep tensions low and make the patient visit or teleconsultation as smooth and fuss-free as possible. The requirement to have a customer-centric mindset also applies to a healthcare virtual assistant. Even when their contact with a patient is purely digital, they can still help improve the patient's overall experience and the reputation of the healthcare practice.
FAST AND WILLING LEARNER
The healthcare industry is quite fast-paced, so healthcare providers and practices must continue learning to keep up with the developments. The same goes for a medical virtual assistant. The virtual assistant you hire must be open to learning and can pick up new systems or process updates easily so they can help you keep up (or stay ahead).
GETTING THE RIGHT VIRTUAL MEDICAL ASSISTANT SERVICES
HOW TO FIND YOUR VIRTUAL MEDICAL ASSISTANT
Once you've decided that you need a healthcare virtual assistant for your team, it's time to start your recruitment process. There are various ways to go about finding the right medical virtual assistant. You can cast a wide net and post your job ad on various career portals or research on job search platforms that will most likely have the type of remote talent you're looking for (e.g., those with relevant work experience, registered nurses, etc.). You will then need to screen every application. After screening, the next step is to interview the shortlisted candidates to find the right medical virtual assistant for you.
FINDING A MEDICAL VIRTUAL ASSISTANT WITH 20FOUR7VA
Getting the right medical virtual assistant services can take a lot of your time and energy. The best way to find the right remote talent is to work with an experienced and reputable remote staffing company such as 20four7VA.
20four7VA is an Inc. 5000 remote staffing company with a decade of experience creating the right client-virtual assistant match. Working with 20four7VA means having access to a virtual assistant pool that spans 58 countries and top-notch end-to-end virtual assistant services.
Ready to hire a medical virtual assistant for your practice? Let 20four7VA help you find the right remote talent. Schedule a free consultation today!
Ready to find a Medical Virtual Assistant?