Medical Transcriptionist
Ensure accurate patient records with a Medical Transcriptionist Virtual Assistant.
Hire a Medical Transcriptionist
Medical transcriptionists are vital in ensuring patients get the proper treatment and have accurate medical records. Patients may not be aware of it, but healthcare practitioners know that medical transcription is crucial in any medical office. Medical clinics, insurance providers, and other providers rely on patient records from medical transcripts. Transcribed documents include medical histories, consultation records, patient care instructions, and more.
What is a Medical Transcriptionist?
Medical transcriptionists listen to and transcribe audio recordings of medical reports and other health information from healthcare providers. The transcripts they produce are used in updating patients' electronic medical records. These records are used for various purposes, including ensuring that healthcare workers have accurate references for medical diagnoses and recommending medical procedures.
Why Hire a VA For Medical Transcription?
Hiring a virtual assistant (VA) for medical transcription is an excellent option for medical practices and other healthcare providers. Just like most data processing and clerical duties, medical transcription can be done remotely. Here are some reasons why hiring a virtual medical transcriptionist is an excellent move for you and your healthcare practice.
MAKE MORE TIME FOR PATIENTS
A healthcare provider or medical practitioner already has so much on their plate. It's impractical for them to spend their hours on medical transcription. Hiring virtual medical transcriptionists who know common medical terminology and relevant skills is a great choice. Doing so will allow you and your healthcare professionals to focus on helping more patients get the medical attention they need.
SAVE MONEY
Virtual staffing is a cost-effective solution for any healthcare institution. Physicians' offices, hospitals, and other healthcare centers can benefit from hiring top-quality talent while maintaining their operating budget. Virtual medical transcriptionists work from their side of the world using their own tools. That means all you need to worry about is paying for the hours logged by the virtual medical transcriptionist.
On the other hand, working with in-house medical transcriptionists means spending on various costs other than salaries. Practitioners like you will have to invest in their equipment, buy word processing software, and provide a new workstation for every in-house medical transcriptionist hired.
ACCURATE MEDICAL RECORDS
Medical and diagnostic laboratories can use speech recognition software for medical transcriptionist jobs. However, these programs are not 100% reliable. Human intervention is still required to ensure accuracy. Virtual medical transcriptionists can do what these programs promise to achieve. They can also review the documents produced by such software to identify critical differences or correct any irregularities.
REDUCE THE RISK OF BURNOUT
Due to the nature of their job, healthcare providers and medical practitioners are already working long hours. Taking off the essential but time-consuming task of transcribing and updating medical records off their to-do list can help in reducing the risk of burnout. It can also allow them to regain control of their time and energy. Instead, they can work on their medical specialties or take time for some well-deserved rest.
What Tasks Can Medical Transcriptionists Do?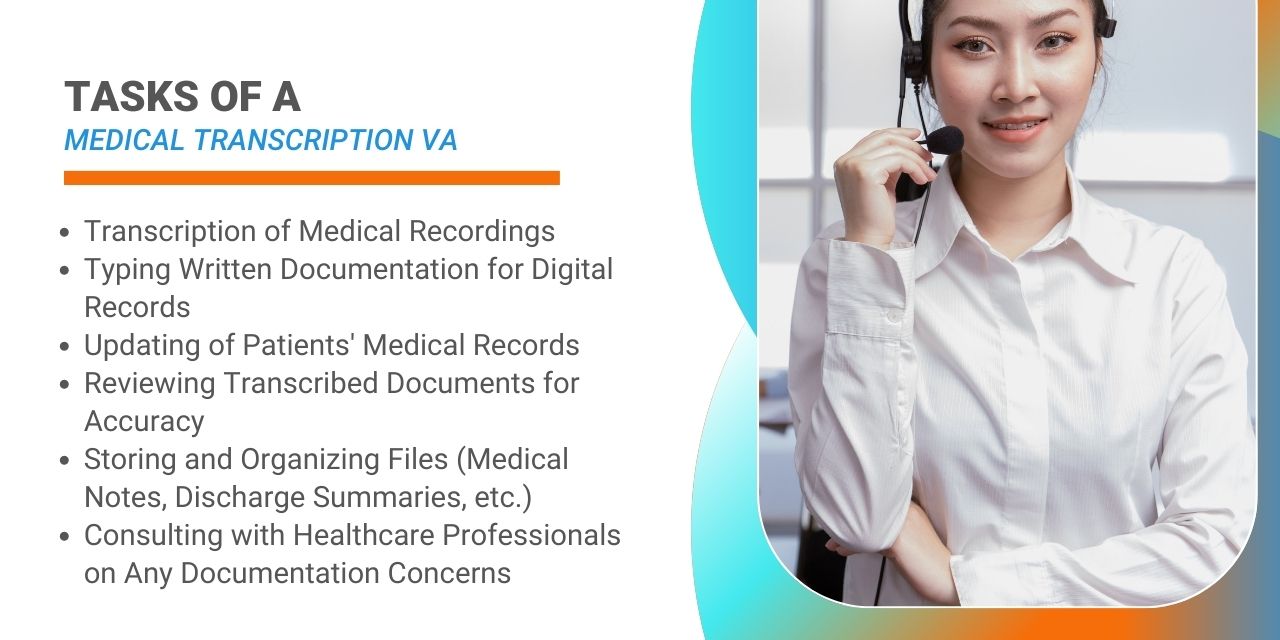 Virtual medical transcriptionists work on various medical documents and tasks, including:
Transcription of Medical Recordings
Typing Written Documentation for Digital Records
Updating of Patients' Medical Records
Reviewing Transcribed Documents for Accuracy
Storing and Organizing Files (Medical Notes, Discharge Summaries, etc.)
Consulting with Healthcare Professionals on Any Documentation Concerns
These are examples of the tasks a newbie or certified healthcare documentation specialist can handle for your practice. Delegating these tasks can free up more time for healthcare professionals like you.
Essential Skills and Qualities To Look For In a Virtual Medical Transcriptionist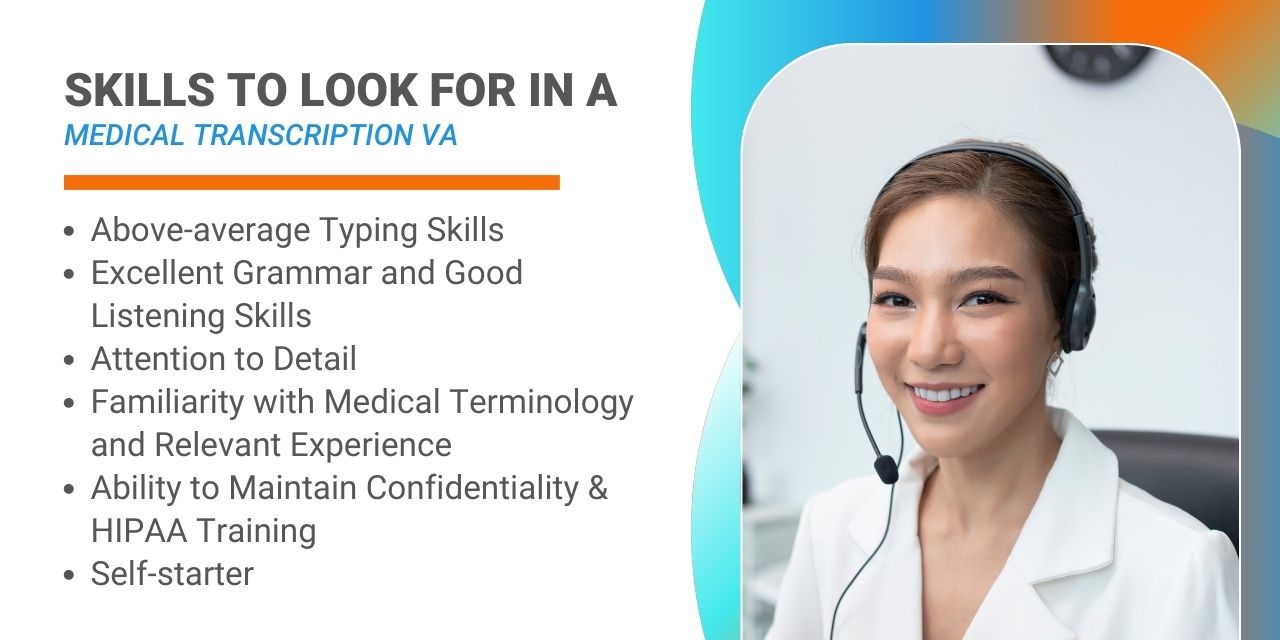 ABOVE-AVERAGE TYPING SKILLS
Typing speed and accuracy are inseparable requirements to look for in a medical records transcriptionist. Most medical transcriptionists have a typing speed of 65-75 words per minute. But they're expected not to sacrifice accuracy for quick turnover periods. Because of the nature of the information being recorded, the highest level of healthcare documentation integrity is expected from medical transcriptionists.
EXCELLENT GRAMMAR AND GOOD LISTENING SKILLS
Medical transcription is a task that requires good listening and grammar skills. Whether listening in real-time or to a recorded dictation, medical transcriptionists must have a good ear to catch even the most minor details. They must also have excellent grammar and spelling skills to avoid costly mistakes or confusion among those who will refer to the documents they've transcribed.
ATTENTION TO DETAIL
Critical thinking skills and attention to detail are required to maintain healthcare documentation integrity. Virtual medical transcriptionists are expected to not only type down what they hear. They should also make sure that they're checking their outputs for any inconsistencies and concerns. On top of simply typing down what they hear, the extra effort can help ensure the utmost accuracy of medical documents. This is extremely important since healthcare professionals, medical insurance providers, employers, and government agencies use these documents as references.
FAMILIARITY WITH MEDICAL TERMINOLOGY AND RELEVANT EXPERIENCE
Knowledge of medical terminology, as well as medical abbreviations, can make medical transcription that much easier. Depending on your practice's needs, you can look for a certified healthcare documentation specialist who has undergone medical transcriptionist training and a certification exam. Alternatively, you can also select a candidate with the basic skills (i.e., typing speed and accuracy) and train them to use your preferred medical transcriptionist program.
ABILITY TO MAINTAIN CONFIDENTIALITY & HIPAA TRAINING
Medical transcribing is more than just turning recordings or written notes into medical records. The task gives access to patients' confidential information. Because of this, you need to hire someone who can adhere to the patient confidentiality guidelines of your institution. They will help keep the integrity of the documents and maintain patients' trust. HIPAA training is also a huge plus.
SELF-STARTER
Working as a medical transcriptionist from home or remotely offers flexibility and cost-saving benefits to professionals. However, when hiring someone with this work arrangement, it's crucial to ensure that the person you're hiring is a self-starter. This means they will do their role as a medical transcriber promptly and professionally, even with minimal or no supervision. They also recognize that their role in the healthcare system is essential, and they can help save lives.
How To Hire Virtual Medical Transcriptionists
Finding medical transcription services will require time and energy. You will need to invest hours in the recruitment process. Aside from recruiting your certified medical transcriptionist, you will also need to invest in medical programs. These processes can take away more time from your core functions—treating patients. What is the best solution? Work with a reputable remote staffing services company like 20four7VA.
20four7VA is an Inc. 5000 company with a decade of experience matching clients with top-notch global remote talents. We can do the same for your practice! Whether you need entry-level medical transcriptionists or highly experienced medical language specialists, we can help you find the right healthcare documentation specialists. We offer top-notch, cost-effective remote staffing solutions. Our end-to-end services include:
Thorough 8-Step Vetting Process
HR Support (Timekeeping, Payroll Processing, etc.)
In-house VA Training
Virtual Assistant (VA) Management
IT Helpdesk
Dedicated Account Manager
And much more.
Let 20four7VA help you find the right virtual medical transcriptionist for your healthcare institution. Schedule a free consultation with us today!
Ready to find an Accounting Virtual Assistant?