Instagram Virtual Assistant
Hire an Instagram Virtual Assistant to help you grow your Instagram account.
According to Statista, there are currently over a billion Instagram (IG) users, and that number is forecasted to get even bigger in the coming years. The sheer volume and potential to reach their target market and engage with prospective clients make Instagram an enticing platform for businesses to include in their social media marketing strategy. But if you're too busy with daily operations and executive tasks or are not equipped with the right digital skills needed to manage your business' social media accounts, why not hire an Instagram Virtual Assistant (VA)?
What is an Instagram Virtual Assistant?
There are many types of virtual assistants with varying specialties. An Instagram Virtual Assistant (IG VA) is a remote worker specializing in helping businesses manage their account or accounts on the social media platform to market their products or services, engage with their followers, and build their brand.
How Hiring an Instagram Virtual Assistant Benefits Your Business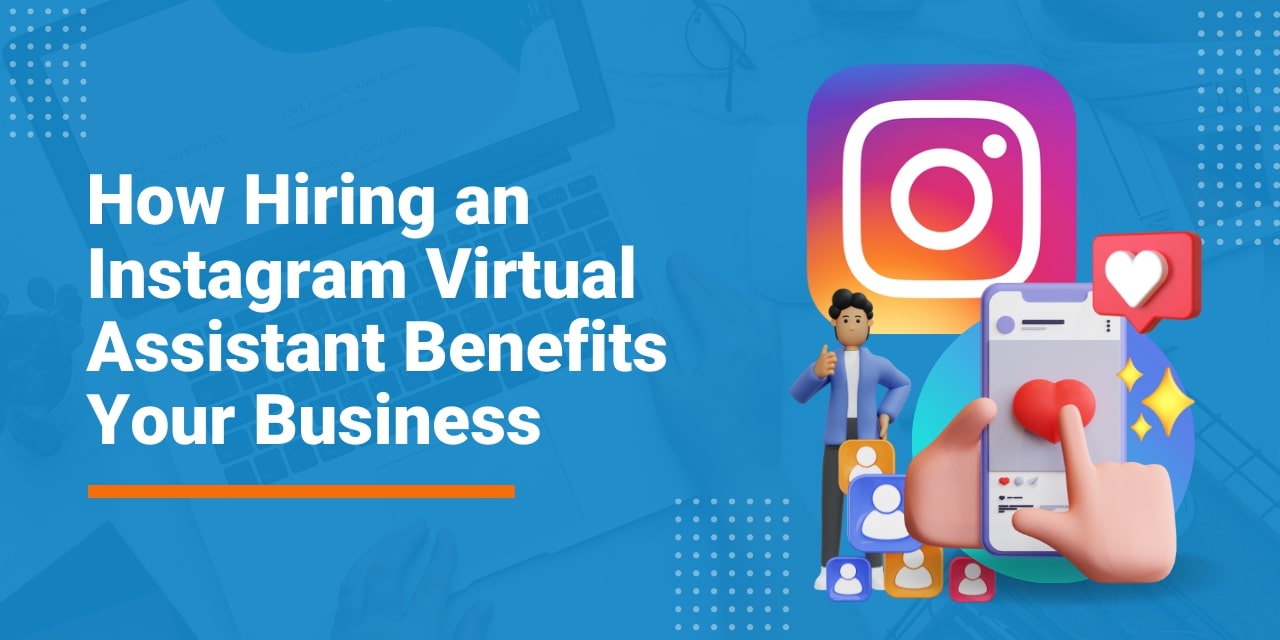 REACH MORE POTENTIAL CLIENTS WITHOUT BLOATING COSTS
Instagram is already a cost-effective platform for marketers. Just imagine the cost of marketing your new product digitally versus renting out an event space, hiring an events team, and other logistics costs. And add to that, hiring an Instagram virtual assistant is more cost-effective than hiring an in-office social media specialist to handle your account. You can save on various costs, from office tools to employee insurance.
Unlike an in-house or local Instagram specialist, Instagram virtual assistants already have a workspace, stable internet connection, and laptop. You just need to invest in proper onboarding, VA management, and access to your business's Instagram account.
DEVELOP A STRONGER ONLINE PRESENCE
Hiring an Instagram virtual assistant will help you build a stronger social media presence for your business. A strong presence on social media does not only mean more followers, likes, and comments; it can directly lead to increased sales, brand awareness, and credibility.
LEAVE SOCIAL MEDIA MARKETING TO THE EXPERTS SO YOU CAN HAVE MORE TIME FOR YOUR CORE FUNCTIONS
Even when you're hands-on with your own business, some tasks are best left to the experts. While you may be able to keep up with your personal Facebook or Instagram account, you may need more assistance managing your business' Instagram profile more closely. This way, you can have more time to focus on your daily operations and other executive functions.
Instagram Virtual Assistant Responsibilities: What Tasks Can You Delegate?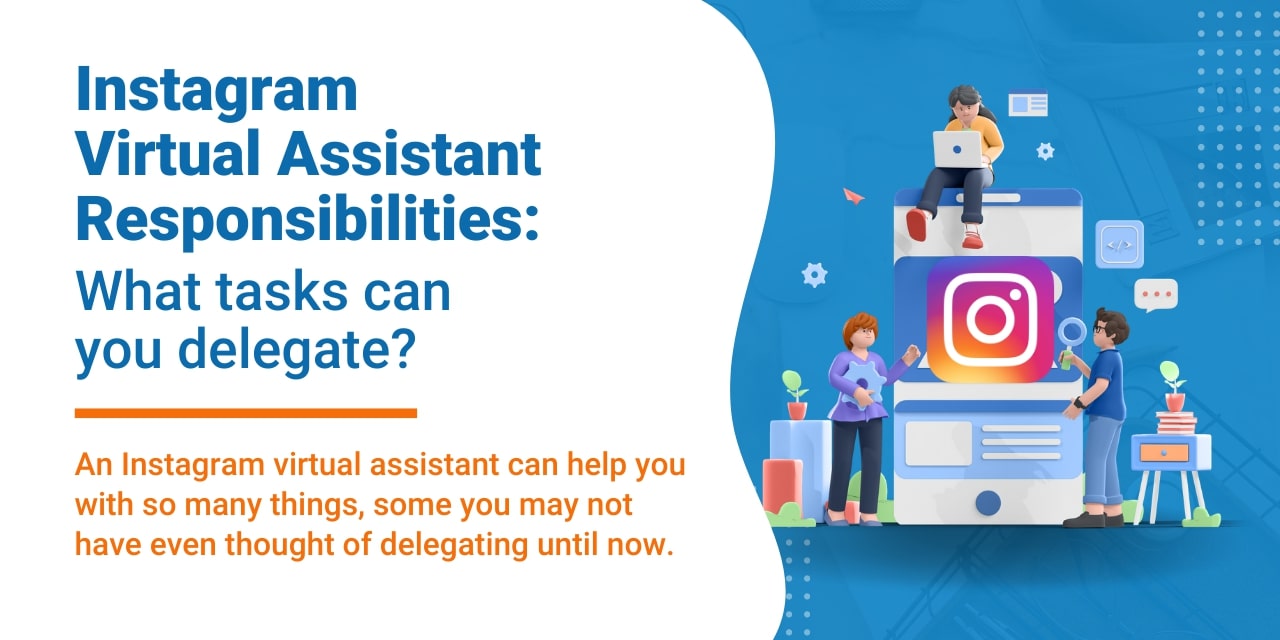 An Instagram virtual assistant can help you with so many things, some of which you may not have even considered delegating until now.
KEEP YOUR ACCOUNT UPDATED
Some consumers use their browser to search for information on certain products or brands, while some go directly to the company's website. And then, some go on social media, including Instagram, to search not just for product specifications but also for customer reviews and specific information like where they can make a purchase when they finally decide to buy. Your Instagram bio should contain all the necessary information, such as links to your website or your online store and other relevant contact details, so a potential customer doesn't have to open another tab to search for information about your brand and your products or services.
CREATE A SOCIAL MEDIA MARKETING STRATEGY
An Instagram virtual assistant can aid your digital team in creating a social media plan to help you achieve your goals. A solid social media plan can help you better position your brand as the top-of-mind brand of your desired audience.
PROVIDE CUSTOMER SERVICE
Instagram virtual assistants can help you provide better customer service, from simply liking a user comment to addressing customer complaints. They can talk to your followers or users in your brand's tone. They can even use pre-approved replies to ensure that engagements in the comments section or direct messages are on-brand.
MANAGE ADVERTISING AND ANALYZE YOUR INSTAGRAM METRICS
Instagram marketing is more than just posting a well-lit product shot with a witty caption. Like its "sister" platform, Facebook, Instagram can also provide businesses like yours with helpful metrics. Your Instagram Virtual Assistant can help you extract this data and transform it into actionable insights to help you continuously improve your Instagram marketing strategy.
GROW YOUR INSTAGRAM ACCOUNT ORGANICALLY WITH THE RIGHT SOCIAL MEDIA CONTENT
Instagram virtual assistants can help you grow your account followers by using relevant hashtags, following the right accounts, and providing engaging content. The type of content will vary depending on the brand image you're trying to build, but these posts can be simple images, witty videos, trending Instagram stories, or even IG live events.
FIND INFLUENCERS FOR PRODUCT PROMOTIONS
While keeping posts on your IG account engaging and relevant is essential for your Instagram marketing activities, influencers can help you improve your reach. The influencers you partner with can become credible ambassadors for your brand, especially since their followers pay attention to their opinions and recommendations. An Instagram VA can assist you with reaching out to influencers who have a community of loyal followers with the same interests.
What Skills Should You Look for in an Instagram VA?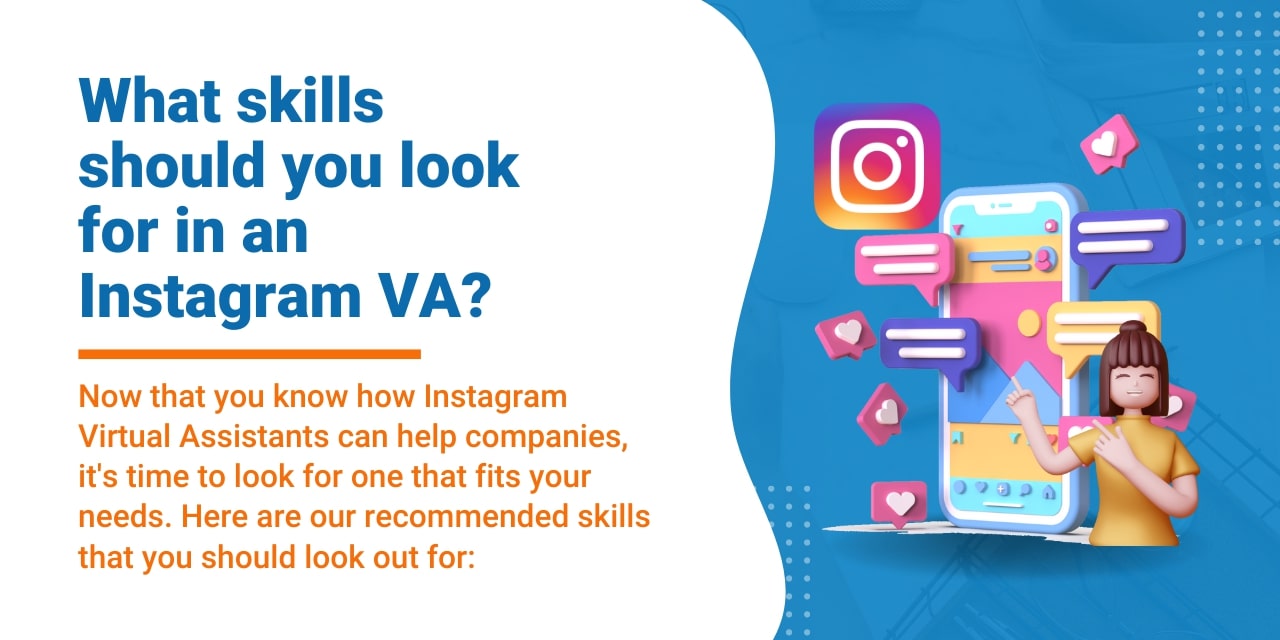 Now that you know how Instagram Virtual Assistants can help companies, it's time to look for one that fits your needs. Here are our recommended skills that you should look out for:
GREAT AT INTERNAL AND EXTERNAL COMMUNICATION
Because of the nature of the job, fully remote work, having great communication skills is a must-have for an Instagram VA. An IG VA must be able to communicate clearly with their team members and other Instagram users.
ABILITY TO PROVIDE CUSTOMER SERVICE
An Instagram virtual assistant's job is not just to create and post ads. Instagram VAs also act as your customer service front liners on social media. They'll be the first to see comments from users asking for help or inquiring about a product on a recent post.
ORGANIZATIONAL SKILLS
An Instagram virtual assistant should also be good at organization, from knowing what and when to post so you can reach out to potential partners or clients at the right time. Depending on the type of tools you have, your VA should be able to organize both your organic and sponsored posts so that your target audience will see them as engaging and not flooding.
ABILITY TO KEEP AN EAR TO THE GROUND
Social media trends come and go, and they do so rather quickly. Having a VA who is updated with what's hot now and upcoming trends is a huge advantage for any business. They can save you from making the error of creating a post about a trend that's already made its final lap around the social media circuit.
CREATIVITY
Social media marketing or marketing, in general, has a lot to do with storytelling. Understanding what your brand is all about and sharing your brand's story requires creative skills. Additionally, an Instagram virtual assistant with an eye for design can help make your social media posts look more cohesive and aligned with your brand identity and campaigns.
SOCIAL MEDIA EXPERTISE
The levels of social media expertise of Instagram virtual assistants vary, so it's ideal to be specific with the type of tasks that you will assign them. Suppose you're looking for top-tier or the best Instagram virtual assistants. In that case, they should be not only familiar with the social media platform but also adept at using social media marketing management tools like Hootsuite, Hubspot, Loomly, and more.
How to Hire the Best Instagram Virtual Assistant for Your Business
Once you've decided on finally hiring an Instagram virtual assistant, it's time to go through the recruitment process. Below are tips and steps to find the right remote talent to help you achieve your goals.
Create a list of tasks that you need to be done.
Post a job alert on career websites. Your job alert should have the following information:

Description of tasks
Preferred hours (e.g., PST business hours, full-time, etc.)
Monthly or annual pay

Review applications and interview shortlisted candidates.
Hire your preferred candidate.
Onboard and provide access to relevant tools.
Finding and managing the best Instagram virtual assistants is no easy task. It requires time and effort, which is why you should work with a remote staffing company with formidable experience in finding the right VA for the job.
20four7VA is a remote staffing company dedicated to creating the perfect match between skilled professionals with international remote work opportunities. We can help you find the right virtual assistant for the job in four easy steps!
You just need to fill out our consultation form, so we can set up a call to understand your requirements better.
While you wait, we'll search our database to match you with the right remote talent.
We'll set up interviews and test tasks (if needed) for shortlisted VA applicants to help you find your VA.
Once you've decided, we will set up your subscription, and your chosen VA is ready to be onboarded and start working!
Ready to find the right remote talent to help you boost your social media presence? Book a free consultation with our Growth Experts today!
Ready to find an Instagram Virtual Assistant?