Ghost Writers
Clear and effective communication is key to a successful business. Let us help you find the perfect freelance ghost writer for your needs.
Hire Ghost Writers
Today's fast-paced world demands so much of us. Personal responsibilities and work obligations can keep you from setting aside time to write down the content you want to or should publish. You may be too busy with other functions that the writing process may not be your main priority even though you know it's an integral part of your business or personal endeavor. The solution? Hire ghostwriters.
What are Ghostwriters?
Ghostwriters are professional writers who create content, such as books, articles, blog posts, white papers, and other materials, on behalf of another person or entity. A ghostwriter is very similar to a freelance writer. However, in ghostwriting, the writer's name will not appear on the final product. Instead, the credit goes to the client or the publisher.
Different ghostwriters can work on various types of written content, from blog articles to short stories to an entire book. Here are some of the kinds of ghostwriters you may encounter:
ghost writers for books

ghost blog writers

ghost story writers (fiction or nonfiction)

ebook ghost writers

speech writing experts

scriptwriter

and more
Why Hire Ghostwriters Offshore?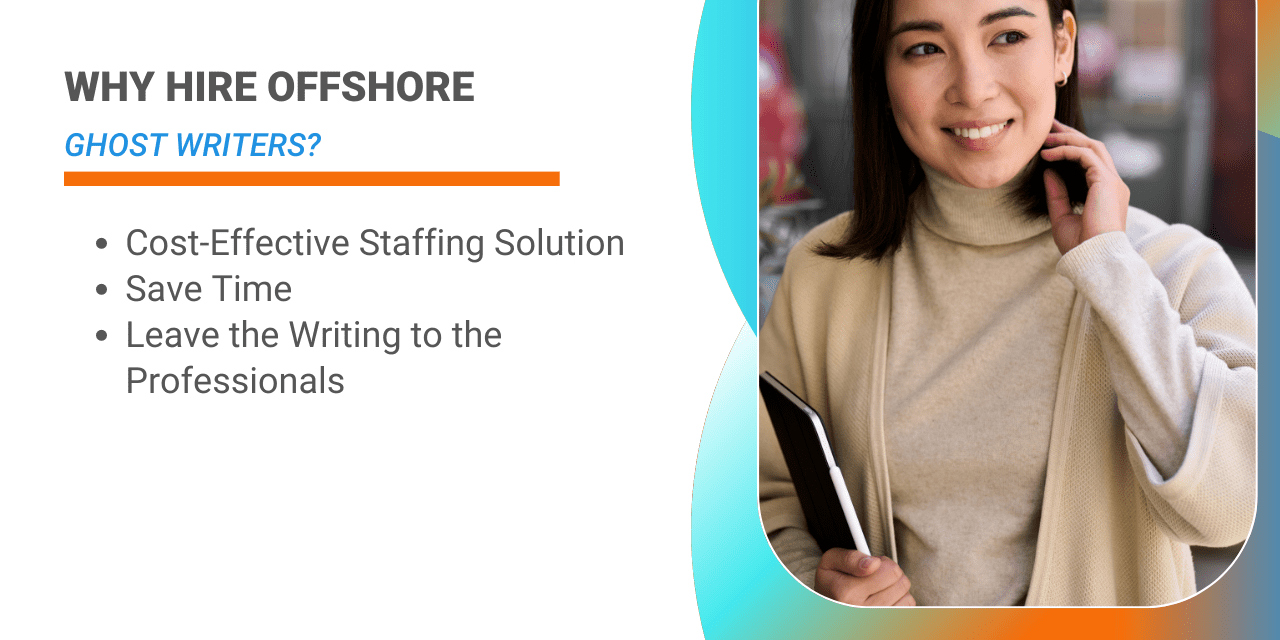 There are plenty of benefits that come with hiring offshore remote talents, including offshore ghostwriters. By hiring ghostwriters, you can save time and money without sacrificing the quality of work.
Cost-Effective Staffing Solution
By working with remote ghostwriters, you get quality content creation services in a more cost-efficient way. A lot of ghostwriters work for a fixed fee or are paid based on the number of assignments they've turned in, so you can customize the ghostwriting services you'll get based on your budget. Doing so can help you stay on top of your finances and ensure you're not exceeding your labor and marketing limit.
Most ghostwriters provide writing services using their own equipment, which include a laptop or computer and a stable internet connection. Working with ghostwriters means you don't have to worry about other in-office staff expenses. You can save on costs like office equipment, supplies, transportation allowances, etc. The only expense you need to think about is the ghost writers' fees.
Save Time
Working on written content takes time and energy. If you're too busy with other aspects of your personal and professional life, then buckling down to write an ebook or blog article may not be your best option. Instead of taking time out of your busy schedule to work on writing, why not work with ghostwriters instead?
Leave the Writing to the Professionals
Ghostwriters or freelance writers have spent years fine-tuning their writing prowess. And with a global talent pool, you're sure to find the best ghostwriter for the job. You can hire a ghostwriter for just about anything, whether you need ghost book writers or subject matter experts to write technical content for your business.
Writing Projects Ghostwriters Can Work On
Readers are always looking for quality written content for different purposes, from learning to finding inspiration. Make sure you can publish what your target readers are hungry for by working with a professional ghostwriter.
Ghostwriters can work on a wide variety of writing projects, including:
Website Content

Blog Posts

Content for

Search Engine Optimization

(SEO)

News Articles

Speeches

Book Idea Proposals

Non-Fiction Books

Scripts for the Online and Film Industry

Proofreading

Book Editing

And other writing projects
What to Look for in a Ghostwriter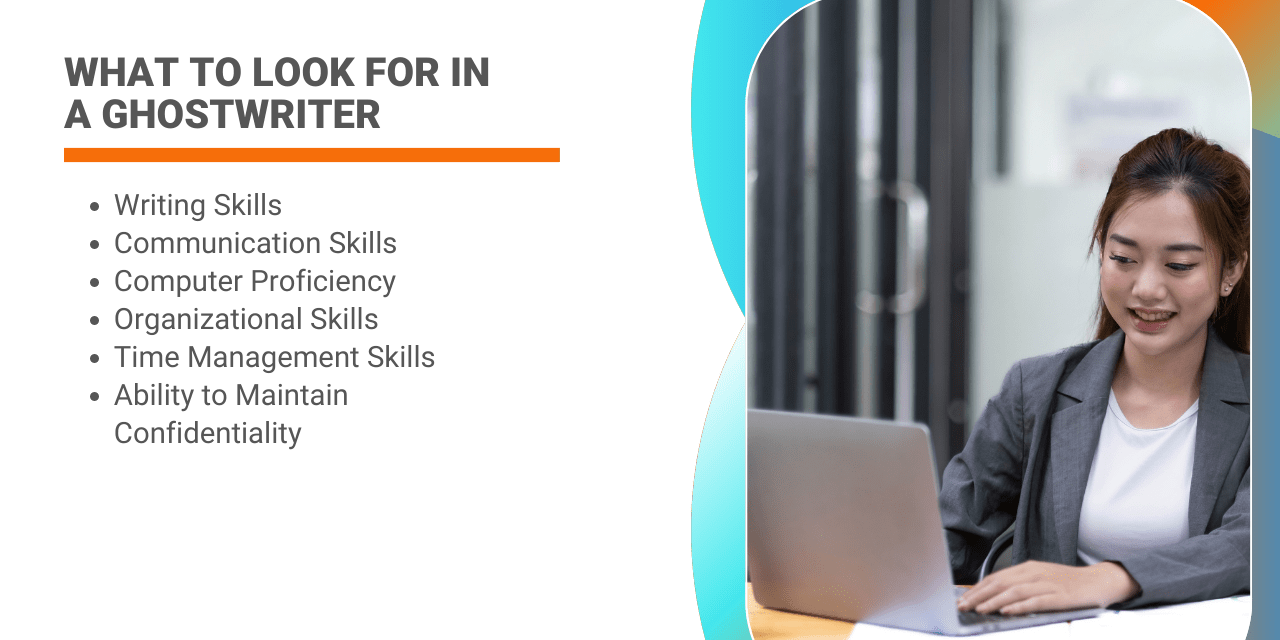 If you're looking to get ghostwriting services, it's best to spend some time choosing the right writing professional for your needs. Not all ghostwriters are the same. Some have writing experience focused on fictional work (short stories, novels, etc.). There are also some who are more focused on writing SEO content, like blog articles and webpage content.
Writing Skills
Great ghostwriters aren't just concerned with meeting the word count of a project. They can understand a client's brief and requirements to ensure they provide the best writing services for each customer.
They should also know how to adjust their writing skills depending on the project they're working on. For example: Creating content like blog articles or scripts for YouTube channels requires a different approach to writing a nonfiction book. The writing style and author's voice largely depend on the client's brand voice and personality. No matter who they're writing for, an experienced ghostwriter or freelance writer knows how to put their writing skills to good use.
Communication Skills
Having excellent communication skills is essential for ghostwriters. They must be able to communicate with their clients effectively. They should also have great listening and comprehension skills to understand the project brief to create quality content.
In addition, a ghostwriter must have strong communication skills to collaborate with other writers or editors if needed on any particular project. Proper communication between the writer and their client ensures that both sides will be satisfied with the result.
Computer Proficiency
An effective ghostwriter should be comfortable using technology. Ghostwriters should be able to use computers, laptops, and other devices with ease. They must also be familiar with the latest software used for writing, editing, and publishing content online. If not, they should be confident and open to learning about new tools.
Knowing about the basic programs for writers like Microsoft Office and Google Docs is non-negotiable. Ghostwriting professionals must know how to properly format documents and pages depending on the project's requirements.
Organizational Skills
To keep their ghostwriting business running smoothly, professional ghostwriters need to be highly organized. They can work on a variety of ghostwriting projects at a time, so they need to pay attention to detail to ensure that nothing falls through the cracks.
Time Management Skills
Writing is both an art and a skill. It's challenging to get over the dreaded writer's block, but good ghostwriters have their own ways of coping with such issues. They know that they need to write content that's up to standard, but they need to do so on time.
Professional writers in the ghostwriting business know how to manage their time well. They ensure that their clients get the ghostwriting service they need when they need it. At the same time, they're also transparent with their writing clients by providing clear, attainable lead times per assignment.
Ability to Maintain Confidentiality
There are businesses or agencies that ask their ghostwriters to sign non-disclosure or confidentiality agreements. It's an important document that writers encounter. But a good ghostwriter knows how to honor the various stipulations in the agreement to maintain a good working relationship with both their current and past clients.
Ghost Writers for Hire: How to Get Ghostwriting Services
If you're ready to find ghostwriters for your projects, you need to create a job listing or job description. This job listing should include the scope of work, duration, and other pertinent details.
After posting the job listing, you then need to screen applications. You can review a ghostwriter's portfolio, including the past clients they've worked with. Doing so will help you get a better idea of whether or not an applicant is a good fit for your requirements. But the search for the right ghostwriting services doesn't end there. You still need to conduct interviews and background checks before going to the next step, extending an offer and onboarding your new ghostwriter.
Hire the Best Ghostwriters Through 20four7VA
The entire process of screening and hiring ghostwriters can take time and energy. If you're busy with other responsibilities, working with a highly-rated remote staffing company is best to help you with your search.
Why 20four7VA?
20four7VA is a remote staffing agency with more than a decade of experience helping companies find the most suitable remote talent for their business needs. Our efforts have been recognized by several international institutions. These accomplishments are a testament to our dedication to helping businesses everywhere grow through cost-effective staffing solutions. Our most recent notable achievements include the following: 
2022 Inc. 5000, Honoree

Time Doctor OA500 2023, Honoree

Top 100 Staffing Companies to Work for in 2023

Top 100 Staffing Leaders to Watch in 2023 at the World Staffing Summit

Certified Women-owned Small Business (WOSB) by the Small Business Administration
20four7VA's End-to-End Remote Staffing Solutions
Here's a rundown of what 20four7VA clients can expect from our end-to-end remote staffing services:
Thorough Virtual Assistant Screening and Vetting Process

Access to a Global Pool of Remote Talent

Free Client-Virtual Assistant Pairing Service

HR Assistance (Timekeeping, Payroll Processing, etc.)

Dedicated Account Manager

Virtual Assistant Management

In-house Training

IT Helpdesk

And much more!
Ready to hire the best ghost writers for your writing projects? Contact 20four7VA and schedule a free consultation today!
Ready to find a Freelance Ghost Writer?