Freelance Writer
Clear and effective communication is key to a successful business. Let us help you find the perfect freelance writer for your needs.
Hire a Freelance Writer
Tired of racking your brain for the right thing to say (or write)? You know your company inside out, but somehow the words escape you. And they do so when you need them, like when thinking of an attention-grabbing social media caption or a copy for a digital ad. Enter a freelance writer.
What is a Freelance Writer, and Why Should You Hire One?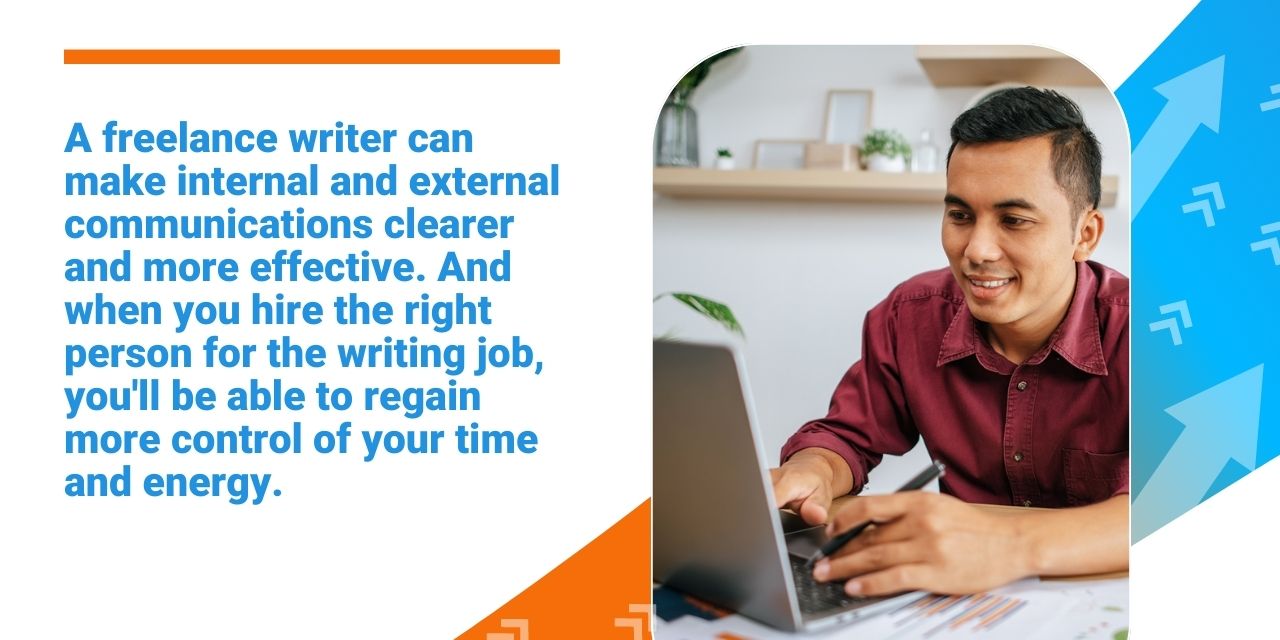 A freelance writer can make internal and external communications clearer and more effective. When you hire the right person for the writing job, you'll be able to regain more control of your time and energy and improve your brand at the same time.
Consistent and Error-Free Communications
A freelance writer can help you communicate effectively and without errors with your audience. With their sharp eye for detail, they can help you craft compelling pieces to help you stand out from the competition. Plus, they can provide a unique perspective on your company's objectives and values. By getting freelance writing services, you can eliminate embarrassing and confusing writing mistakes.
Cost-Effective Alternative Staffing Option
Hiring remote prtofessionals can be the most cost-effective way to get top-notch talent. It offers an alternative staffing option that is particularly advantageous for small businesses and start-ups. By bringing in a freelance copywriter or freelance content writer, you can save money on overhead costs while still checking writing assignments off your list.
Flexible and Scalable Services
Some remote professionals start freelance writing on the side as part-time or project-based hires. You can also find freelance writers looking for full-time freelance writing jobs. You can use this diverse pool of talent to your advantage. Whether you're hiring someone during the peak season of your campaign or on a project-based arrangement, you're sure to find a suitable freelance writer for the job.
Regain Control of Your Time
Do you sometimes feel like you're constantly scrambling to make up for your lack of writing skills? Instead of spending all your time and energy trying to write, why not let a freelance writer help you out? Their services can provide the perfect solution when you are struggling with finding enough time in a day. With their help, you can reclaim control of your time.
Let the Experts Do Their Thing
Writing emails may be something you're used to doing even while multitasking. But pieces like a blog post, an eBook, and the like, require more than good grammar. To help you get the point across in any medium of writing, you'll need the help of a freelance writer. You can find the most suitable freelance writer with the know-how needed for any writing niche.
Avoid Burnout and Manage Workloads
Writing can be overwhelming, especially when you're swamped with other tasks. It doesn't matter if you'll work on guest posts, web content, etc. Taking on too much may lead to burnout. By working with a freelance writer, you can easily delegate writing jobs. This way, you and your team can focus on your core functions. All the while, your freelance writer can make sure all your communications are on point.
Tasks You Can Delegate to a Freelance Writer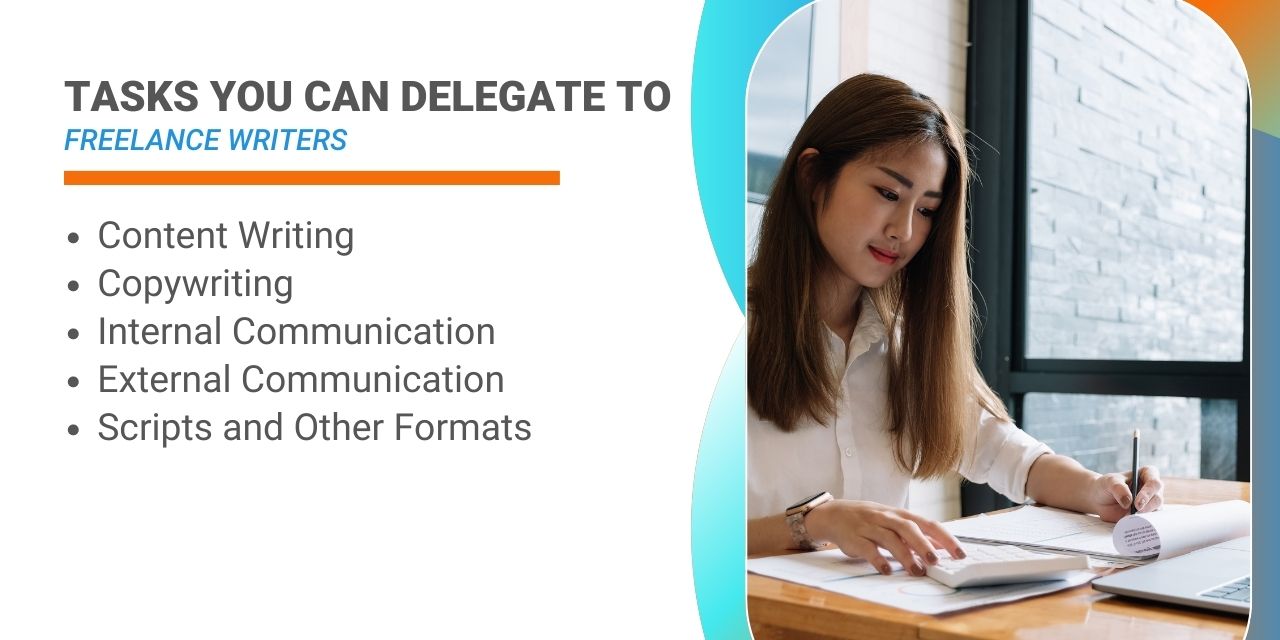 You may be wondering: what can a freelance writer do for my business? The answer is anything and everything. Of course, you'll need to do the right screening and recruiting to get someone with the right freelance writing niche that fits your requirements.
Here are some examples of the tasks that a freelance writer can work on for you:
Content Writing
Blog Post Creation
White Pages
Article Writing (Guest Posts, Op-ed, etc.)
Client Outreach
Copywriting
Posters
Billboards
Digital Marketing Collaterals
Social Media Captions
Web Copy
Ad Copies (LinkedIn ads, Google Business Profile content, etc.)
Internal Communication
Email Announcements
Company Newsletter
Onboarding Materials
Training Videos
External Communication
Press Releases
Product Listing Description
Email Templates
Scripts and Other Formats
Customer Onboarding Videos
Product Highlight Videos
Speeches
Long or Short-Form Video Content
Customer Service Scripts
Cold-calling Scripts
Short Stories
Leadership Profiles
And Many More!
The above list is not exhaustive but can give you a good picture of the benefits of hiring a freelance writer. You can find just about any type of freelance writer you need. All you need to do is to be clear about the tasks you will delegate and explore the right staffing solutions.
What to Look for When Hiring a Freelance Writer: Three Important Requirements When Screening
The great thing about having a vast talent pool is the multitude of choices. You can be as specific as you need to be when looking for the writer. The freelance writer your hire will vary largely on your business requirements and budget.
When screening candidates, make sure to look into these important items:
Writing Portfolio
The freelance writer should have a portfolio of their previous works that you can review. You need to be sure that the freelancer can produce high-quality writing with adequate proofreading and editing skills. Do ask for samples or links to published projects that they have written. This will give you an indication of the quality and style of their work. While they may be an overall strong freelance writer, their style and particular niche may not align with your brand's tone of voice.
Writing Niche
If you're looking for someone with a specific niche, then you need to include that in your recruitment checklist. Does the freelancer specialize in SEO writing or short stories? Do you need someone with an understanding of digital marketing concepts on top of excellent writing skills? If you are looking for a highly specialized skill or specific niche, then make sure to check that first before hiring.
Work Experience
For example, if you're looking for someone to handle technical writing assignments for computer manuals, you wouldn't hire someone specializing in content writing or search engine optimization. You'd want someone with a background as a technical writer or have relevant experience writing about a specific topic. Working with someone with the right freelance writing career experience and expertise in a similar field can save you a lot of time and energy on training.
Essential Skills and Qualities to Look for in Digital Freelance Marketing Professionals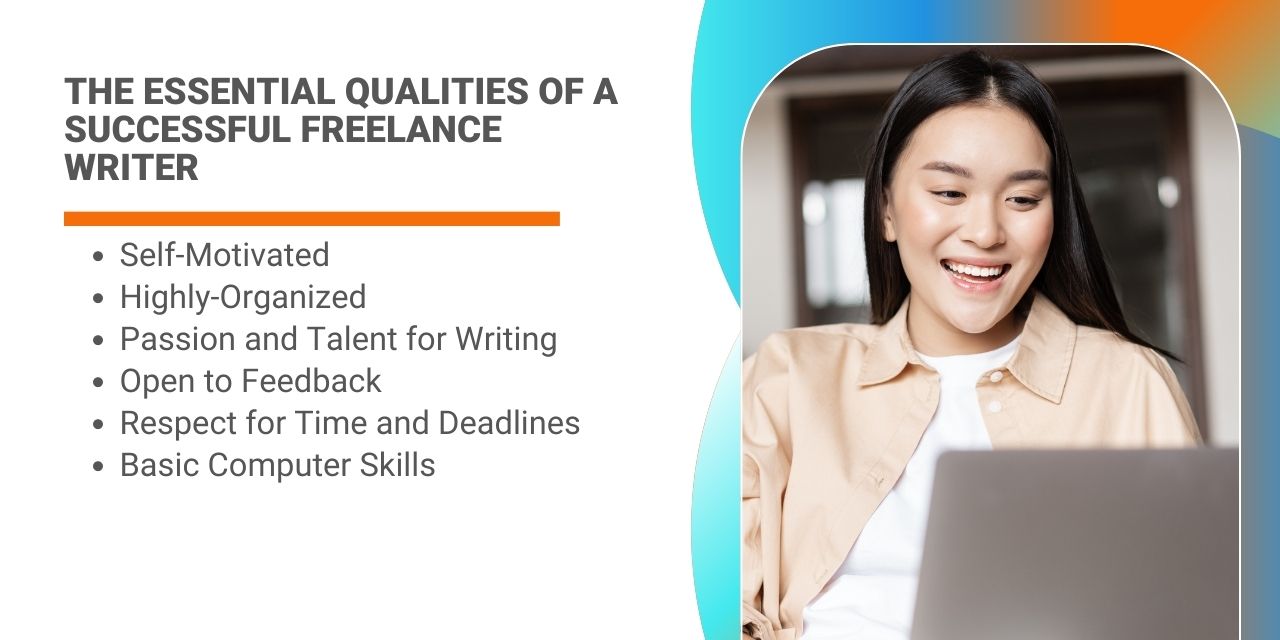 The best way to make the most out of your freelance digital marketing specialist is to have a good screening process. You must be clear about what the job entails and the skills needed to get that job done. The skills and qualities section of job postings may vary depending on the company and its specific requirement. However, here are some foundational qualities you need to look for in freelance digital marketers:
Relevant Work Experience in the Digital Marketing Field
If you're looking for someone who will immediately impact your team, then experience in the field is essential. A freelance marketer with relevant work experience and knowledge in various digital marketing channels can be a valuable asset for your business. Their combination of work experience and business skills can help you grow your business.
Fast Learner
Not every freelance marketing you encounter will have the whole package, but they must be coachable. They must be able to pick up digital marketing concepts and essential business skills through training. This way, they can still contribute to your digital marketing efforts.
In fact, you can hire remote talents without experience with digital marketing jobs. They can help you with entry-level digital marketing tasks so long as they're willing and quick to learn. Not only are you helping them jumpstart their freelance digital marketing career, but you're also gaining an important team member. They can help you handle routine and time-consuming tasks crucial for a successful business.
Analytical Skills
One of the benefits of digital marketing is that businesses get access to various data points and reports. But to help you make sense of this data, you'll need someone with analytical skills. This way, they can assess whether a content writing project or digital marketing campaign is effective. They can also help create data-backed strategies to help you reach your business goal, whether it's lead generation, ranking high on search engines' result pages, or increasing online engagements.
Willingness to Adapt
One of the important qualities of a successful freelance digital marketer is their willingness to learn. They recognize that the digital marketing world is ever-changing, so they need to find ways to keep up. They must always keep an ear to the ground while keeping track of the best practices they've executed thus far. Additionally, they might be working with clients from various industries. They must be open to learning about the nuances of the different industries and target audiences to help their clients succeed.
How to Hire a Digital Marketing Freelancer
Aside from screening a freelance writer via their writing portfolio and freelance writing career, there are also other things to consider. It's best also to make sure your freelance writer has the following essential qualities:
Self-Motivated
A freelancer needs to be self-motivated. Unlike in-office staff, freelance writers don't have an immediate superior or editor around the whole time. This means they have to make sure they're working to the best of their ability and meeting deadlines.
Highly-Organized
A freelance writer has the liberty to take on more than one writing gig at a time. As such, they must be organized when it comes to managing their time, resources, and workload. They should be able to keep track of every writing assignment and prioritize as needed. Any type of writing, whether technical or article writing, requires a sense of organization. After all, you wouldn't want your press releases accidentally sent to another client, right?
Passion and Talent for Writing
One's writing portfolio will showcase their writing skills and expertise in a particular niche. It's more challenging to check someone's passion for the craft. A few ways you can do this is by getting to know freelance writer candidates through interviews. You can ask questions about why they opted to become a professional writer or why they love writing in general. When you hire writers who enjoy writing, it will show in the quality of their work. Their passion will make their work shine even more, whether it's a blog post, website content, guest post, etc.
Open to Feedback
A good writer must be willing to improve their writing skills and perhaps open to exploring different styles. Most writers who are passionate about their writing may have a difficult time adjusting to new techniques.
For example, A freelance blogger who's used to blog post writing or content writing for lifestyle writing clients may turn in assignments that are more of an upbeat and friendly vibe. This style might not exactly be what a B2B client is looking for. If they want to keep their writing client happy, then they need to be open to honing their writing skills. They should be able to accept constructive feedback and identify points where they can improve.
Respect for Time and Deadlines
A successful freelance writer must have the ability to complete assignments on time and in line with your project specifications. If you need content writing requirements for SEO purposes, then you'd expect the freelancer to finish the job within the agreed-upon deadline. Writing is an art and can take time, but a freelance writer must be transparent with their client. They must be honest about their lead times to manage expectations and avoid inconveniencing all parties involved. A freelance writer who is chronically late may need to find freelance work elsewhere.
Basic Computer Skills
Anyone who's hoping to have a future career in the remote workplace needs to have, at the minimum, basic computer skills. Whether they're a freelance copywriter, script writer, or content writing specialist, they need to be able to navigate tools like Microsoft Word, Grammarly, Google Workplace programs, and so on. If you need to, you can also find a freelance writer with SEO experience that is capable of using keyword research tools and SEO plug-ins. But you can always train them to use these tools. The most important things are one: you have a good writer and two: they know how to work a computer.
Freelance Writer for Hire: How to Find the Best Freelance Writing Services
Several online job boards cater specifically to freelancers, including freelance writers. If you're ready to find the best writing services for your business, you must have a thorough screening process. It would be best if you created a clear posting about your requirements. You must include the type of writing needed, the freelance writer hourly rate, work arrangement (e.g., a full-time job or short-term contract), etc. Then, you must post this ad on a job board or other career portals that writers visit to find freelance writing jobs. But the recruitment process doesn't end with simply posting the job ad. It can take weeks or even months after posting the ad to finally hire a freelance writer that fits your job description. This is where 20four7VA comes in.
Freelance Writer for Hire: How to Find the Best Freelance Writing Services
It's best to work with an experienced virtual staffing services company to help you find the freelance writer that best fits your requirements. 20four7VA is a top-notch Inc. 5000 company with a diverse client base. We also have a wide network of remote talents, including freelance writers.
Why Choose 20four7VA?
Our services don't end with just matching quality remote talents with clients. We also offer companies end-to-end solutions that include:
Screening and Recruitment of Freelance Writers
Instead of scouring every freelance writing job board to find your freelance writer, we can do that for you. We can review our global talent pool of pre-vetted freelancers and virtual assistants. We'll send you the list of shortlisted candidates that best fit your requirement.
In-House Training Support
Your selected freelance writer may have the right skills for the writing job, but they still need proper onboarding. Aside from onboarding, our in-house training team can provide training and upskilling sessions to ensure remote talents' know-how and skills remain up-to-date and competitive.
Dedicated Client Services
20four7VA prides itself on providing the best virtual work experience for both clients and remote talents. Once you've selected the freelance writer for the writing job, we'll help set up your account. Then, you'll be assigned a dedicated Account Manager for client support and VA management services.
Ready to find a Freelance Writer?