Freelance Web Developer
Need a web developer for your project? We have a team of experienced professionals ready to help.
Hire a Freelance Web Developer
With an ever-increasing demand for quality digital experiences, hiring a freelance web developer has become more critical than ever before. You want your web design to be both aesthetically-pleasing and fully functional. This way, your target audience has a pleasant user experience that will ultimately lead them to accomplish the desired action. Examples of such actions are signups to your mailing list or a purchase on your website.
What is Web Development?
Web development is the process of designing, building, and maintaining websites. It involves a variety of disciplines, such as coding, web design, web content management, and server-side scripting. Web developers are responsible for building functional and attractive websites that meet the needs and preferences of their clients. They also help ensure that these sites run smoothly on different browsers and devices by testing their code for errors before going live.
What are the Benefits of Hiring Freelance Web Developers?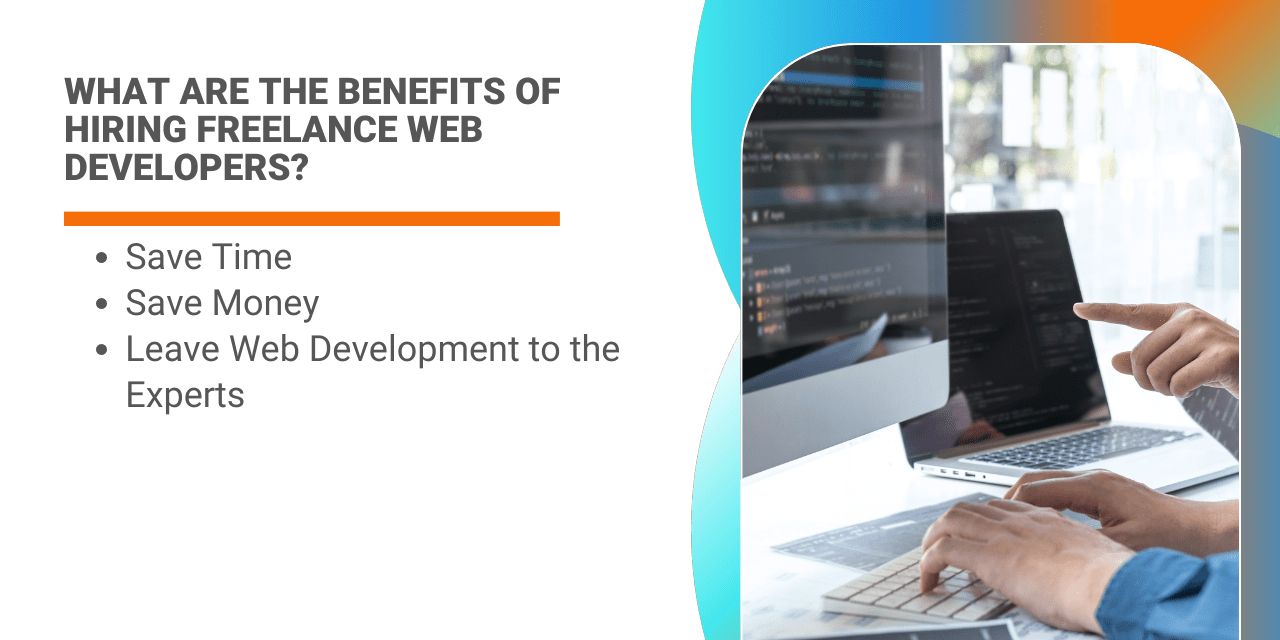 Excellent web development is an integral part of maintaining a solid online presence. In a highly digital world, great web design and user experience can be what sets you apart from your competition.
Save Time
If you're busy running your own business, you won't have enough time to take on web development duties. Web development is an important task, but it doesn't mean you should be the one to take that on. You can regain control of your time by working with experienced freelance web developers. Who knows, hiring freelancers can help you achieve that ever-elusive work-life balance.
Save Money
Hiring freelance developers or web designers can be cost-effective for any business, especially small businesses. Freelance web developers can provide the support you need for your requirement, whether front-end or back-end development. They get the job done at a fraction of the price of hiring someone for an in-office full-time job. If you're looking to hire a web developer freelance or remote hiring are great staffing options to explore.
Leave Web Development to the Experts
If you're a hands-on business owner, you may want to be the one to build your own website. However, web development can be time-consuming. Plus, it can even take you even longer to build your website if you're not familiar with programming languages or the basics of web development. The solution? Hire a freelance developer. Then, you can collaborate closely with them to get the website you envision that's integrated with their expert inputs.
What Tasks Can Freelance Web Developers Do?
If you want your web development requirements fulfilled without overshooting your labor and overhead costs, then it's time to hire a freelance web developer. However, if you're wondering what exactly you can expect a freelance web developer can do, then this list can help you:
Web Designer Duties

Maintain and Optimize Web Pages

Build WordPress Site

Custom Website Development

Set Up an

eCommerce

Website

Back-end Development

Landing Page Design and Creation

Test Web Applications

Install and Monitor Plug-ins

Domain and Hosting Transfer

Landing Page Set Up for Online Marketing Efforts

And Other Freelance Web Development Tasks
There are a variety of duties that freelance web development professionals can support you with. The above list is not exhaustive but can be indicative of the many benefits working with a freelance web developer can offer. Hiring someone with extensive knowledge in anything and everything web development can benefit any business.
Essential Skills and Qualities to Look for in Freelance Web Developers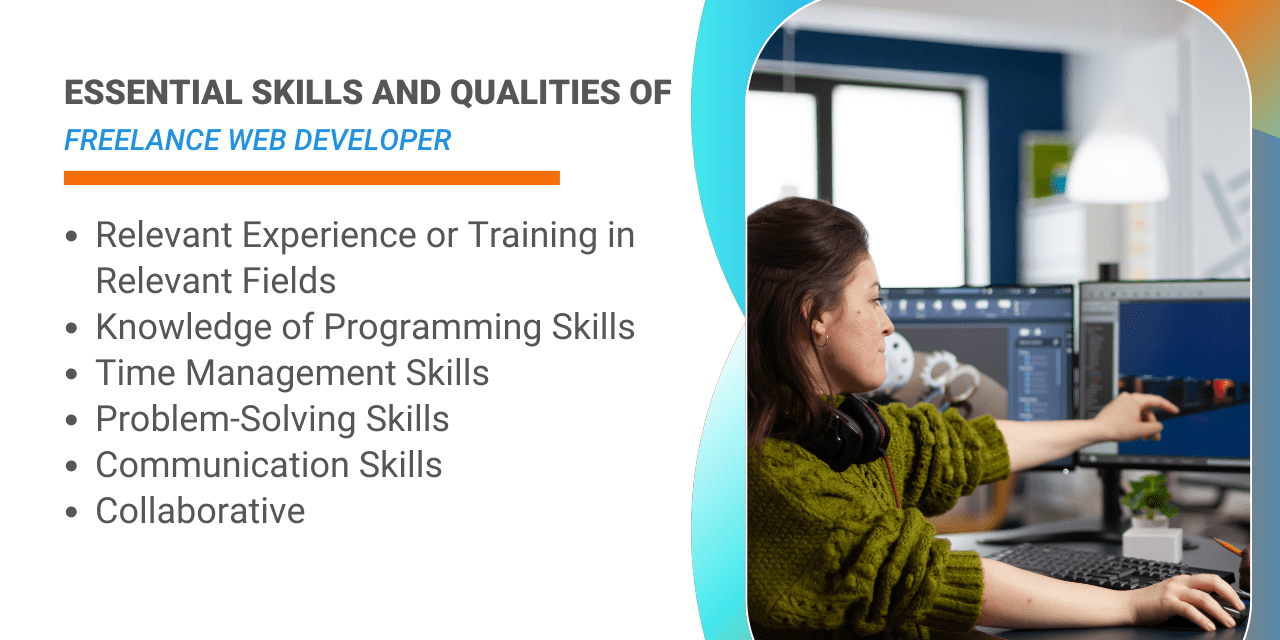 The right combination of technical and soft skills is crucial when looking for a web development freelance professional.
Relevant Experience or Training in Relevant Fields
It's best to hire a freelance web developer with relevant experience or training. This can be beneficial because you may not have to start the web development process from scratch. With relevant experience, the freelance web developer will understand your requirements quickly and make recommendations based on your project brief. A freelance developer with the right skills and acquired knowledge can deliver exactly what's needed.
You can hire someone with a degree in a computer science course or other related fields. Aside from formal education, you should review an applicant's freelance career based on their portfolio and resume. This will give you a better idea if they can deliver what your business needs. A web developer may have formal training from their university days. But the various projects they've previously worked on may tell you that they might be different from what you're looking for.
Knowledge of Programming Skills
Knowledge of programming languages and web development concepts is critical for any successful freelance web developer. However, the exact level of knowledge and skills you need your freelance web developer to have will highly depend on your requirement. Some projects may require a full-stack developer, while others may require a front-end developer to improve user experience. It's also important to note that web developers often specialize in specific programming languages, so make sure to specify the language you need during the hiring process.
Time Management Skills
Aside from the above technical skills, the web development freelancer you choose should also be good at time management. This freelance lifestyle requires self-discipline and a strong focus to complete projects on time. Freelance work offers a lot of flexibility and freedom. But to run a successful freelance business in any field, one must have time management and self-motivation skills.
Problem-Solving Skills
Yes, a web developer can build websites and assume other back-end development duties. But a good freelance web developer sets themselves apart from other web developers by having excellent critical thinking and problem-solving skills. These skills will enable them to work more efficiently and help their client's businesses. They should have the analytical skills to find bugs and errors in web design and programming and have the quick thinking and problem-solving prowess to address them.
Communication Skills
A freelance web developer must be able to code using programming languages. But aside from knowing "computer languages," they must also have strong communication skills. This is important when interviewing potential clients. They can easily walk clients through their skill set and the different services they offer. Excellent two-way communication is required, so they fully understand the freelance work expected from them.
Collaborative
A freelance web developer is mainly concerned with web applications and the website development process. These tasks are mostly for individual contributors. However, the best web developers are also highly collaborative. They need to work closely with their clients. They need to integrate their web development skills with the client's knowledge of the business and their ideal customer journey.
Your freelance web developer should also be open to using project management tools. Web development freelance workers are intensely focused on creating the best website output, but they must also know how to update the working teams. The project they're working on is most likely part of a bigger campaign or corporate initiative. This will require all stakeholders and project leads to be updated on the developments to ensure all pieces of the bigger puzzle are on track.
How to Hire Freelance Web Developer Services
If only hiring the right freelance web developer for your business is as easy as going online and typing "freelance web developers for hire." Unfortunately, that type of speed and technology is still unavailable for potential clients looking for any kind of freelancer.
To find the freelancing web developer you need, you must accomplish the following steps: create a project description, craft a job ad for career portals, screen every applicant's website portfolio and resumes, interview shortlisted web developer candidates, execute background checks, craft and extend your job offer, and finally, onboard and train your web developer.
These seven steps can go on for days or even weeks. Plus, you need to include important details, including:
required soft and technical skills (backend development, full stack web developer skills, etc.)

project duration

freelance web developer rate (per hour or per project basis)

work set up (full-time job, part-time arrangement, flexible work hours, etc.)

where interested web developers can submit their application and portfolio website

other pertinent details
If you're a business owner busy with running the different facets of your business, the whole process can eat up much of your valuable time. Our suggestion? Let 20four7VA help you find the right web developer for you!
Why Work with 20four7VA?
If you want to save on business expenses and regain control of your time, working with an experienced remote staffing agency is the way to go. We'll review your business requirements through a consultation call. Then, we'll present the best staffing solutions for your needs.
Hire Your 20four7VA Web Developer in Four Steps
Let us help you find the right web developer easily and effectively. Just follow these four easy steps:
1. Consultation with Growth Experts
Prospective clients like you need to book a free consultation first by submitting our consultation call form. The information on this form will aid us in understanding your web developer needs better.
2. Screening and Shortlisting of Candidates
We'll scour our global pool of remote talents to find web development freelancer candidates. We'll shortlist based on the approved JD or job description.
3. Candidate Interviews
We will schedule interviews with the web developer candidates. Test tasks can also be done upon request.
4. Selection and Set Up of Client Account
When you've selected from the shortlisted candidates, we'll then set up your account. Once done, your web developer is now ready to start!
Ready to hire web developers and make your small business or personal website stand out? Book your FREE 20four7VA consultation today!
Ready to find a Freelance Writer?