Freelance Video Editor
Bring your vision to life with professional video editing services from a virtual assistant.
Hire a Freelance Video Editor
Whether for internal or external use, video content can be helpful for businesses. Well-edited video projects can be used to better communicate with the target audience the way captions and still images or graphics cannot.
Video editing plays a huge role in how videos turn out. It can fine-tune raw footage from its early stages. With the correct video editing techniques, the final video can help achieve what your business aims to communicate.
But video editing projects can eat up hours upon hours from your busy schedule, especially if you're unfamiliar with the various tools and software needed. This is where a freelance video editor can help.
What is a Freelance Video Editor?
A freelance video editor is a skilled professional that takes raw footage and turns it into a polished final version. They edit raw clips based on clients' briefs and their own storytelling know-how. Freelance video editors use video editing software such as Adobe Premiere Pro, Final Cut Pro, DaVinci Resolve, and the like.
Freelance video editors apply different techniques depending on the type of footage they receive and the expected output of clients. They can use one or a combination of the following:
Video trimming, splitting, and cutting

Resizing and video file compressing

Color enhancement

Adjust sounds and lighting

Special effects

And other video editing techniques
Benefits of Hiring Freelance Video Editors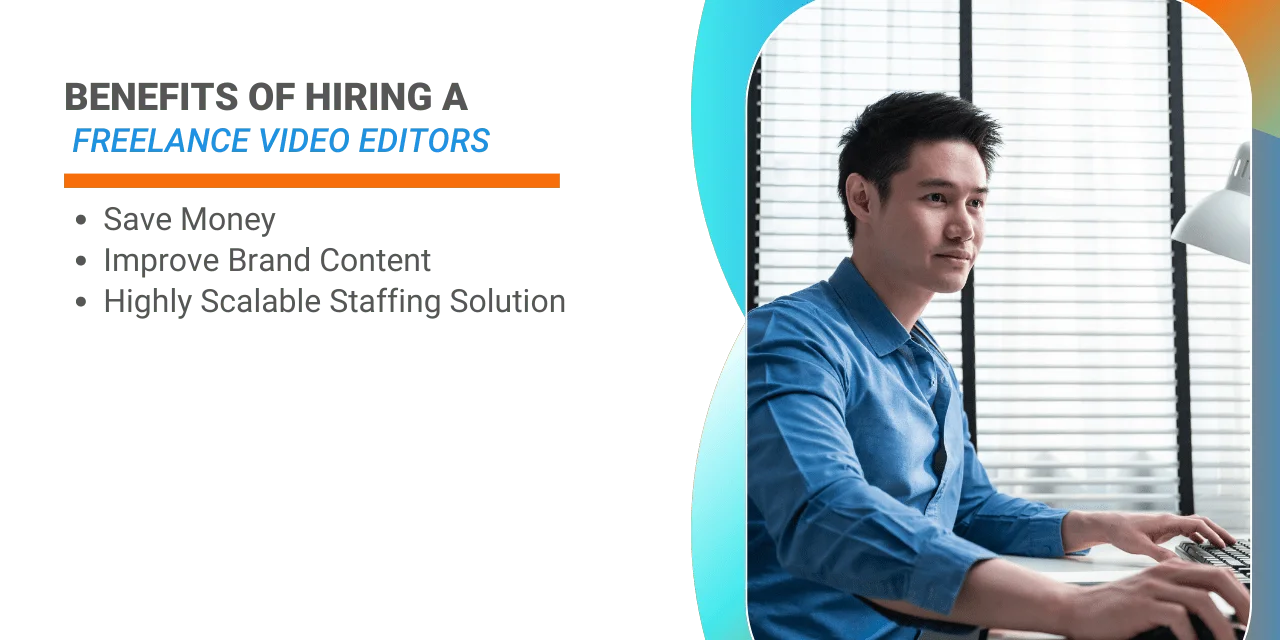 There are plenty of benefits to getting freelance video editing services. Well-made videos can improve your website, increase brand awareness, and more. Plus, freelance video editors can also help you maximize your staffing budget.
Save Money
The average freelance video editor rates are only a fraction of the cost of hiring full-time organic employees. Additionally, freelance rates are more cost-effective than getting video editing services from creative agencies. If you're looking to save on costs without sacrificing quality, hiring a freelance video editor is an excellent option.
Improve Brand Content
Video editing can significantly improve brand content by adding polish and flair to the raw footage. High-quality edits can convey a brand's message more effectively through captivating visuals and engaging storytelling. Hiring a freelance video editor with the proper experience and expertise can help elevate your content.
Great, engaging content can help achieve many of your business goals. For example, well-made and informative YouTube tutorials can help onboard new customers better. It can help you improve the overall customer experience and build customer loyalty.
Highly Scalable Staffing Solution
Hiring freelancers is a highly scalable staffing solution. If your projects don't require full-time, in-house staff, you can hire a freelance video editor for a specific contract period. You can also hire more freelance video editors during busy parts of the year to ensure you have someone to work on your video requirements.
Tasks You Can Delegate to Video Editor Freelancers
A freelance video editor offers top-notch editing prowess without breaking the bank. Their editing work covers the following:
YouTube Videos

YouTube Shorts

Short Film or Movie

TV or Digital Ads

Website Content

Video of Corporate Events

Social Media

Posts (e.g., Instagram reels, TikTok posts)

Music Videos

Training and Onboarding Materials

Company Announcements

And Other Projects
Aside from the above outputs, a video editor can also handle the following tasks related to video content management:
Import and export footage

Rename video files

Create backups of files

Perform a rough cut to trim excess footage

Submit storyboard before editing

Provide drafts of projects for client review

Edit video drafts based on client comments

Maintain an organized log of projects and services for documentation and billing purposes

And other related tasks
Essential Skills and Qualities to Look for in a Freelance Video Editor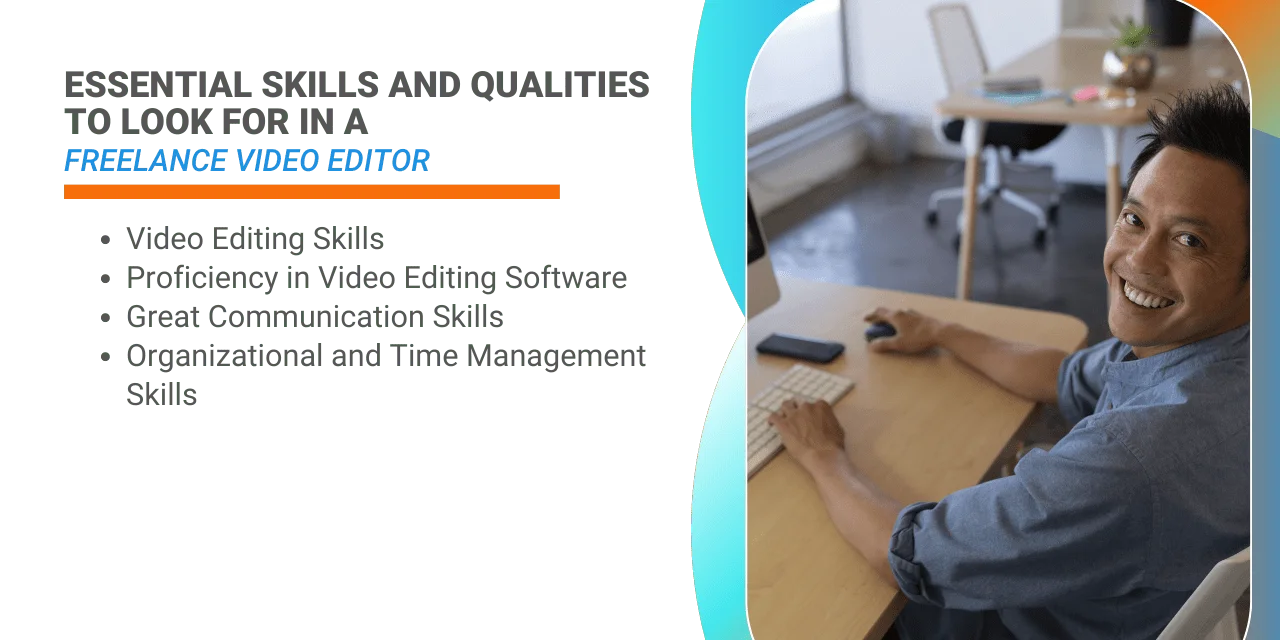 When looking for video editing services, it's important to be as thorough as possible. List down the freelance video editing tasks you need help with. Once done, you can use that list as a reference to find the right video editor for the job.
Various factors can affect your checklist: your business goals, industry, target audience, etc. The lists may look different for each business, but don't forget to include the following skills and qualities in your search for a professional video editor:
Video Editing Skills
This is one of the top non-negotiable skills of a video editor. Video editors must know the basics of editing raw films or clips. They can hone this skill through formal classes or by experimenting with different tools and software.
Proficiency in Video Editing Software
There are many video editing software out there. These include Adobe Premiere Pro, Final Cut Pro, Filmora, and so on. The software of choice may vary per freelance video editing professional. But no matter what they choose to work with, they must be able to produce the video required for a specific project.
Great Communication Skills
Freelance video editors must have excellent communication skills. They must be able to collaborate properly with their clients. You need someone who is a great communicator. This way, they can gain a complete understanding of your requirements based on your project briefs.
They should also be confident in raising concerns or providing input to improve the project. Their editing skills, plus their ability to communicate, can help you put out the best video campaigns you possibly can.
Organizational and Time Management Skills
A video editor must know how to manage their time well to succeed in their freelance video editing career. Because of the nature of their role, they can take on multiple client and personal projects at a time. However, this means they should be extra conscious of deadlines and job requirements.
Freelance video editors need to be highly organized to ensure that they don't mix up or accidentally delete client files. Additionally, they need to learn how to prioritize projects to meet their client's expectations.
How to Get Video Editor Freelance Services
Many video editors are looking for freelance video editing jobs. All you need to do is to have meticulous recruitment and onboarding processes. Doing so allows you to get the best video editor for the job.
First, you need to create a list of tasks you will delegate. Then, you must craft a detailed job listing and post it on various gig-centric websites. These websites cater to freelancers worldwide. After getting applications, each candidate must undergo the portfolio and resume review process.
Find the Right Video Editor Freelancer with 20four7VA
There are many remote talents looking for freelance video editor jobs. However, finding the best video editor for the job can be time and energy-consuming. The search can take you away from your core responsibilities. If you want top-notch remote talents without sacrificing your valuable resources, working with 20four7VA is the way to go.
Why Choose 20four7VA?
20four7VA is a multi-awarded remote staffing company. Our mission is two-pronged. First, we aim to help clients grow their businesses by providing cost-effective virtual staffing solutions. Second, we connect highly-talented remote talents to rewarding career opportunities.
We are proud to share that we have top-notch end-to-end services, including:
Free Consultation

for Prospective Clients

Global Pool of Remote Talent

Screening and Recruitment Assistance

HR Services (Time-tracking, Payroll Processing, etc.)

Dedicated Client Support

IT Helpdesk

No Hidden Fees

And much more!
With a freelance video editor, you can turn raw film into a final cut to take your business to greater heights. Let 20four7VA find the right video editor for you! Schedule a free consultation with 20four7VA today.
Ready to find a Freelance Video Editor?