Freelance Social Media Manager
Let us help you find the perfect freelance social media manager for your needs.
Hire a Freelance Social Media Manager
Nowadays, there are so many ways to reach potential clients. Businesses may try traditional marketing strategies like television commercials, news ads, etc. But the growing number of social media users means companies must make social media marketing a priority.
But if you're too busy running your own business, from operations to finances, adding social media management to your to-do list can be overwhelming. From content creation to managing Facebook groups, social media management can demand a lot of time and energy. Luckily, you don't have to do it alone. You can hire a skilled freelance social media manager to help your business create a solid social media presence.
What is a Social Media Manager?
So what exactly is a social media manager? And how do they add value to your business? A social media manager oversees the day-to-day management of your brand's social media accounts. They are responsible for content creation, audience engagement, and other social media-related tasks.
The different activities they work on can be geared towards different business goals. For example, a social media marketer can take over community management duties if you want to strengthen your client relationship. A skilled social manager can help you craft the most suitable, cost-efficient social media campaign that will help you achieve your various goals.
Benefits of Working with Freelance Social Media Managers
When it comes to hiring social media managers, you have several options. You can hire an in-office employee, outsource your complete social media requirements to a digital marketing agency, or work with remote talents.
Hiring a freelance social media manager is an excellent way to keep your overheads and labor costs manageable as you expand your business. Freelance social media management services can help you get the job done at a fraction of the price of hiring in-office staff or paying marketing agency fees.
Save Money
Staying financially healthy is critical in creating a successful and sustainable business. Getting social media manager freelance services helps you manage costs. With a freelancer, you can get social media management tasks done at a fraction of the price.
Freelance social media managers provide their services remotely. This means they have their own tools, like a laptop and a stable internet connection. Plus, they don't require space in a physical office. You don't have to worry about equipment and transportation costs. All you need to agree upon is the social media manager freelance rates.
Improve Your Social Media Presence
Simply having profiles on various social media platforms isn't going to cut it. Nor will having social media posts every week or so. You need to have a solid social media strategy in place to make the most of what today's digital world has to offer.
However, planning and executing your business's social media strategy alone can take too much time and energy. You need to hire a social media professional to help you handle all your social media marketing strategies.
An excellent freelance social media manager has the right combination of skills to help you build a successful business. They can provide various social media services depending on your goals. Such goals include increasing awareness among potential clients, improving customer satisfaction, and onboarding new clients every month.
Work with World-Class Remote Talent
Hiring a person with the right social media skills is essential to achieving your business goals. By working with a freelance social media manager, you don't have to work with limiting factors like a talent's residence or the number of desks in your office space. You have a bigger talent pool to choose from. This means you can hire the social media freelancer that can best deliver your business needs regardless of wherever they are in the world.
Responsibilities of Freelance Social Media Marketing Managers
Whether you're concerned with acquiring new clients or maintaining relationships with existing ones, social media marketing can be a powerful tool. A freelance social media manager may be your team's missing piece to achieving your business goals. Here are some of the ways a freelance social media marketer can help:
Create social media accounts on various social media channels

Social media management of various profiles

Craft a social media marketing strategy for each social media platform

Create a calendar of social media posts and promotions

Implement social media campaigns

Social media content creation

Regular update and review of social media tools

Social media community management

Setting KPIs for marketing efforts

Project management

Measuring the success of implemented social media campaigns

Generate reports or social media analytics

Research on competitors and target audience

Research on industry best practices

Monitor digital marketing budgets
Freelance social media managers bring a lot of value to your business. They can work on the tasks mentioned above, plus more. Anything related to social media can be delegated to a social media manager.
Important Skills and Qualities of a Successful Social Media Manager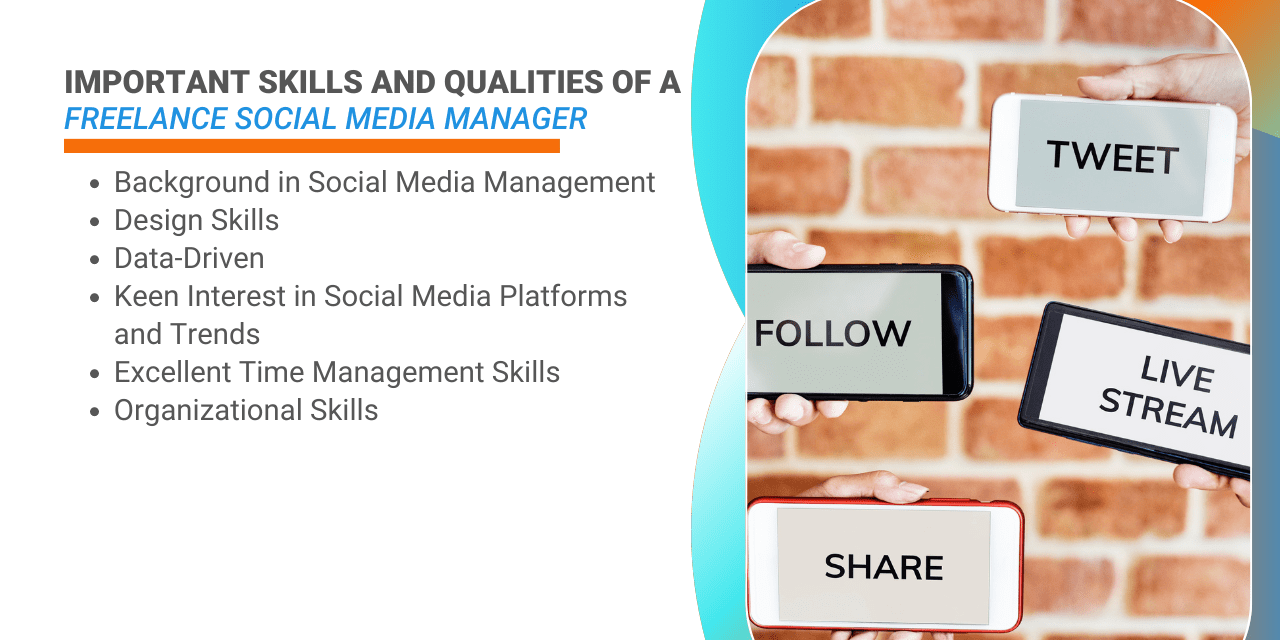 There's a wide pool of freelance social media management specialists that you can tap into. To help you narrow your search, you need to identify your social media goals. Then, if possible, identify specific tasks you need help with. These two lists can help you build the skills and qualities you want your future freelance social media manager to have.
To help you get started with your checklist, make sure to look for the following:
Background in Social Media Management
You may be busy running your own business, or perhaps social media marketing is just not your expertise. Regardless of your category, hiring a freelance marketer with social media marketing experience is your best option.
By finding someone who has the right social media management experience, you can save valuable time. If they already know how to navigate various social media management tools, it can help cut down the training hours. Someone with social media marketing experience in a similar field can contribute to your team more quickly.
Design Skills
A social media manager needs to produce aesthetically pleasing, not to mention on-brand artworks and copies. Having someone that can marry the knowledge of design principles and your branding guidelines in all your posts is vital.
They don't need to be experts in Photoshop or other creative design software. But they must know what looks good on which channel. Just like with other types of marketing, there is no one-size-fits-all approach to all the different social media channels. For example, you wouldn't want your Instagram post to look like your Facebook community's cover photo.
Customer-Centric
Whether working on community management or planning the next quarter's social media calendar, a freelance social media manager must always keep the customers in mind. By having an in-depth understanding of target customers, virtual social media specialists can create engaging content relevant to the audience they're aiming for.
Keeping the customer's needs and staying true to the brand's voice help attract prospective clients. Additionally, staying relevant and consistent on social media can help build awareness and customer loyalty.
Data-Driven
Social media management is more than making aesthetic posts and riding on the popularity of trending TikTok posts. Although these can be part of the strategy, just doing these things won't get your business where it needs to be. Aside from being a creative, out-of-the-box thinker, your freelance social media manager must also be able to analyze data.
Today's digital marketing tools allow businesses to get valuable information to make data-driven decisions. A freelance social media manager must be able to make sense of the many data points they have access to. Doing so can lead to actionable insights that will help fine-tune social media marketing strategies.
Keen Interest in Social Media Platforms and Trends
Freelance social media managers must always be on their toes. The digital world is ever-evolving; keeping up and staying relevant is crucial. Look for a freelance social media manager who is always open to learning new things. They should keep themselves updated on the trends and everything about social media. Doing so will help them come up with fresh, relevant ideas. All these will aid in keeping the attention of your target audience and the loyalty of your existing clients.
Excellent Time Management Skills
Freelance social media managers are free to work with multiple clients at once. That being said, it's important that they can manage their time well to make sure they're meeting deadlines and their clients' standards.
Working with someone with superb time management skills is crucial if you want to stay on top or even ahead of trends. They can collaborate with the rest of the team quickly and effectively. This way, you'll have a well-made social media campaign executed on time.
Organizational Skills
To build a successful social media management freelance business, one must have excellent organizational skills. A freelance social media manager may have multiple clients at any given time. They must be able to prioritize and make time for all their freelance jobs. To do this, they need to be highly organized. Being an organized freelance social media marketer can help ensure clients get the right social media strategy they need in a timely and efficient manager.
Hire a Freelance Social Media Manager Through 20four7VA
The real cost of getting freelance social media manager services may be more than their freelance social media manager rates. The search can cost you valuable time and energy. But that's if you don't choose the right freelancer for the job.
If you want to keep your costs down but still find the best social media freelancers for the role, 20four7VA can help!
Why Choose 20four7VA?
Hire Social Media Managers in Four Easy Steps
So how does it work? It's simple, really. It all starts with a quick consultation call. 
1. Schedule a Free Consultation
Potential clients will need to fill out the consultation call form. The consultation call is a free, no-strings-attached call that will help us better understand your business and staffing needs.
2. Candidate Screening
We'll search our pool of remote talents to find social media managers that match the approved job description. We'll provide you with a shortlist of candidates for your review.
3. Candidate Interviews
We will arrange interview appointments with shortlisted freelance social media managers. Test tasks can also be administered by the 20four7VA team upon request.
4. Selection and Set Up of Client Account
After you've made a selection from the shortlisted candidates, we'll set up your account. And just like that, your remote talent can start the next business day!
Aside from the hassle-free screening and recruitment process, we also provide end-to-end remote staffing services for all 20four7VA clients. When you work with us, we'll
So, are you ready to hire a freelance social media manager to improve your online presence? Book a free consultation with 20four7VA today!
Ready to find a Freelance Social Media Manager?