Freelance Content Writer
Hire a freelance content writer to write high-quality, personalized content for your business.
"Content is king."
This saying may be something you've heard for years, but it still rings true — especially for digital and content marketing. For your brand to be visible online, you need content that is not only keyword rich and informative but also engaging enough to get people to stick around. That's where a freelance content writer comes in.
What is Content Marketing?
Content marketing is less about selling products and services and more about storytelling and building relationships by creating and distributing relevant and engaging content. It's a strategic marketing approach that aims to attract and retain a clearly-defined audience with the end goal or customer action in mind (usually a purchase).
Benefits of Hiring a Freelance Content Writer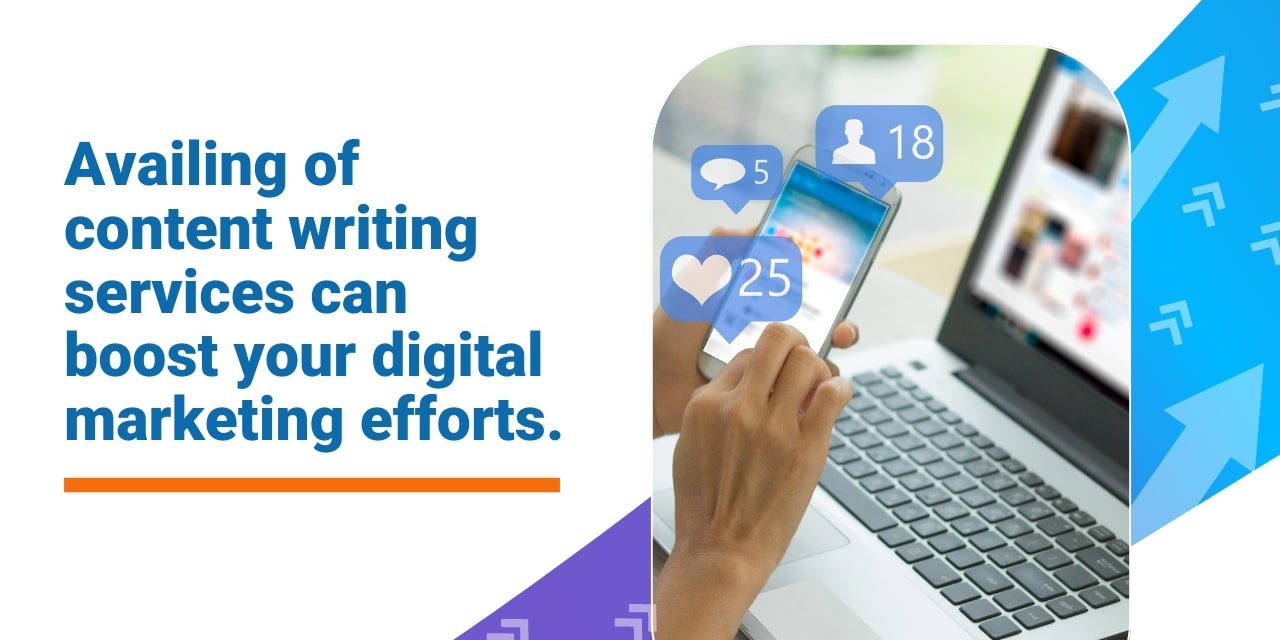 FORTIFY YOUR MARKETING CAMPAIGN
Great content writing is essential in providing engaging content for your target audience. Availing of content writing services can boost your digital marketing efforts. You'll have access to writers who can share their creative ideas and help create content that online users and prospective clients can find relevant and informative.
PUBLISH HIGH-QUALITY CONTENT
High-quality work from a freelance writer means your content is void of grammatical errors and faulty syntax. Avoiding such errors can help build more credibility for your brand.
SEARCH ENGINE OPTIMIZATION
A freelance content writer can help you with your SEO efforts by incorporating relevant keywords into your blog posts and web pages. This, in turn, will help your site rank higher in search engine results pages (SERPs), making it more visible to potential customers.
INCREASE WEBSITE TRAFFIC
An effective SEO strategy will drive more traffic to your website. Whenever individuals use search engines with keywords, you'll be at the top of the search engine result page. If you can increase website traffic with a freelance content writer, you're one step closer to converting visitors into leads and potential customers. A freelance content writer can help you increase the chances of closing a sale by providing great content with compelling calls to action.
GAIN NEW IDEAS
Do you sometimes feel stumped when planning your content creation strategy, or do you seem to rely too much on artificial intelligence? Then hiring freelance writing services can help you refresh your content marketing campaigns by giving new ideas for your business' content. Not only that, freelance writing professionals can share best practices that they've acquired from their past content writing jobs or other freelance writers.
SAVE TIME AND RESOURCES
Digital marketing, including content marketing, is already one of the most accessible and cost-efficient types of marketing. Hiring a freelance writer for your content marketing efforts will make for an even more cost-efficient strategy. Freelance writers work remotely with their own tools for writing, such as their laptops or computers, internet access, and workspace. So you don't have to worry about overhead costs usually associated with hiring an office-based writer.
Availing of freelance writing services from a capable content writer means you don't have to spend your own time laboring over what to write or post for your online content. A freelance writer will take the task of creative writing and content creation off your plate.
What Tasks Can a Freelance Content Writer Work On?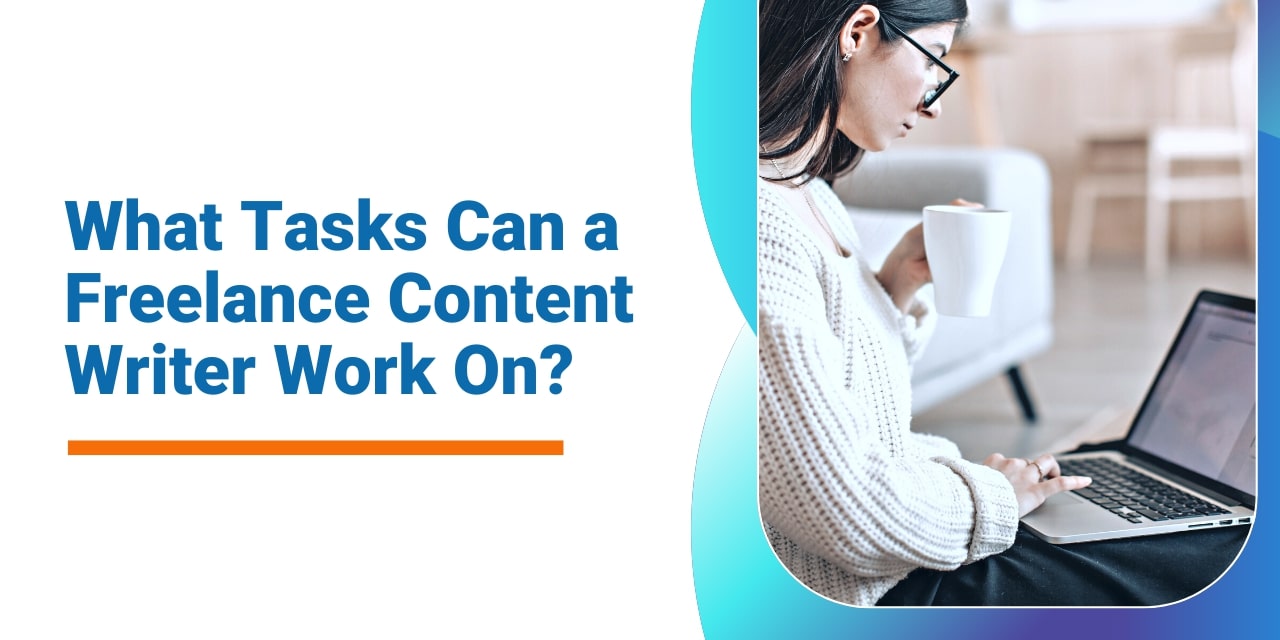 PRESS RELEASES
Press releases are short, newsworthy articles written to get media attention to events, achievements, and company updates. A freelance content writer can help you write a press release that will make media outlets want to publish on their platform.
BLOG OR GUEST POSTS
A blog post is a piece of writing published on a website, and a guest post is a blog post written by someone other than the site owner. A content writer can help you write either one of these pieces to publish on your site or as a guest post on another site (with the hope of getting backlinks to your site).
WEBSITE CONTENT
Web content can include landing or sales pages, product descriptions, and even the "About Us" page. You can count on a capable freelance writer to create compelling and interesting content for your website.
SCRIPTS
A freelance content writer can work on many different types of scripts. Here are some examples:
Promotional videos: These videos can be for your own channels or clips your partner content creator or influencer will post.
Sales scripts or email templates: A freelance writer is not limited to online content writing for your website and social media platforms. They also craft spiels for your sales team, which they can use when reaching out to clients or potential leads.
Training materials: Freelance writers aren't limited to writing content solely for external partners or potential customers. They can also craft engaging content for internal partners in the form of videos for in-house training.
WHITE PAPERS
White papers are in-depth reports or guides that provide readers with something new. They are usually research-driven and intended to serve as a resource for the reader. A content writer can work on white papers that share expert knowledge with your target audience.
ARTICLES & NEWSLETTERS
A newsletter usually comes in a regularly scheduled email containing updates, information, and engaging articles. Freelance writers specializing in content writing can help create personalized and original content that will target customers depending on their sales funnel stage.
EBOOKS
An ebook is a digital book that can be downloaded and read on a computer, tablet, or e-reader. Extensive research partnered with great content writing will produce an e-book that will be informative and helpful to your target audience.
RESEARCH
Keyword research is also something that freelance writers can do using available online SEO tools. Doing so will be a huge help in developing great content that will make your business more visible to search engines.
Content writers may write using artificial intelligence writing tools, especially when they're not the subject matter experts on certain topics they need to write content for. However, they are still the driver and should know the direction of the content they're working on. This means they should know how to do their research to fact-check their output.
What Skills Should You Look for in a Freelance Content Writer?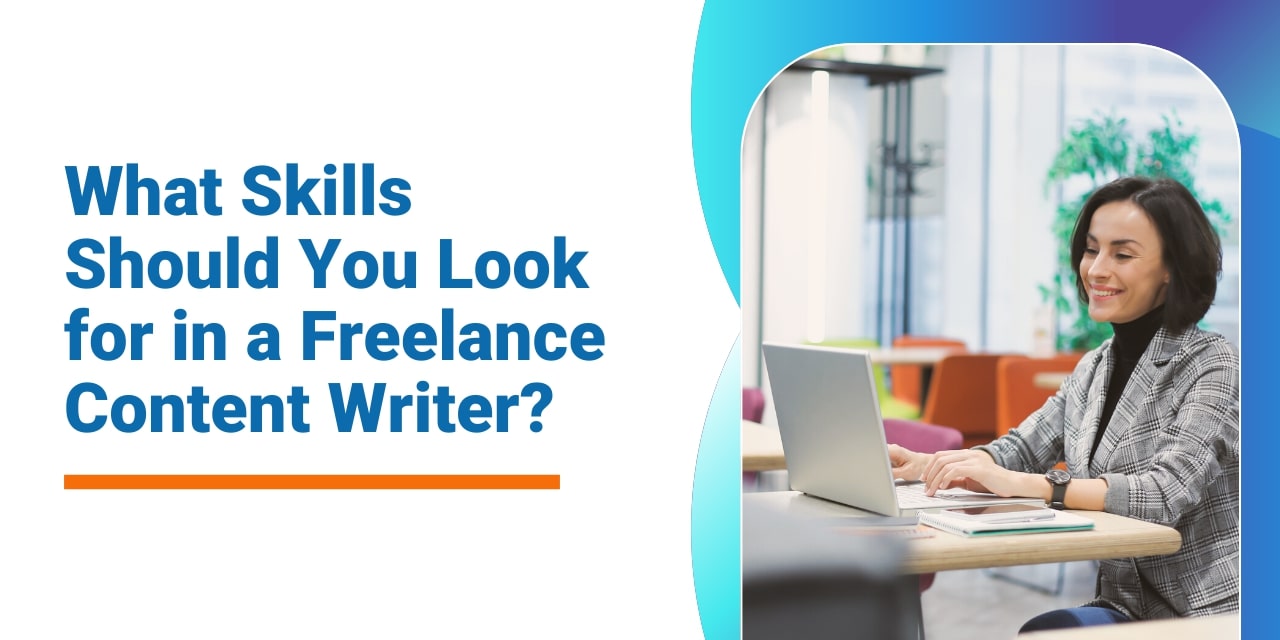 If you're ready to avail of content writing services, make sure to know what skills to look for. Here are our top suggestions:
CREATIVE WRITING & CONTENT MARKETING SKILLS
A freelance writer should have excellent writing skills. While some may believe that writing comes naturally, it can still be harnessed and improved through formal schooling, professional experience from previous writing jobs, or a mix of both.
PROOFREADING AND EDITING SKILLS
While there's usually a content manager or editor who will oversee the written works of freelance writers, your selected freelance content writer must also be proactive in double-checking their writing output and run them through a plagiarism checker to ensure that they're turning in 100% original content to clients.
RESEARCH SKILLS
Any type of writing, including online writing, will require some research, especially for content creation, where you will need to know about relevant keywords and topics that your target audience is searching for to increase visibility for your business.
ADAPTABILITY
Different writers have different writing styles. However, it would help if you looked for a writer who can adapt and adjust their style depending on the content writing assignment.
KNOWLEDGEABLE IN SEO
Whether it's something they've picked up from previous writing jobs or their research, basic knowledge of SEO can help freelance writers write content relevant to the target clients or audience.
TIME MANAGEMENT SKILLS
While it's true that creative outputs do take time, you can still find content writing experts who know how to manage their time even when they have multiple assignments or even multiple clients. Adhering to deadlines is important, especially for digital marketing, where trends tend to come and go quickly.
GOOD COMMUNICATION SKILLS
When working on content writing assignments, writers may need to coordinate with their editor or other writers for direction or to exchange ideas. Good communication skills are important in creating content and coordinating with clients, if needed, and other team members.
How to Hire a Freelance Content Writer
DEVELOP A JOB AD
Before going directly to job boards, you should carefully craft the job ad to ensure you are getting the right content writing expert. Include the job description, the type of writing content you need, the required skills, and the pay rate. If applicable, you can also include more specific requirements, like if the writer you're looking for should be familiar with the Chicago Manual or AP Style or if they should be subject matter experts on certain topics like finance or healthcare.
POST YOUR JOB ALERT ON JOB BOARDS
There are several online job boards where you can advertise your open writing jobs. Ensure you include the application details, such as where writers should submit their resumes and writing portfolios or who to contact for details on the job alert.
REVIEW RESUMES AND WRITING SAMPLES
Resumes can help you review the professional writing experience of the applying freelance writers. Knowing their professional writing background can be a good way to see the type of topics, clients, or industries they're familiar with. While reviewing writing samples of a freelance writer applicant will give you a clearer idea of their content writing skills, grammar skills, writing style, and ability to adjust their content writing style depending on the type of assignment since the tone of a blog post can be quite different from more formal content marketing assignments like white papers or press releases.
INTERVIEW SHORTLISTED APPLICANTS
After reviewing their applications, you should clearly know which of the freelance content writing applicants you want to interview. Make sure you ask questions that will help gauge their writing skills, work attitude, and ideas for content creation.
ASSIGN THE SHORTLISTED WRITERS WITH A CONTENT WRITING TEST TASK
When hiring freelance writers, assigning test tasks like test articles or sample email templates is useful. Make sure to assign the same task to the shortlisted freelance writers to gauge which of them is most fit for the job you're looking to fill.
CREATE A JOB OFFER FOR THE SELECTED WRITER
Once you've selected the writer, it's time to express your interest in getting their content writing services by creating a job offer. However, it's best to play it safe by having other writers as a backup in case your plan A does not work out.
ONBOARD YOUR NEW FREELANCE WRITER
While they do their writing jobs remotely, freelance writers should still be onboarded. It will give them a better idea of your company. It's a good way to show them your brand toolkit, so they're guided on the type of content writing you expect from your writers. You should also introduce them to the rest of the team or fellow writers to ensure they know who to align with if they have concerns or clarifications about articles or processes.
Finding the right content writers for the job can be time-consuming and overwhelming, so why not let 20four7VA search for you?
20four7VA provides end-to-end remote staffing services to clients across the globe. We match virtual talents, including content writers, with rewarding job opportunities. We won't just help you find the right freelance content writers for the job, but we'll assist with onboarding, writer management, and even payroll processing for a hassle-free staffing solution.
Get in touch with our Growth Experts today to create better, more engaging content with a freelance content writer!
Ready to find a Freelance Content Writer?