Freelance Bookkeeping
Find the perfect bookkeeping expert to help grow your business.
Get Freelance Bookkeeping Services
If you're a business owner or manager, then you recognize the importance of maintaining financial health. Monitoring budgets, handling invoices, and safekeeping accounting data is just as important as revenue generation. Every business needs to manage the money that comes in to keep the business running and running well. This is where bookkeeping comes in.
What is Bookkeeping?
Bookkeeping refers to the process of recording and maintaining the financial transactions of a business, including sales, purchases, receipts, and payments, to ensure the smooth functioning of the accounting process.
Good bookkeeping practices can help companies and small businesses stay financially healthy. These reports allow businesses to remain compliant with tax laws and regulations and make data-driven business growth strategies.
Why Hire a Freelance Bookkeeper?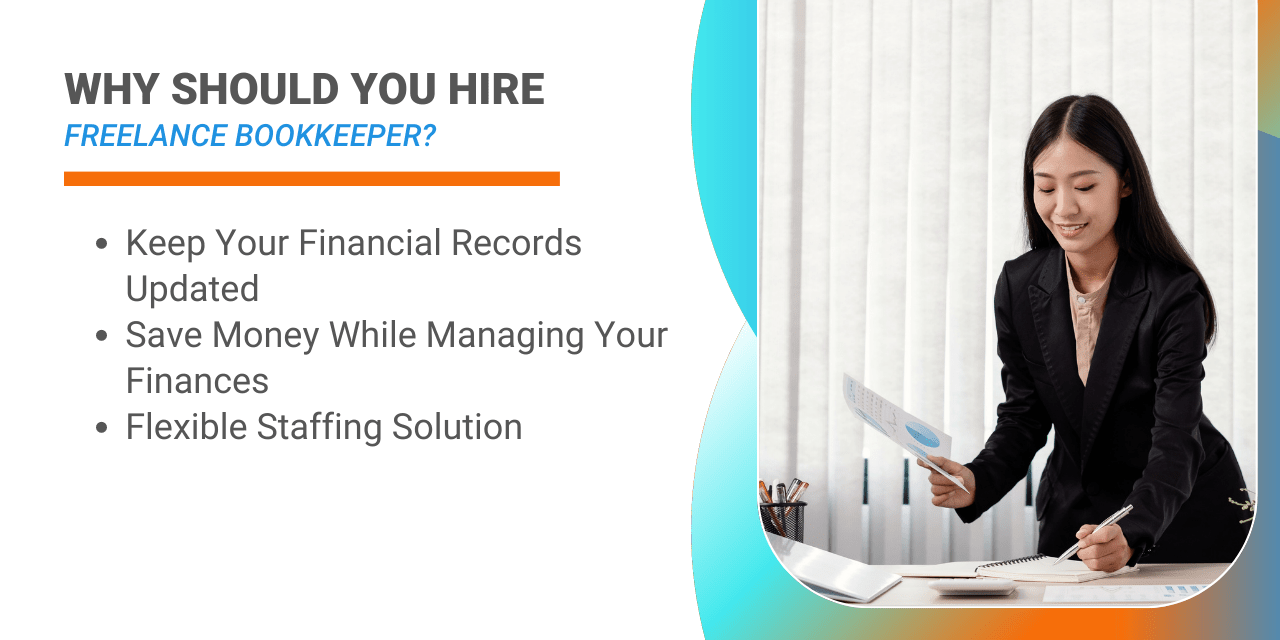 Bookkeeping is an essential part of any business. This is crucial to reviewing your cash flow, having accurate financial reporting, and staying compliant. But this job can also take too much time and energy. If you're a business owner wanting to save money without sacrificing the quality of work, hiring a bookkeeper freelancer is your best bet.
Keep Your Financial Records Updated
An effective bookkeeping freelancer helps you understand the financial position of your business better. They maintain accurate and timely records on a daily basis, so you can stay on top of your finances.
Save Money While Managing Your Finances
Thanks to technology, freelance bookkeeping jobs can be done remotely. This means you don't have to worry about additional expenses related to hiring new employees. You don't need to purchase supplies or buy new equipment because these virtual bookkeeping experts have their own tools.
In addition, paying freelance bookkeeping rates are more cost-efficient than hiring in-house, full-time staff. If you don't need someone full-time, you can work with bookkeeping specialists looking for part-time freelance bookkeeping jobs. Doing so will allow you to complete the bookkeeping work without incurring too many overhead expenses.
Flexible Staffing Solution
They also provide flexibility, allowing you to get the services you need without committing to long-term contracts or hiring full-time staff. Their expertise can help ensure your finances stay on track while freeing up your time for other tasks. By outsourcing bookkeeping duties, businesses can focus on what matters most – growing their operations and succeeding financially.
Tasks Freelance Bookkeepers Can Do
Bookkeeping freelancers can do a wide range of tasks. And all of these jobs involve keeping your business operating smoothly.
Record Financial Transactions

Prepare Financial Statements (Balance Sheets, Accounting Records, etc.) for Tax Filing

Update Accounting Software like Quickbooks

Bank Reconciliation

Review Financial Information

Manage Files of Expenses and Other Financial Records

Prepare Invoices

And more
The above are just some examples of bookkeeping jobs that you can assign to bookkeeping freelancers. Before onboarding your freelancer, you must have a complete list of tasks you will delegate. This can help you determine the important skills you need to look for in bookkeeping freelancer candidates.
Essential Skills and Qualities to Look for in Freelance Bookkeepers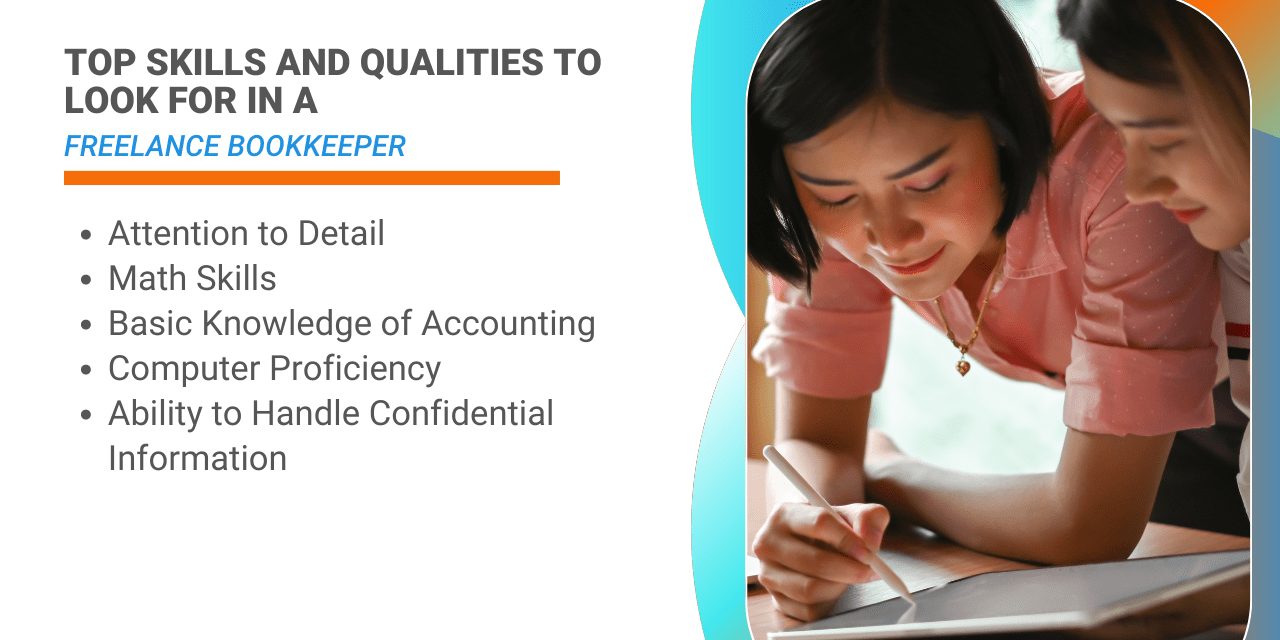 You need to be particular when getting bookkeeper freelance services. Whether you need someone to do simple data entry for financial records or assist with balancing your books, you need an ideal candidate. And this ideal candidate should have the following qualities:
Attention to Detail
You need bookkeeper freelance services that will help you maintain 100% accurate records. The data your virtual bookkeeping assistant handles is crucial for your business to stay financially healthy. The information from the accounting software they update is used to prepare financial reports or bank statements. These are critical documents for multiple reasons.
For example, if you're a small business trying to get a loan, these financial reports can make or break your loan application. These financial records are also used for reporting to your business stakeholders. And any questionable entry can negatively affect your business. It can even cause investors to lose faith in your business plan. You can avoid these worst-case scenarios by working with a detail-oriented freelance bookkeeper.
Math Skills
A good bookkeeper must have excellent math skills. Even when almost everything is automated, you still need someone with good arithmetic skills and logic to manage your accounts. They're not overwhelmed by huge numbers and can make sense of them thanks to their skills and bookkeeping experience. This also helps them spot any errors or inaccuracies at a glance.
Basic Knowledge of Accounting
Hiring someone with a foundational knowledge of accounting principles can be beneficial. They are better equipped to help with more than data entry. They can provide input when it's time to make financial projections, accounts management, and more. They can get this basic knowledge from earning their bachelor's degree or through on-the-job bookkeeping experience.
Computer Proficiency
It's important to hire someone that's comfortable with technology. Freelancers' main tools of the trade are their computers and internet connection. So computer proficiency is a non-negotiable quality professional bookkeepers must possess.
It can also help if they're familiar with accounting programs like QuickBooks, Sage Business Cloud Accounting, and the like. These programs help businesses manage cash flows, craft invoices, and track payments.
Ability to Handle Confidential Information
Traditional, in-office bookkeepers are already expected to maintain confidentiality. But bookkeeping for freelancers demands an even higher level of confidentiality. Freelancers must ensure that the information of their clients is safe. They know how to apply the usual data privacy practices such as safekeeping passwords, using screen protectors, and the like. They can also keep client information private by using secure internet connections and anti-virus software.
How to Get Bookkeeping Freelance Services
If you're ready to get bookkeeping services, you must create a job ad first. The job ad must be detailed and include information like the freelance bookkeeper hourly rate, job description, work hours, and so on. You must then post your listing on career websites for freelancers looking for bookkeeping jobs.
But it's important to note that the recruitment process is not that quick and easy. You must still invest time and money to find the right person for the job. But if you're already swamped with other responsibilities, you can simply let 20four7VA help. We'll find the right bookkeeping freelancer for you!
Get the Best Bookkeeping Services with 20four7VA
20four7VA is a multi-awarded virtual staffing company. We have a decade of experience matching clients with the right virtual talents.
20four7VA End-to-End Services
Our services don't end with client-VA matching services. We aim to make remote work work for both the client and the virtual assistant (VA). And we do this by providing high-quality end-to-end remote staffing services.
Dedicated Customer Support
All 20four7VA clients will be assigned a dedicated Account Manager. These account managers will help ensure that all concerns are handled promptly.
Human Resources Support
We have a team of HR professionals who can handle all things HR. This includes payroll processing to VA performance management.
In-House Training
Our in-house trainers help VAs sharpen their skills to remain effective in their jobs. For example, if your bookkeepers need a Quickbooks refresher training, we can handle that for you.
IT Helpdesk
Clients and VAs can get technical help from our internal IT team who can help troubleshoot hardware or software concerns.
The best part? Clients don't need to make extra payments to get all these perks. When you avail of 20four7VA's virtual staffing solutions, you get access to all of the above at no extra cost.
Ready to delegate your company's bookkeeping jobs to top-notch remote bookkeepers? Then schedule a free consultation call with our Growth Experts today!
Ready to find a Freelance Bookkeeper?