Dropshipping Virtual Assistant
Upgrade your dropshipping business with a Dropshipping Virtual Assistant.
Dropshipping is a retail fulfillment method where a store doesn't keep the products it sells in stock. Instead, when a store sells a product, it purchases the item from a third party and has it shipped directly to the customer. This is a common business model for eCommerce businesses that prefer low overhead costs and sales fulfillment efficiency.
However, this business model still requires back-office tasks to run smoothly. Such duties consist of time-consuming activities that business owners may not have the time or energy for. If you're looking to run a successful dropshipping business but want to avoid high costs, then hiring a dropshipping virtual assistant is your best bet.
WHAT IS A VIRTUAL ASSISTANT FOR DROPSHIPPING?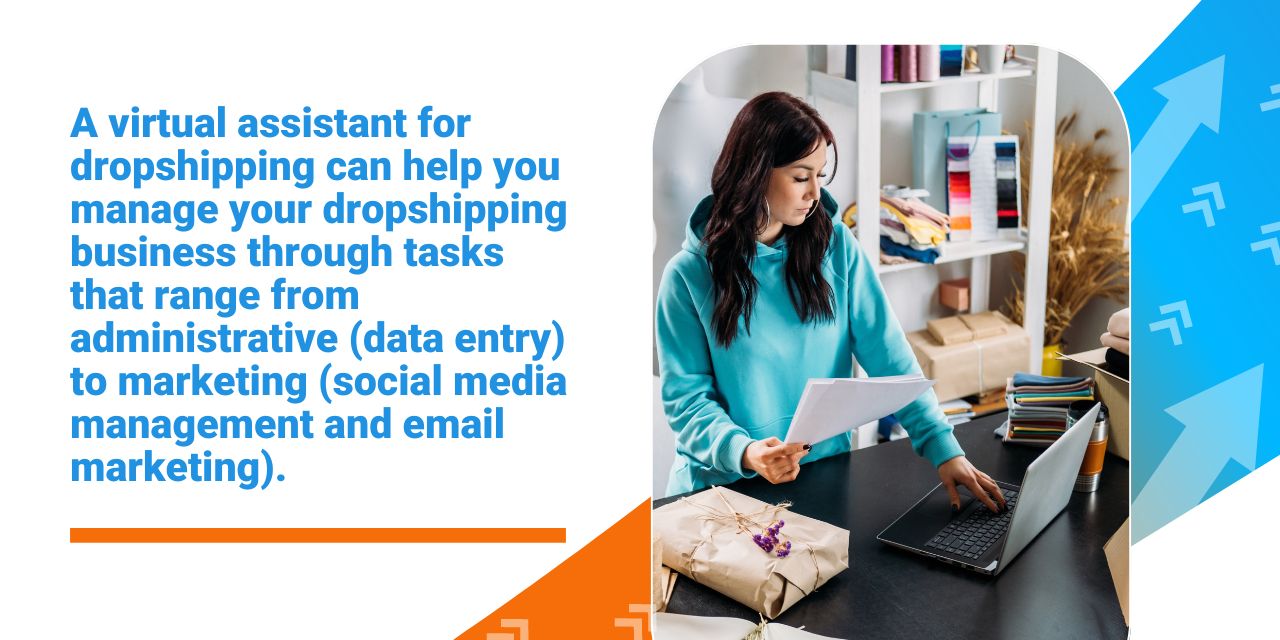 A virtual assistant (VA) is a professional who can support businesses with various tasks remotely. Any business task you can do online can be delegated to a virtual assistant, and dropshipping tasks are no exception.
A virtual assistant for dropshipping can help you manage your dropshipping business through tasks that range from administrative (data entry) to marketing (social media management and email marketing). Whatever you need help with for your dropshipping business, you'll find the right virtual assistant to delegate them to.
BENEFITS OF HIRING VIRTUAL ASSISTANTS FOR DROPSHIPPING
When you hire a virtual assistant, dropshipping store management will be much easier. You'll be able to focus on other aspects of the business while enjoying all the benefits of virtual staffing services.
SAVE TIME
Hiring a virtual assistant is an excellent way for business owners to save valuable time. You can delegate important but time-consuming, repetitive tasks so that you can focus on your core responsibilities or other business endeavors.
SAVE MONEY
Hiring virtual assistants is a good choice if you need someone to manage your drop shipping business while keeping your expenses low. Virtual staffing offers a cost-efficient and flexible alternative to hiring full-time staff. Working with an in-house, full-time employee usually involves additional costs like health insurance, new equipment, etc. With virtual assistants, all you need to concern yourself with is how to compensate them for the hours worked.
INCREASE PRODUCTIVITY AND AVOID BURNOUT
It can be overwhelming if you're an eCommerce business owner with a lot on your plate. You can feel overwhelmed and risk burnout. By hiring a virtual assistant, you can improve the productivity of your dropshipping business without pushing yourself to the limit. Instead, you can regain control of your time and energy to focus on your core responsibilities as an owner.
IMPROVE CUSTOMER EXPERIENCE
As the owner of a dropshipping business, you might not always be available to manage every incoming customer query. But with the right virtual assistant, you can improve the customer experience of your dropshipping store's clients. They can help handle customer inquiries about product details and order fulfillment concerns.
FIND SOMEONE WITH THE RIGHT SKILLSET
One benefit of virtual assistant services is that geographical boundaries do not limit you. VAs can provide their services to clients from anywhere in the world. This means you can find someone with just the right skills you need. Whether you need an Amazon dropshipping virtual assistant, eBay dropshipping virtual assistant, or someone who can help you improve your social media presence, you're sure to find the suitable VA.
TASKS A VIRTUAL ASSISTANT FOR DROPSHIPPING CAN DO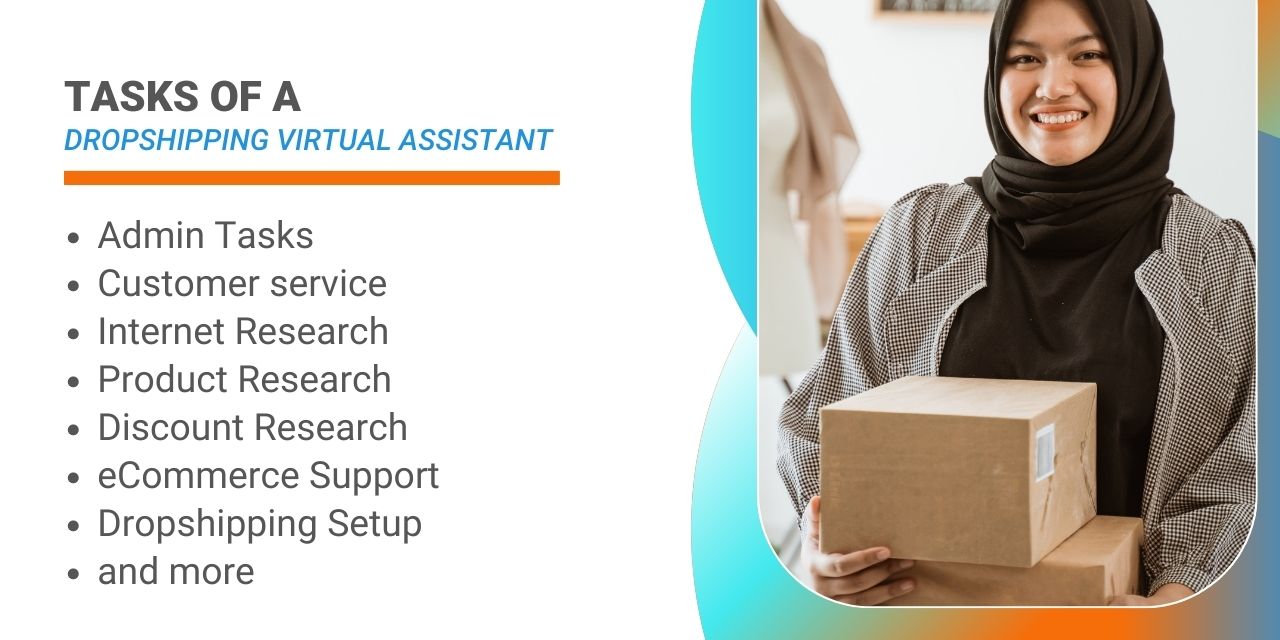 Time-consuming tasks are essential to keep an eCommerce business running smoothly. Here are some tasks that you can delegate to a dropshipping virtual assistant:
ADMINISTRATIVE TASKS
Data Entry
Database Management
Calendar Management
File Management
Personal Assistance
And other dropshipping business administrative tasks.
BUSINESS SUPPORT
Customer Service
Product Review Monitoring
Refund Tracking
Supplier Research
Competitor Research
Product Research
Discount Research
Logistics Coordination
And Other Business Support Tasks
ECOMMERCE SUPPORT
Supplier Coordination
Promotions Management
Listing Management
Listing Optimization
Product Listing Monitoring
Product Price Monitoring
Dropshipping Setup
MARKETING
Product Descriptions
Keyword Research
Setup of Social Media Accounts
Social Media Management
The above are just the basic tasks that a dropshipping virtual assistant can support you with. You can also tweak this list to ensure it caters to your business's needs.
ESSENTIAL SKILLS AND QUALITIES TO LOOK FOR IN DROPSHIPPING VIRTUAL ASSISTANTS
It's crucial to craft a job description listing the tasks you plan to delegate to your dropshipping virtual assistant. A detailed job description can help you narrow down the skills you need to look for in a virtual assistant. Your skills and qualities checklist may vary depending on the specific set of tasks. But we recommend looking for someone who at least has the following essential skills needed in a dropshipping virtual assistant.
COMPUTER SKILLS
It's expected that a virtual assistant knows their way around using a computer or laptop. The virtual assistant you hire for your dropshipping store should not only be proficient in basic computer programs. They must also be able to pick up how to navigate all the tools or software you need them to use.
EXCELLENT COMMUNICATOR
Virtual assistants for dropshipping will be interfacing with many individuals other than online business owners. These include everyone from the eCommerce sphere, including other eCommerce business team members, suppliers, and customers. The virtual assistant you hire should be able to communicate clearly and professionally across all platforms. Your virtual assistant must be well-versed in corresponding via email, Google Hangouts or Zoom calls, phone calls, and other messaging apps.
ORGANIZATIONAL SKILLS
To do their tasks well, virtual assistants for a dropshipping business must be highly organized. Certain tasks like managing customer feedback and updating product listings require meticulousness and proper organization to ensure all information is passed to the business partners.
ABILITY TO MAINTAIN CONFIDENTIALITY
An eCommerce business or company will have access to sensitive information that can be the target of fraudulent activities. Everyone in your eCommerce team must be able to protect customers' data from other businesses and scammers. This includes your virtual assistant. You'll be granting virtual assistants access to both company and client data. This means you need someone who can treat every piece of information they come across with the utmost care.
HOW TO GET THE BEST VIRTUAL ASSISTANT SERVICES
Hiring virtual assistants will require your time and energy. You'll typically begin with drafting your job description. Then, you can post your ad on career portals where you can find freelancers. But the process does not stop there. You'll need to invest more than a few hours of your daily schedule to screen, interview, and onboard your virtual assistant.
If you want to save time, energy, and money, consult with an end-to-end virtual staffing company like 20four7VA. We have a decade of experience helping owners grow their businesses through tried-and-tested virtual staffing solutions.
WHY WORK WITH 20FOUR7VA?
20four7VA is an Inc. 5000 remote staffing company that offers cost-effective staffing solutions to clients worldwide. We are dedicated to connecting businesses to world-class remote talent. We provide end-to-end services, including:
ACCESS TO A VAST TALENT POOL
We have virtual assistants from all over the world with a wide variety of experience and expertise. These remote professionals can offer support to businesses across various industries. To help you find the best virtual assistants for your online business, we will screen our current pool for the most suitable candidates.
IN-HOUSE TRAINING
20four7VA has an in-house training team to conduct one-on-one assessments and group training sessions to help VAs upgrade their skills. Our team will help them provide the best services for your online company.
HR SERVICES
Yes, we help you with screening and hiring a virtual assistant. But we do more than just that. We assist with everything that comes after the recruitment process. These include virtual assistant management, time tracking, payroll processing, performance management, and more.
DEDICATED ACCOUNT MANAGER
We are committed to making remote work work for every company and virtual assistant. With a dedicated 20four7VA account manager, you can expect quality service and prompt feedback on your remote staffing queries.
IT HELPDESK
You and your virtual assistant can also have free access to our technical support team. They can offer troubleshooting assistance on any hardware or software concerns.
We offer the above services and much more. So let 20four7VA help you find the best virtual assistants or VA for your eCommerce business.
Schedule a free consultation with us today!
Ready to find an Accounting Virtual Assistant?