AI Prompt Engineer
Let us help you find the perfect AI Prompt Engineer for your AI needs.
Hire an AI Prompt Engineer
Artificial Intelligence has become an integral part of numerous industries, from healthcare to retail. It has become the driving force behind a lot of business transformations and innovative solutions. AI has enabled organizations to do business better, streamlining processes, improving decision-making, and enhancing overall productivity and efficiency.
Another practical application of AI includes AI text and image generation. These AI models produce responses, whether in the form of words or photos, based on given inputs or "prompts." The widespread use of such tools has caused the emergence of new roles within the AI space, including an AI Prompt Engineer.
What is an AI Prompt Engineer?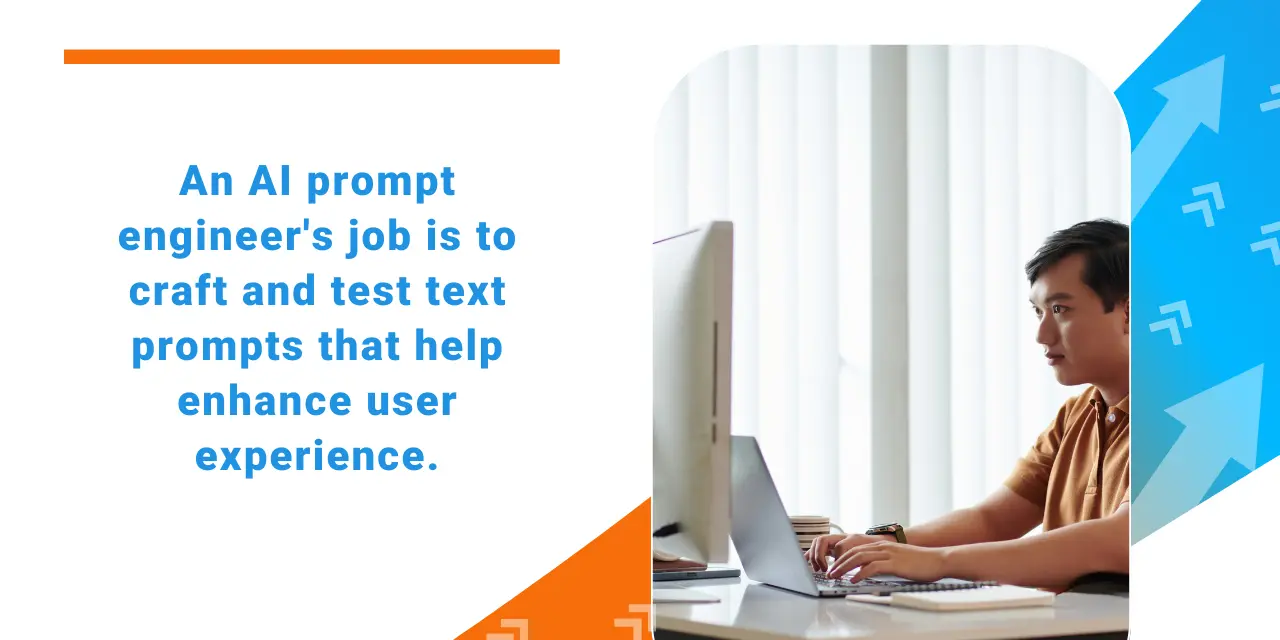 Artificial intelligence (AI) text and image generators are not all-knowing. They need prompts in the form of text input. However, AI tools don't always produce the desired output users are looking for. That's where an AI prompt engineer comes in.
Ambiguous, generalized input will result in an equally vague or broad output. An AI prompt engineer's job is to craft and test text prompts that avoid such output and narrow down the parameters for AI tools. In a sense, they help AI tools "hit the nail on the head." They write and rewrite prompts to create the right ones that can produce the best results.
AI prompt engineers help enhance user experience while helping fine-tune the performance of AI systems. Their work contributes to the accuracy and effectiveness of the widely adopted tools.
Are you thinking of hiring an AI prompt engineer? Book a free consultation call with our Growth Experts to find the top remote talents for this role.
Responsibilities of an AI Prompt Engineer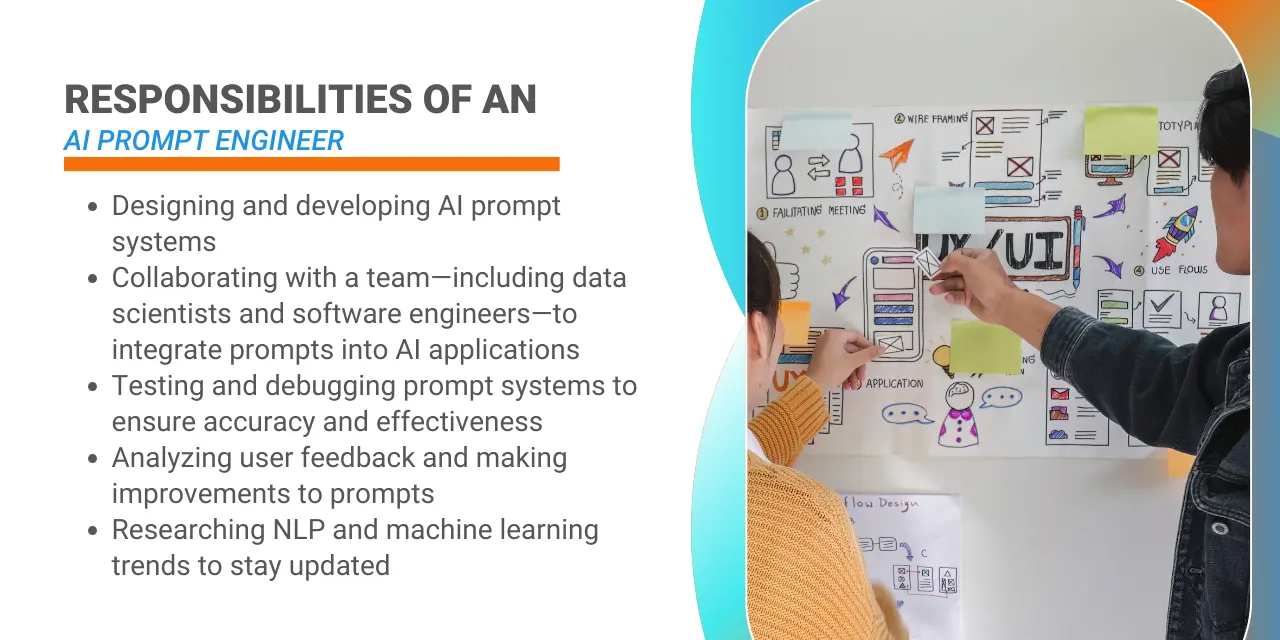 Because it's a relatively new role, the responsibility of an AI prompt engineer may vary depending on the company and industry they're in. But some common tasks include:
Designing and developing AI prompt systems

Collaborating with a team—including data scientists and software engineers—to integrate prompts into AI applications

Testing and debugging prompt systems to ensure accuracy and effectiveness

Analyzing user feedback and making improvements to prompts

Researching NLP and machine learning trends to stay updated
Aside from the above tasks, AI prompt engineers may also have other responsibilities, like keeping logs and reports on the project's progress. They can also be assigned to collaborate with other engineers and user experience (UX) experts on specific AI development projects.
Top Skills and Qualities to Look For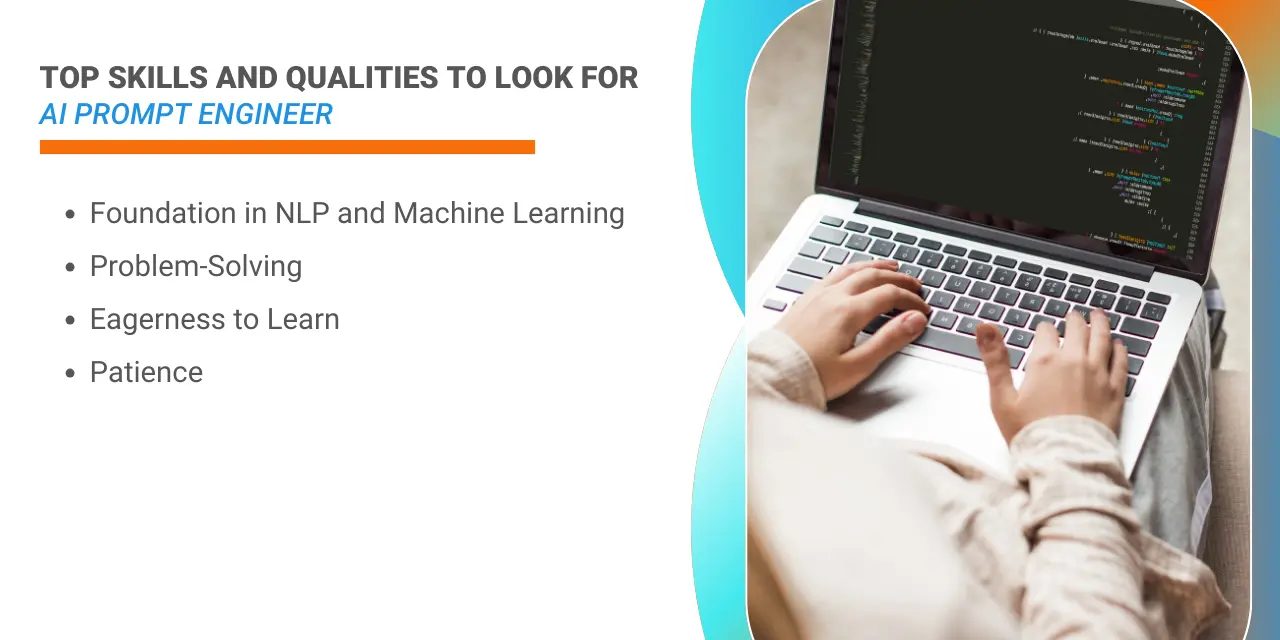 To succeed in this role, an AI prompt engineer must possess technical and soft skills. Here are some of the key skills that are essential for an AI prompt engineer:
Foundation in NLP and Machine Learning
Having a strong foundation in Natural Language Processing (NLP) and Machine Learning is a core technical skill of a competent AI prompt engineer. They can be more effective in creating prompts when they understand machine learning principles and concepts like language modeling, text reprocessing, etc.
Problem-Solving
An AI prompt engineer will surely encounter various challenges and errors. On top of being well-versed in NLP and machine learning, they must also be creative. They can find different ways to troubleshoot problems and resolve issues with their prompts.
Eagerness to Learn
The AI we know now is still evolving. And as these systems learn and improve, your AI prompt engineer should be able to keep up. To do this, they must be eager to learn and have never-ending curiosity. They recognize that the quality of their work and prompts will also depend on how well they equip themselves with up-to-date knowledge and AI trends.
Patience
Being patient is an undervalued quality in today's fast-paced world. Instead of gravitating towards the quick fix, an AI prompt engineer should balance meeting deadlines with ensuring good quality of work. It's important to avoid rushing when solving problems to uncover and address real root causes. This is especially important with prompt engineering and when dealing with relatively new tools that need refining.
Looking for more tips on what to look for in a remote talent? Visit the 20four7VA blog or book a free consultation call with our Growth Experts today.
Hire a 20four7VA AI Prompt Engineer
If you want to hire an AI prompt engineer, there are different routes you can take. You can sift through referrals and freelance marketplaces. However, if you want to save time and money while hiring top-tier talent, choosing 20four7VA is your best bet.
Why Choose Us?
20four7VA is a remote staffing company with over a decade of experience. We've helped more than 2,900 businesses grow by providing scalable, cost-effective staffing solutions. Here's a snapshot of what we offer:
Global Talent Pool: Our talent pool consists of skilled remote talents across the globe. These virtual assistants (VAs) have a wide range of specializations, from essential administrative support to more technical roles such as web development and AI prompt engineering.
Cost-Efficient Staffing Solutions: During your free consultation call, our Growth Experts will learn more about your business goals and staffing requirements. From there, we'll craft the most cost-efficient staffing solution you need.
Award-winning End-to-End Services: Our services don't end once we match you with your remote talent. We provide support services (e.g., VA training, payroll processing, etc.) that help make VA staffing a breeze. Our expert solutions have been recognized by business institutions, including the World Staffing Summit and the U.S. Chamber of Commerce, to name a few.
Conclusion
As AI advances and becomes more prevalent in various industries, the demand for skilled professionals such as AI prompt engineers will only continue to grow. If you want to ensure your company is at the forefront of the AI wave, you need to hire only the best talents for your AI projects.
The right AI prompt engineer is not only technically skilled but must have the creativity and patience to drive your AI initiatives forward. To ensure you hire top-notch talents and receive the most cost-effective solutions, hiring with 20four7VA is the way to go.
Ready to hire an AI Prompt Engineer? Schedule a free consultation call with us to get started!
Ready to find an AI Prompt Engineer?