AI Content Writer
Bring your vision to life with a professional AI Content Writer virtual assistant.
Hire an AI Content Writer
Artificial intelligence (AI) writing tools are growing in popularity. They have plenty of uses, from crafting emails to writing quick ad copies. And now, businesses are turning to such tools for generating content.
Brands see the need to constantly churn out content to engage with their target audience and stay top-of-mind. But if you're finding it challenging to keep up with the constant demand for content, hiring an AI Content Writer is your best bet.
What is an AI Content Writer? Why Should You Hire One?
The AI content writer role is a relatively new job title. AI content writers marry their writing and research skills with the transformative power of artificial intelligence. They use AI tools to write and manage high volumes of content, from blog posts to captions for social media posts. You may wonder, "I already have the likes of ChatGPT and Google Bard; why do I still need to hire an AI content writer?" Well, here are some of the top reasons:
Save Time While Ensuring Quality
Yes, AI writing tools can quickly churn out answers to just about any prompt. However, you still need to proofread and double-check any claims in the answers before using it for your business. Doing so can still take time and energy, especially if content writing is not your forte.
If you want to make the most of AI tools without sacrificing too much of your time, you need to hire an AI Content Writer. They know how to use AI tools to help them produce large volumes of written content. At the same time, they have the right skills to ensure the content you put out is aligned with your brand and, more importantly, accurate.
Meet Your Marketing Goals
To set your business up for success, you must provide excellent products and services and operate efficiently. At the same time, you need to build your brand, including ensuring you have engaging content that will resonate with your target audience.
The demand for brand content can be overwhelming. Working with an AI content writer can be an excellent solution to help you keep up. You can focus on your core responsibilities while they support you with creating the content you need to meet your marketing goals.
Save Money
The beauty of working with an AI content writer is that they don't even need to be in the same physical space as you. A remote professional can do this role for you—at a fraction of the cost of hiring an in-office employee!
With an AI Content Writer VA or Virtual Assistant, you don't need to worry about in-office staffing expenses like office equipment, transportation allowances, and so on. Typically, remote workers have their basic tools (computer and high-speed internet) to support you in the comfort of their remote offices.
Save up to 80% in staffing costs when you hire remote talents with 20four7VA. Contact our Growth Experts to learn more about our cost-efficient remote staffing solutions.
Tasks You Can Assign to an AI Content Writer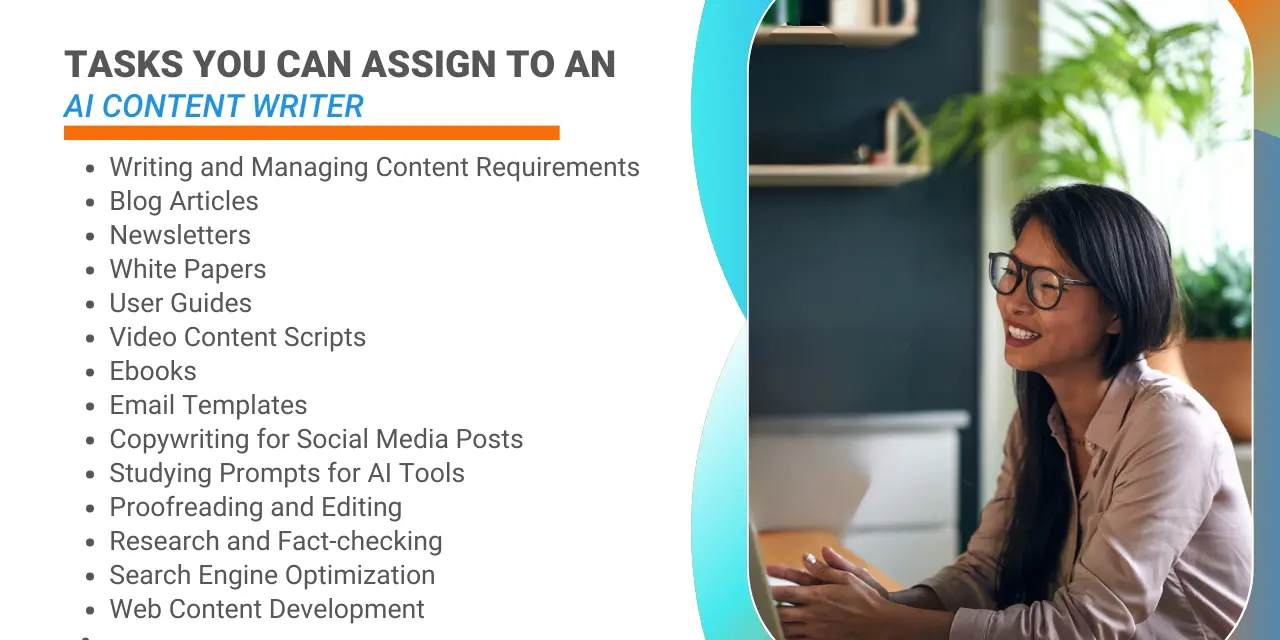 From blog posts to newsletters, you can assign anything under the content writing umbrella to a skilled AI content writer. Depending on their experience and skill level, AI content writers can cover these tasks:
Writing and Managing Content Requirements

Blog Articles

Newsletters

White Papers

User Guides

Video Content Scripts

Ebooks

Copywriting

for Social Media Posts

Studying Prompts for AI Tools

Proofreading and Editing

Web Content Development
Skills and Qualities to Look For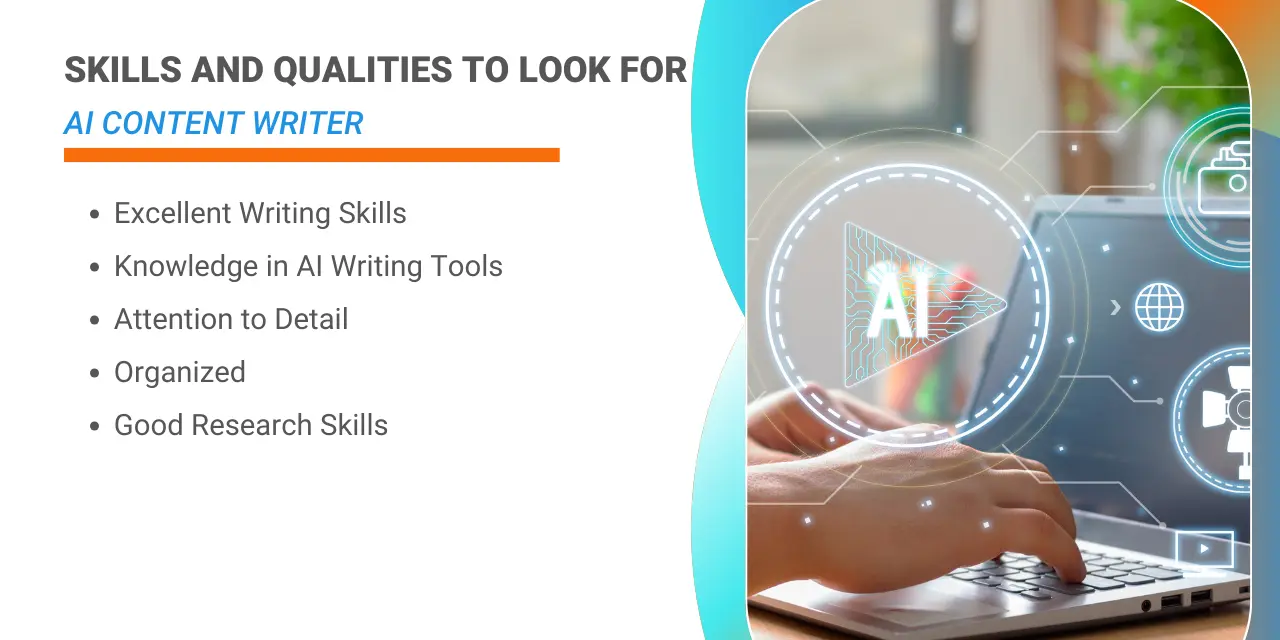 An AI Content Writer may be using a smart tool such as ChatGPT and Rytr. But make no mistake; they still need solid skills to perform well in their role and help build your brand.
Excellent Writing Skills
Even when they're using popular AI blog writing tools or other content generators, your AI content writer must have excellent writing skills. They need to understand your brand's tone and messaging to ensure what you put out there is aligned with what you want to communicate.
They'll be using AI tools to write more quickly. But they still need to apply their skills to keep the writing from sounding choppy, robotic, forced, etc. If you want to maintain the quality of your content, make sure to look for an AI Content Writer with strong writing and editing skills in your preferred language.
Knowledge in AI Writing Tools
It would be best to hire someone already familiar with AI writing tools, especially your preferred ones. They can do their work faster and more effectively if they know how to navigate these platforms. This includes using the right prompts to produce the best results.
Hiring someone who can confidently navigate AI tools can also be time-saving. It will considerably cut down the training and onboarding hours. This way, you can use your training time to help them understand your brand and marketing guidelines.
Attention to Detail
The content you post on your website and your socials is reflective of your brand. To help you build a reliable brand, you need a detail-oriented AI content writer. They will edit the content generated from AI tools to ensure it is grammatically correct and consistent with your brand voice.
Organized
An AI Content Writer handling large amounts of content needs to be organized. You need someone who can keep track of multiple assignments. An organized writer can help you stick to your content marketing calendar and avoid missing deadlines.
Good Research Skills
Instead of completely relying on AI writing tools, a good writer does their due diligence. They must have good research skills to fact-check any data or claims included in the generated content. At the same time, they can provide more depth and credibility to their written assignments by adding relevant data from their own research.
Read our post on the top skills to look for in a virtual assistant. Or book a free consultation with our Growth Experts to learn more about remote staffing.
Hire an AI Content Writer with 20four7VA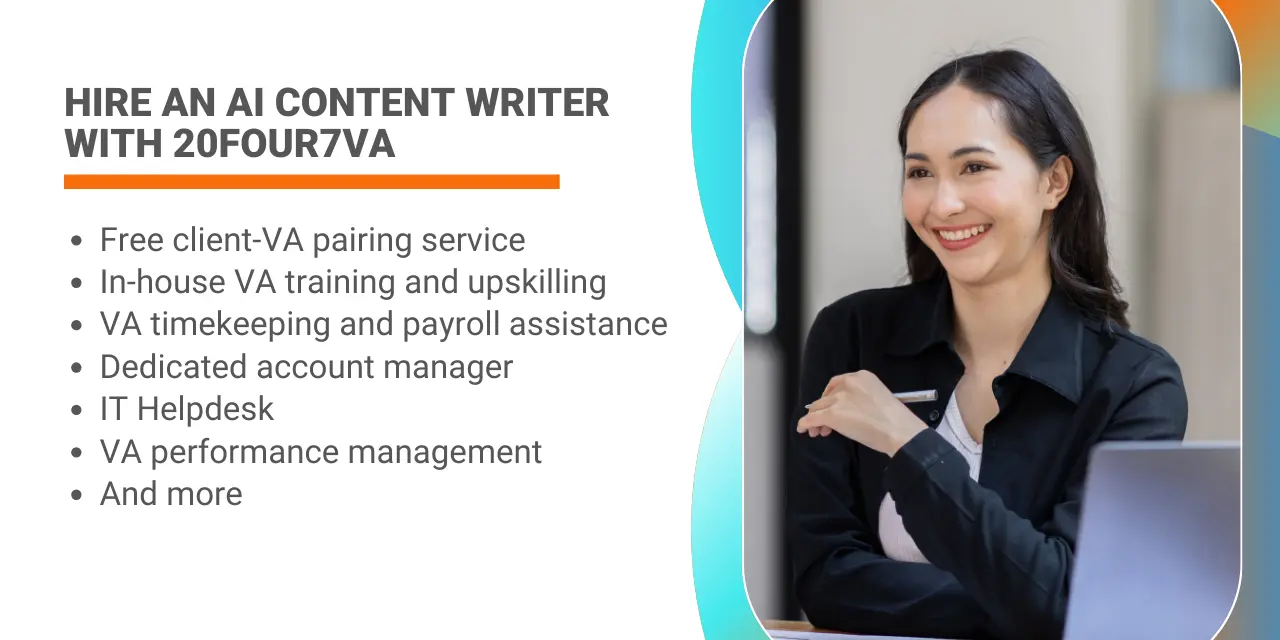 Finding the right talent takes time and energy. If you want to find the best AI Content Writer for your business needs, 20four7VA can help.
We are a virtual assistant company with over a decade of experience. Our cost-effective, award-winning staffing solutions have helped more than 2,900 clients grow their businesses while saving up to 80% in labor costs. When you work with us, you can gain access to our end-to-end solutions, including:
Free client-VA pairing service

In-house VA training and upskilling

VA timekeeping and payroll assistance

Dedicated account manager

IT Helpdesk

VA performance management

And more
Ready to give your content marketing strategy a boost with an AI content writer? Schedule a free consultation call today.
Ready to find an AI Content Writer?