Accounting Virtual Assistant
Hire an Accounting Virtual Assistant and see your business grow!
Hire An Accounting Virtual Assistant
Every aspect of a business can have an impact on and can be affected by the business's financial performance. Business owners know that staying on top of their finances is crucial in keeping a profitable and long-lasting business venture. But not all business owners are accounting experts. And working on the business's financial statements and cloud accounting software can waste a lot of time. Business owners can hire an accounting virtual assistant to save time and money.
WHAT IS AN ACCOUNTING VIRTUAL ASSISTANT?
An accounting virtual assistant (VA) is a professional who provides accounting and bookkeeping services remotely. Anyone from individuals to small business owners to big companies can hire an accounting virtual assistant to help them manage their cash flow, stay on top of business expenses, and keep their business financially healthy.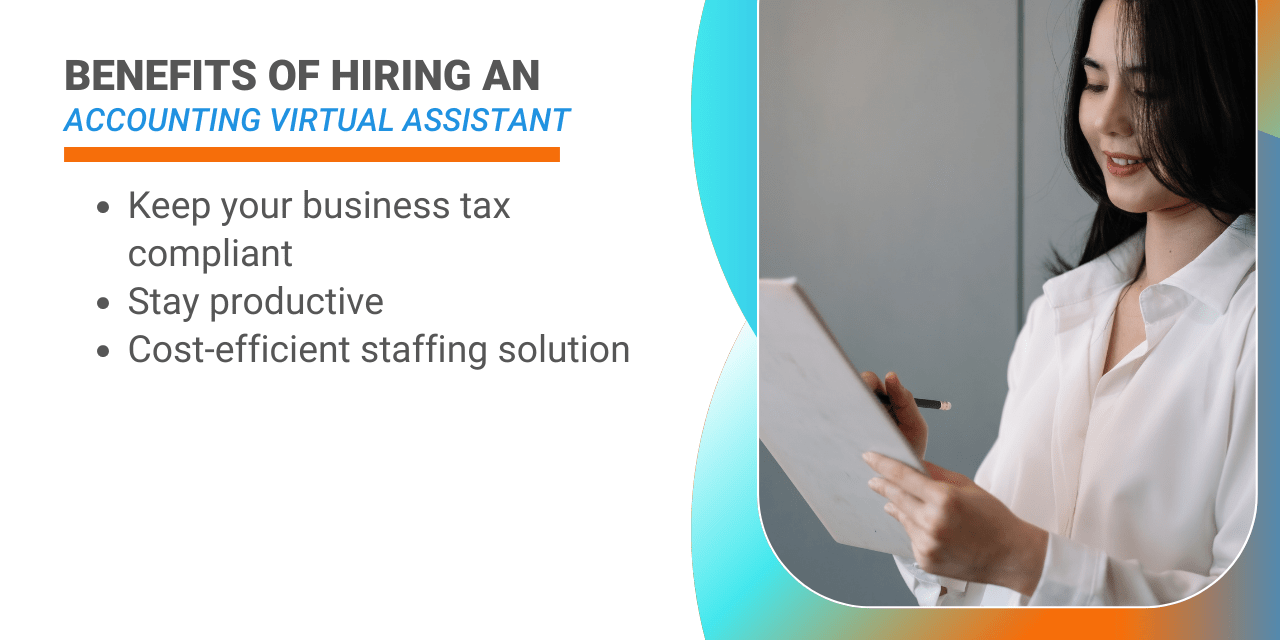 WHY HIRE ACCOUNTING VIRTUAL ASSISTANTS?
There are many reasons why you should hire a virtual assistant for accounting, but here are the top ones that drive businesses to hire their virtual accounting assistant.
KEEP YOUR BUSINESS TAX COMPLIANT
Hiring a virtual assistant who can effectively handle your business's bookkeeping tasks is important. They can help you organize your balance sheets, cash flow reports, and other financial data reports. Additionally, they will help ensure that your cloud accounting software is updated so tax season won't be as daunting as both big and small businesses find it to be.
STAY PRODUCTIVE
Tedious tasks may be time-consuming, but they are still important. Although that doesn't mean you cannot delegate them. You must identify which tasks to delegate to stay on top of your business. Hiring a virtual assistant who can take over accounting tasks can help you and your in-house team be more productive.
COST-EFFICIENT STAFFING SOLUTION
If you're looking to save money without sacrificing the quality of work, then getting virtual assistant bookkeeping services is the answer. A virtual bookkeeping assistant or accounting virtual assistant can possess the same skills and can do the same tasks as their in-office counterparts. Hiring a virtual assistant is more attractive for businesses because they get the job done at a fraction of the cost. Additionally, you can easily scale the virtual bookkeeping services you require depending on your business needs.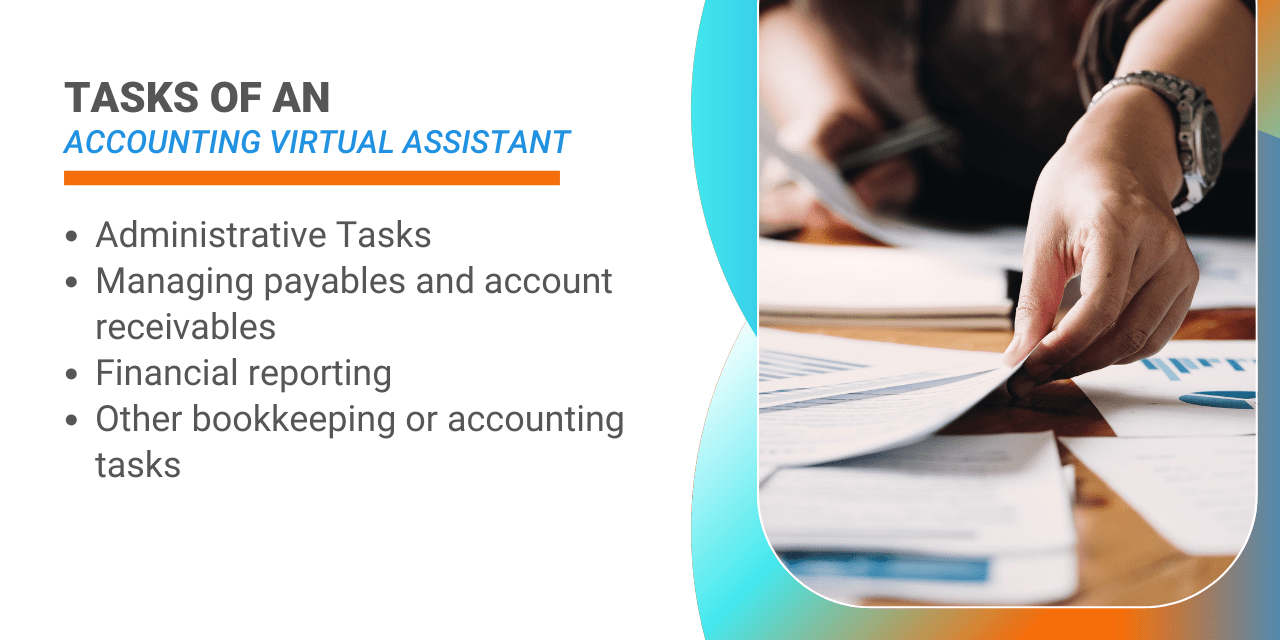 TASKS A VIRTUAL ACCOUNTING ASSISTANT CAN DO
Virtual accountants can surely support you with money management and establishing a more efficient business. A skilled virtual assistant can assist your business with a wide range of tasks, from routine bookkeeping tasks such as data entry and organization of financial records to impactful ones like managing payroll or resource management.
ADMINISTRATIVE TASKS
Data entry

File management

Client and supplier database management
MANAGING PAYABLES AND ACCOUNTS RECEIVABLES
Payroll management

Paying bills (utility bills, suppliers, etc.)

Procurement

Invoicing clients

Client follow-ups for account receivables
FINANCIAL REPORTING
Organizing financial transactions

Drafting balance sheets

Generating expense reports

General ledgers
OTHER BOOKKEEPING OR ACCOUNTING TASKS
Bank reconciliation

Analysis of cash flow

Researching updated tax regulations

Tax season preparations

Computation of business insurance premiums (general liability, commercial property, etc.)
An accounting or bookkeeping virtual assistant can take time-consuming but important tasks off your plate, so you can focus on other business concerns that need your immediate attention.
ESSENTIAL SKILLS TO LOOK FOR IN AN ACCOUNTING VIRTUAL ASSISTANT
Looking for a virtual bookkeeping or accounting assistant requires you to be more meticulous than ever. Remember, you're hiring someone who'll be handling the overall financial data of your business. They'll have access to important and highly confidential information.
FAMILIARITY WITH ACCOUNTING SOFTWARE
Virtual assistants generally have good computer skills and are proficient in basic MS office programs. But for accounting VAs, you'd want to hire someone also familiar with cloud accounting software. Doing so can help you save time in training them.
RELEVANT EXPERIENCE OR EDUCATION
Most clients always prefer virtual assistants with relevant experience or training. Those with prior experience as a virtual bookkeeping assistant or other related roles will have the edge over those who do not. Why? Because they will find it easier to adjust to the role and understand processes faster due to their familiarity with the subject. This means minimal onboarding and close supervision.
DETAIL-ORIENTED
Virtual bookkeeping assistants need to be detail-oriented. One extra 0 or a misplaced decimal point can set off a domino effect of wrong computations. Additionally, virtual assistants who are meticulous and thorough will be able to easily spot inconsistencies such as discrepancies in expense reports or wrong entries in taxable account records.
GOOD COMMUNICATION SKILLS
A VA should also have good communication skills. Remember, they'll be dealing not just with numbers. Accounting virtual assistants may need to raise clarifications with their teammates or even staff from other departments. They'll need good communication skills to ensure nothing gets lost in translation. Additionally, virtual bookkeeping or accounting VAs are in charge of creating financial reports. This means they also need excellent written communication skills to help different company members make sense of the numbers.
STRONG ORGANIZATIONAL SKILLS
You'll need a bookkeeping VA that possesses strong organizational skills. The bookkeeping process requires handling many financial data and other types of files. Highly organized virtual bookkeepers can ensure that your documents are properly organized by expense type, accounting period, or both. Look for someone who can help you know where to find what you need quickly.
CONFIDENTIALITY
A virtual bookkeeping assistant or accounting assistant will have access to some of your company's most confidential files. To make sure you're securing your data, you need someone who can keep your information private. Finding a virtual assistant bookkeeping service that can maintain the integrity and safety of your data is essential.
FAST LEARNER
Accounting or bookkeeping virtual assistants need to be able to keep up with the latest technology and tax regulations. Suppose your business decides to migrate to the latest accounting software. In that case, your bookkeeping virtual assistant must be able to quickly adapt to maintain the high-quality bookkeeping virtual assistant services you expect. And if there are any tax laws or computations updates, they can easily help you with tax preparation and avoid any penalties.
If you want to get the right virtual accounting service for your business, ensure that the remote talent you hire can check off the list above.
GETTING THE ACCOUNTANT VIRTUAL ASSISTANT SERVICES YOU NEED
Hiring a virtual assistant that can provide high-quality bookkeeping services will surely be beneficial for your business. However, getting the right remote talent can be both time-consuming and tedious. And when you're looking to hire someone who will handle highly confidential data, you will need to be more discerning than usual.
We at 20four7VA can save you from the stress and troubles of finding the right virtual assistant. We are an Inc. 5000 company with over a decade of experience in providing cost-effective remote staffing solutions. With 20four7VA, you can source your virtual assistant in four easy steps!
1. FILL OUT THE CONSULTATION FORM
The first step is simple. Just fill out the consultation form, so we can set up a call to get to know your company and staffing needs a bit more.
2. WAIT WHILE WE SEARCH OUR VA POOL
We will search our database of vetted virtual assistants that match your requirements.
3. SCHEDULE INTERVIEW AND TEST TASKS
We'll also assist with scheduling candidate interviews and administering test tasks.
4. YOUR VA IS NOW READY TO PROVIDE THE VIRTUAL BOOKKEEPING SERVICES YOU NEED!
After the virtual assistant selection process has concluded, we will then set up your subscription. Once done, your new VA can now be onboarded and start working!
Ready to hire a virtual accounting assistant to help your business grow? Schedule a free consultation with 20four7VA today!
Ready to find an Accounting Virtual Assistant?