Why Online Courses is Better Than a VA Certification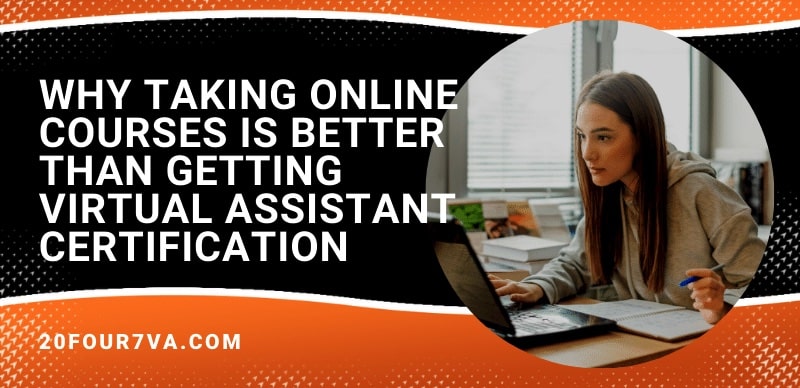 More and more professionals are now making the move to remote work, and many have discovered the potential for career growth offered by the virtual assistant industry. If you're a virtual assistant (VA), you'll know that the virtual assistant business can be very competitive. You'll want to find ways to show prospective clients that you're the best virtual assistant for the job. You'll try to do this by creating a standout resume and taking virtual assistant courses to improve your skills. You may even consider getting virtual assistant certification to differentiate yourself from those in the VA business. But do you really need certification to prove your worth as a VA?
WHAT DO YOU MEAN BY CERTIFICATION?
Official or recognized institutions award certifications as proof that someone has undergone courses and successfully passed an examination. The finance (Certified Public Accountant) and medical (Certified Psychiatrist) fields are examples of industries with official governing bodies that can certify professionals in the field they cover.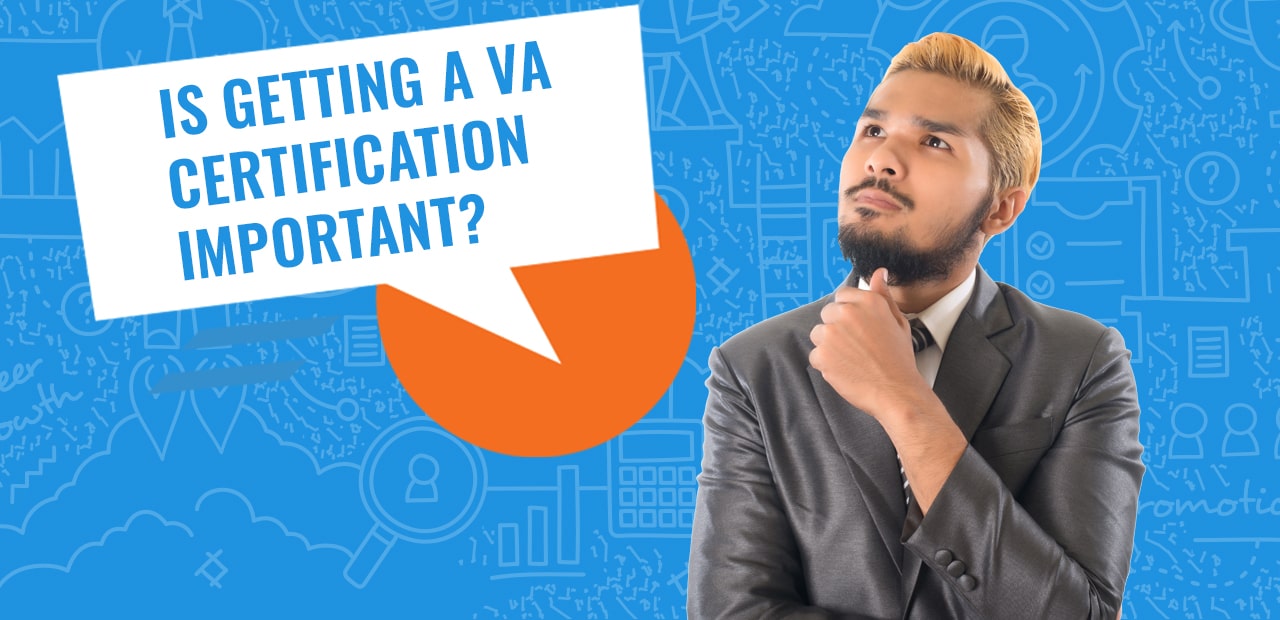 IS GETTING VA CERTIFICATION IMPORTANT FOR YOUR VIRTUAL ASSISTANT CAREER?
Unlike the medical, legal, and finance fields, the virtual assistant industry does not have an official institution globally recognized to award virtual assistant (VA) certifications. Sure, it may be nice to have a "certified virtual assistant" title underneath your name, but it doesn't have much impact if prospective clients don't recognize the certifying body.
3 REASONS GETTING VIRTUAL ASSISTANT CERTIFICATION ISN'T IMPORTANT FOR VIRTUAL ASSISTANTS
You may think that to gain credibility and have a successful virtual assistant career, you'll need to secure some form of virtual assistant certification. But the truth is, clients will most likely look at the skills and certification related to the service you're offering rather than a more generalized virtual assistant certification.
1. THERE IS NO SINGULAR DEFINITION OF WHAT A VIRTUAL ASSISTANT IS
Just as no international association or establishment is recognized to certify virtual assistants, there's also no singular definition of a virtual assistant. A virtual assistant career path can look different for each individual. Someone may focus solely on administrative tasks, some will specialize in social media management, and some will offer IT services. It will be difficult (and unnecessary) to sum up all the knowledge on all the different possible virtual assistant fields in one VA foundations course or training material.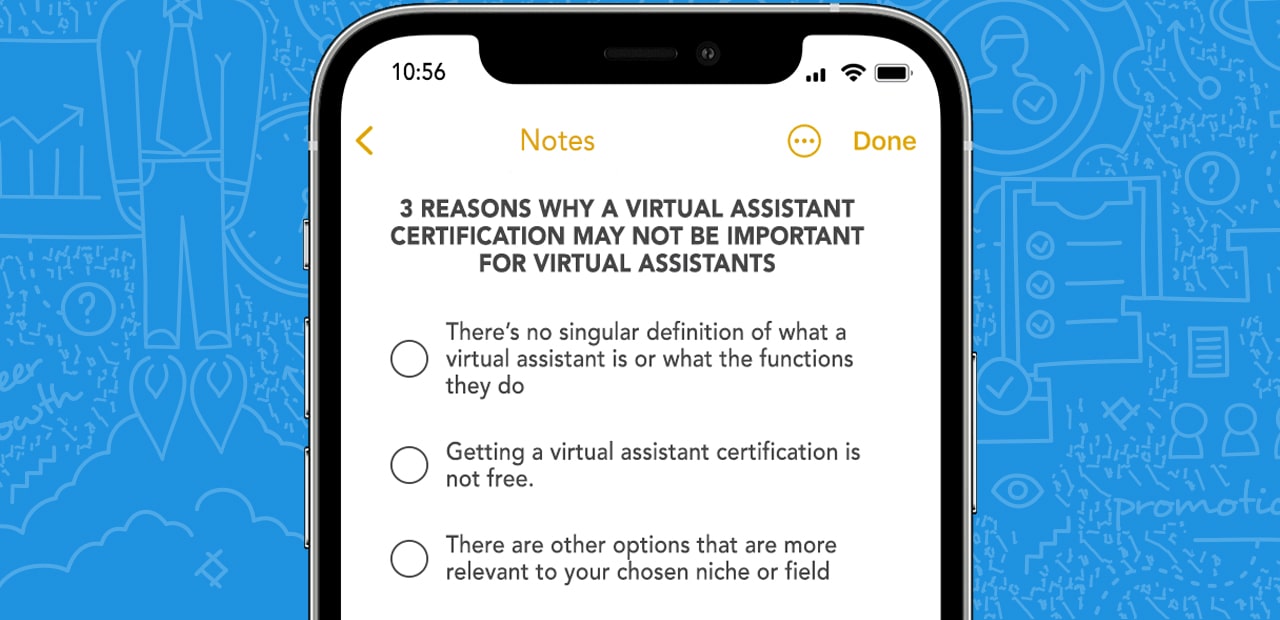 2. GETTING A VIRTUAL ASSISTANT CERTIFICATION IS NOT FREE
If you are still planning on getting virtual assistant certification, do your research before signing up. Know the virtual assistant training program syllabus, who the instructors will be, and the final exam coverage. The virtual assistant training program and certification exam will most likely cost you, so make sure you know where your hard-earned money will go.
If you're wary about spending money on virtual assistant courses, here are 5 Popular and Free Courses for VAs.
3. THERE ARE OTHER OPTIONS THAT ARE MORE RELEVANT TO YOUR CHOSEN NICHE OR FIELD
Rather than taking a generalized virtual assistant course, virtual assistants can improve their VA business by taking virtual assistant classes that can help them learn a skill relevant to the virtual assistant path they want to take. There are many other virtual assistant training programs that you can sign up for that are more focused and can help you shape the virtual assistant career path that you want.
BETTER ALTERNATIVES FOR VIRTUAL ASSISTANTS THAN GETTING VA CERTIFICATION
Rather than spending money on virtual assistant certification, you can expand your knowledge through:
Learning and enhancing relevant soft and technical skills can help you be the best virtual assistant and land your dream VA job! Here's what we recommend aspiring VAs do to prepare for their VA journey:
KNOW YOUR NICHE
A niche is a focused interest in a particular subject. Virtual assistants need to know their niche to focus on becoming an expert or the best virtual assistant in that area. Clients such as small business owners or startups needing virtual assistance will most likely look for someone with a specific focus, whether it's managing social media platforms, doing lead generation for their online business, or handling customer inquiries for their eCommerce customers.
Of course, most virtual assistants start dabbling in various entry-level VA roles or as generalists. Trying out different roles is sometimes necessary to help new virtual assistants figure out what they enjoy and excel at and identify tasks they'd like to avoid. Once they've decided which fields or functions they want to focus on and improve on, a virtual assistant can now plan out the virtual assistant training plan they need.
Are you a newbie planning to make the switch to remote work? Read our guide on How To Become a Virtual Assistant With No Experience for helpful tips!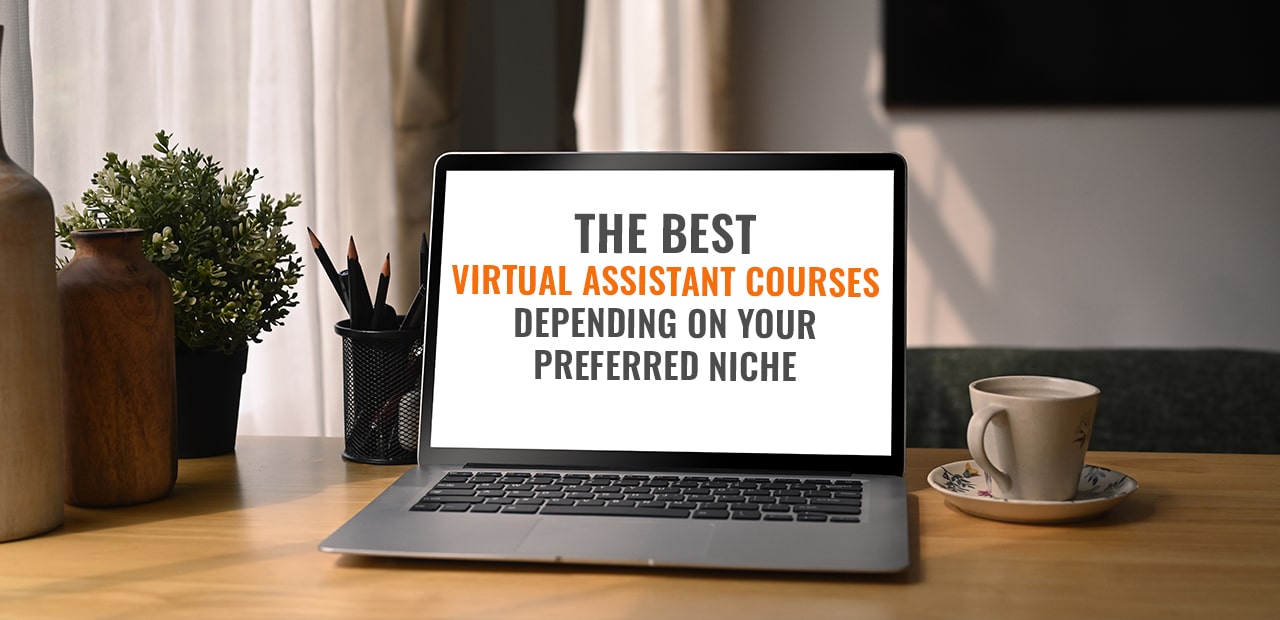 THE BEST VIRTUAL ASSISTANT COURSES, DEPENDING ON YOUR PREFERRED NICHE
The virtual assistant training or virtual assistant courses you'll take will depend on what your focus is. Here are some of the best virtual assistant courses per specialization.
ADMINISTRATIVE SUPPORT VIRTUAL ASSISTANT COURSES
DIGITAL MARKETING VA COURSES

ECOMMERCE VIRTUAL ASSISTANT COURSES
Amazon PPC Fundamentals: If you're an eCommerce VA who wants to help your clients become lead sellers for their product category, this 20four7VA course is for you. The free, self-paced course covers the following:

Amazon PPC fundamentals and terminologies
Defining your PPC goals
How to set up PPC campaigns
How to optimize your PPC campaign

Amazon Vendor Central: This is a free 20four7VA virtual assistant course for eCommerce VAs who want to upgrade their Amazon skills. The VA course explains the differences between Amazon Vendor Central (AVC) and Amazon Seller Central ASC) plus the following modules:

The listing process
Managing purchase orders (POs)
Shipping and labels
Invoices
Processing chargebacks
AVC assessment
REAL ESTATE VIRTUAL ASSISTANT COURSES
Real Estate Basics: This VA course is great for new virtual assistants who want to carve a career path in the real estate industry. It covers the foundational lessons every real estate newbie needs to know: from real estate basics to lead generation to how to manage listings.
Brief Intro to Commercial Real Estate: This Udemy course is designed for professionals (VA or not) who want solid foundational knowledge in commercial real estate. By taking this course, you'll be able to:

Know the common terms and practices in commercial real estate
Understand the key financial concepts for commercial real estate
Know and apply the key analysis techniques used in commercial real estate
Learn about emerging real estate trends
VA COURSES FOR PROJECT MANAGERS
Google Project Management Program: Project Management is an in-demand skill you can learn and apply in various industries and functions. Google offers this program via Coursera that helps beginner VAs carve their Project Manager VA career path. Through this program, you'll learn the necessary skills and practices you need to do well in your project management role. These include:

Foundations of Agile project management
Understanding of the Scrum process framework
Strategic communication and problem-solving skills

Project Management Professional (PMP) Program: If you want to upgrade your end-to-end project management skills, then you may want to take this Udemy course that's designed for all types of professionals who want to learn the ins and outs of project management, starting from project planning to risk management to managing stakeholders.
INFORMATION TECHNOLOGY (IT) PROGRAMS
Google IT Support Professional: This Coursera course offered by Google is open to all professionals, even those without a degree or relevant experience. It's a great way for IT VAs to increase their credibility as IT specialists. The course covers skills that will help new VAs succeed in an entry-level IT role, including:

Performing day-to-day IT support tasks (wireless networking, installing programs, etc.)
Providing end-to-end customer support, including troubleshooting and debugging
Using systems ranging from Linux to Command-Line Interface and more

Web Developer Certification: You can become a certified web developer by taking this Udemy course. Web development is useful since many businesses are investing in functional and optimized websites. This course covers HTML and CSS. It also teaches course participants how to do programming with Javascript.
VIRTUAL ASSISTANT PROGRAMS FOR CREATIVES
The Complete Canva Course for Beginners: Any business will need assistance from a creative designer or artist at some point. Whether it's designing logos, building their brand book, or crafting marketing collateral for social media or other forms of marketing, businesses need expert creative design help. Canva is a great program for beginners, and this Udemy course can help Creative Design VAs make the most out of Canva and create eye-catching design projects.
Adobe Certified Professional Courses: You can earn an Adobe Certified Professional certification by taking online courses. These courses cover all programs in the Adobe Creative Cloud, including Adobe PhotoShop, Illustrator, InDesign, and more. Adobe Certified Professionals can add badges to their design portfolio to generate more client interest and trust.
Many of the listed online courses are offered by 20four7VA, a U.S.-based virtual assistant staffing agency, through its internal training team. All training and upskilling courses provided by 20four7VA are free and self-paced.
Some paid virtual assistant courses posted above are administered by reputable online learning institutions. Remember: these are only some of the best virtual assistant courses within reach. You can find hundreds of virtual assistant courses online by browsing the 20four7VA Training Website, Udemy, or Coursera.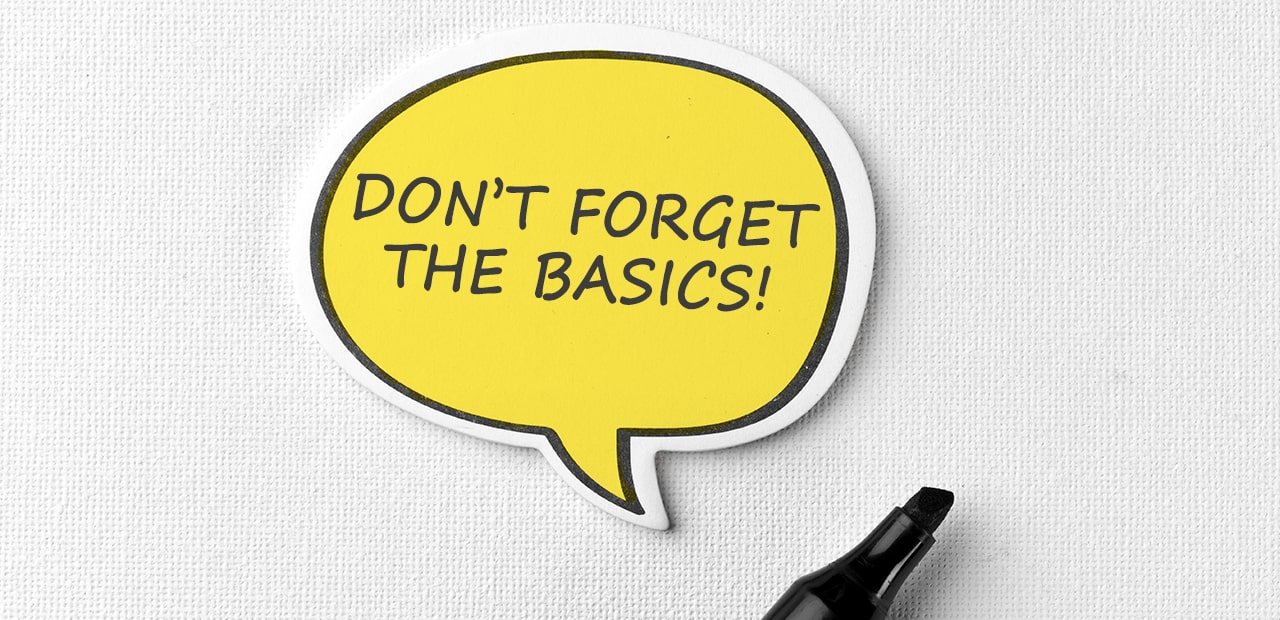 DON'T FORGET THE BASICS!
The virtual assistant training plan you will take on depends on what your preferred niche is. You can take all the best virtual assistant courses out there, but it's important to keep these tried-and-tested virtual assistant skills in your VA toolbox:
Flexibility
Willingness to learn
Communication skills
Self-reliance
Basic computer skills
These foundational VA skills should be the base you build on in your goal to become the best virtual assistant you can be and grow your VA career.
DOING YOUR RESEARCH
Sometimes, learning the essential skills to become a successful virtual assistant won't even require a VA foundations course. Learning can come in many ways. Many virtual assistants sharpen their skills while on the job, while some savvy VAs take their skills training into their own hands by staying updated on the latest trends and watching YouTube tutorials. While this type of skills training may not produce a certificate of completion like most online courses offer, this is still useful for those who want to do well in their VA job.
JOINING A REPUTABLE VA AGENCY LIKE 20FOUR7VA
Joining a community of freelance virtual assistants has its upsides but also has its share of issues, including:
Lack of structure: You may have already agreed on your scope of work and work schedule, but some clients may start assigning you out-of-scope tasks or changing your schedule abruptly.
Difficulty finding clients: Freelancers need to do self-marketing and client outreach to find clients. This is not necessarily difficult, but it can be time-consuming, especially when you have other assignments you're working on.
Ghost clients or those who stop contacting you out of the blue or will just stop working with you without prior notice
Non-paying clients: As a freelancer, you'll also be responsible for billing your clients. Some clients are always late with payments despite the VA submitting their deliverables on time.
Scams: Freelancers must remain cautious to ensure they're not falling for scammers. Some companies make applicants do "test tasks" with the promise of a potential role, but in reality, they act as recruiters but use the submitted work without credit. Some fraudulent entities also require VAs to pay placement fees without the promise of a client assignment.
Becoming part of an experienced and reputable VA agency can help you find better, more secure virtual assistant jobs and enjoy virtual assistant benefits, including:
SAVING TIME
You don't have to scour every available career platform or freelancing channel to find clients. Over the years, 20four7VA has built strong client relationships that you can benefit from. These vetted clients come from multiple industries, and they're looking for remote talent like you! All you need to do is make sure your VA resume is updated and follow the 20four7VA Career Center to be the first to know about VA openings.
AVOIDING SCAMS
20four7VA is a renowned virtual staffing agency recently included in the Inc. 5000 list. The company ensures that all VAs are vetted thoroughly and clients are billed weekly. As a 20four7VA virtual assistant, you won't need to worry about computing for total logged hours and billing clients. Our payroll processing team will do that for you every week.
LEARNING NEW SKILLS OR UPGRADING CURRENT ONES
Working with world-class clients and supportive 20four7VA staff can help you learn new, valuable skills on the job. On top of that, 20four7VA has an in-house training team that helps equip VAs with the skills they need to perform well in their current job and future roles.
IN SUMMARY
You don't necessarily need virtual assistant certification to excel in your VA career. Instead, you should pick a niche to focus on, take the right virtual assistant course (or courses), and find a supportive and experienced virtual staffing company to help you.
Ready to start your VA career? Head to our Become a VA page or visit our job board to know more!