Your path to Amazon success starts with hiring a dedicated Amazon seller VA.
20Four7VA's Amazon virtual assistants come with an array of skills and underwent intensive trainings. This means that we got your needs covered in these following tasks:
Daily Seller Central Account Duties help you exceed Amazon standards through the management of core Seller Central Account metrics. Our experienced Amazon seller VA knows how to handle day-to-day Seller Central tasks.
Customer Service Duties performed by an Amazon seller VA include answering questions of your Amazon customers, solving service issues and up selling products.
Social Media Management Duties will get social media working for your Amazon business. An Amazon seller VA will drive traffic, leads and sales to your Amazon business from popular social networks.
Promotional Campaign Duties performed by an Amazon Seller VA includes setting up and managing multiple Amazon campaigns. This is a key part of Amazon success.
Web research performed by a virtual assistant will give your vital insights into products trends, products your Amazon competitors are selling and ways you can improve your Amazon strategy.
Other general duties that an Amazon Seller VA can do for you include email management, inventory management, SEO and product listing.
We understand that Amazon is a progressive platform. This is why we make sure that all our Amazon seller VA's are in the loop of the latest from updates on Amazon. That is on top of the initial Seller Central training they get upon joining 20Four7VA.
Also, we understand that each brand has unique needs. This is why we can work out unique training modules for your VAs. This way, you don't have to do the training yourself.
Give your business that competitive edge in the Amazon marketplace with the help of an Amazon Seller VA. Book a free consultation call with us today!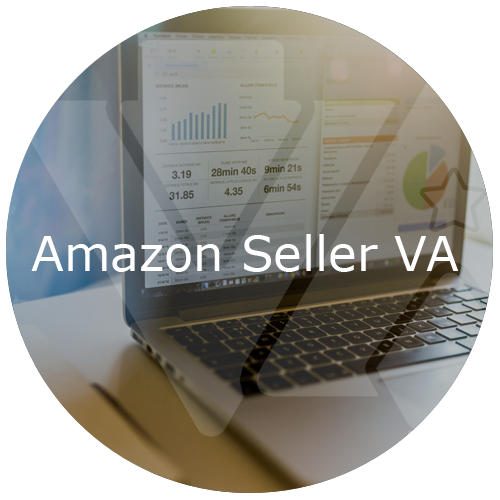 Our Tier 2 Packages
AMAZON SELLER VA
All Tier 1 Skills +
Advanced Customer Service Duties
Daily Amazon Seller Center Duties
Promotional Campaign Management
Sponsored Ad Campaign Management
Basic Social Media Management
Web Research and Comparative Analysis
Process Documentation
Liaison Duties for Client
$77 / week
Part-Time
(10hrs / week)
$126 / week
Part-Time
(20hrs / week)
$210 / week
Full-Time
(40hrs / week)
$99 setup fee following the 2-week provisional period applies.
What Our Clients Say
Catherine and Michelle are great to work with. Always responsive to our needs and concerns. They have provided us with exceptional VAs to work with. We cannot complain.

Purple Clay Brands

Easy to work with, simple, pleasant service & communication. Happy to recommend to others.

EZ-Bugz

We are very impressed with 20FOUR7VA and we are pleased with the VAs that are working with us. We do feel your process is a good one to keep tabs on our workers.

Rosemarie Collections

20FOUR7VA takes the hassle out of hiring and looking after VA's. They care about how well your team is performing and check in regularly. You know they have vetted people to be able to offer quality staff. If there's ever an issue they move fast and do all they can to make it right. I highly recommend them for any business looking to venture into the VA world. It just makes sense.

Amazonian Trading Company Limited

2016
Working with 20FOUR7VA has been a real pleasure. The hiring experience went extremely smooth, both Michelle and Catherine were really helpful in helping us to first interview a number of VA's and then in the testing and choosing process as well. We ended up finding a fantastic VA who is indispensable to our business. 20FOUR7VA are always providing new training to the VA's and they can also request new trainings if they would like. I would highly recommend 20FOUR7VA and will certainly use them again in the future if we need another VA!

2015
20four7 is a fantastic company if you're searching for VA's. Great communication and exceeding ethics, it's a pleasure to work with them.

Little Wing Innovations

Very happy with the management of our VA. As we had never had a VA before 20FOUR7VA were very helpful in helping us.

Incite Nutrition

The addition of our virtual assistant has been one of the most positive moves that we have made for our business this year. It has made all of the difference in our daily work life that this virtual assistant can take over many routine but very time consuming tasks. We need to learn to better utilize virtual assistants in our business. I complement 20four7VA for their skill in matching the needs of the client with the skill set of the virtual assistant.

Best Self, M.D.

2016
My experience with 20Four7VA has been very positive. 20Four7VA have provided me with all the help I need to grow my business. They are professional and very helpful, they ask all the right questions and have found me the very best assistants who have exceeded all of my expectations on every level. I recommend 20Four7VA highly!

2015
Finding 20FOUR7VA and my virtual assistant has allowed me to grow my business in lots of new ways. I recommend 20four7VA highly.

Live Blood Online

20FOUR7VA has been wonderful working with me to find the correct staff that fits my needs and fits with my team. They consistently go above and beyond to make sure my staff has the training it needs.

Solutions 4 Ecommerce

My VA is very professionally trained. She is on time and take care of lots of my business. Very smart and follow up very quickly. Thank you for your service!

Lat Long Trade LLC

Overall Impression of 20FOUR7VA is excellent! A wonderful company that actively pursues customer satisfaction. The staff are easily accessible through Skype or email and responds quickly to questions or concerns which makes them easy to work with. They also care about the people who are working through their company too, which is important to me. Well done guys, thank you for all that you do every day for my brand and for the people you provide jobs for.

COO, FMS International

2016
I have been a client of 20Four7VA for nearly 2 years, and the experience has been very positive. They provide well-trained, respectful, and highly professional Virtual Assistants who can hit the ground running with a minimum of supervision or direction from the client. I appreciate the careful way they monitor the performance of their people, and how responsive they are to the needs of their clients.

2015
I have found the 20FOUR7VA services to be comprehensive and professional. Their people are well-trained and eager to bring excellence to whatever project they are involved in. I recommend 20FOUR7VA Services.

Bella Home International

The 20FOUR7VA agency allowed my business to find the right VA without spending hours on the hiring and basic training process. By being specific with the agency about what I was looking for in a VA, they narrowed their search focus and were able to find someone who matched the qualifications I needed. It was a great process!

Lifestyle Properties LLC

The service that your VA's provide meets the highest standards and we plan to keep doing business with 20FOUR7VA for the long term.

Moma Group Limited

Loved it - really simplified a potentially tough process and provided a great resource.

Redstone Kitchenware

2017 Hiring Experience was excellent. Very easy and quick turn around to get someone working on your team. Monitoring program made us feel like we had someone making sure the needs of our business were being met. Staff Experience - very hands on staff at 20Four7VA so we felt like we always had support. Great company to get VA services from. We HIGHLY recommend 20Four7VA 2016 Hiring Experience: Good! Monitoring Program: Good! Training Program: Good! Staff Experience: Good! Everything is great. I was just a little frustrated with the payment mix up.

The B.I.G. Company

Overall, 20four7VA has done an outstanding job helping me staff key roles in my business. The hiring process was managed quickly and proactively, with several qualified candidates presented for evaluation. When we've had any issues, the team has been quick to respond with coaching, or transition to a new VA more suited to the task. The quality of work, communication, and value have resulted in a very positive experience in hiring and working with my first VAs. Thank you!

RNI Enterprises

My overall experience with 20four7VA has been very good. I trust they monitor all aspects of VA's and their work load. I have referred them to those seeking a VA.

Direction With Purpose

I have been extremely pleased with 20four7VA. This is my first time utilizing VA services, so I didn't know what to expect. 20four7VA has made a turnkey service that takes all of the guesswork out of the process. Because 20four7VA provides VA's that are already trained on the required services, there was no upfront investment in time or resources to train my VA. She was ready to go on Day 1 and has performed above my expectations ever since. I would highly recommend 20four7VA's services to other business owners in need of assistance with their day to day business operations. Thank you!

Chipper Moose

Your team provides a great service and makes it easy to outsource. There are others who place the burden on the hiring company but 20FOUR7VA takes the risk of wasted time and money out of the process. WE have recommended you many times.

Dog is Good, LLC

20Four7VA helped me to find a good hardworking VA who has worked with me now for just under two years. Although a second hiring was not as successful, I am very satisfied with the one that did. I have found 20Four7VA staff very helpful when I have had any cause to contact them, and this has been few showing the smoothness of the process for me and my VA.

Bethel Enterprises

I am very happy with Jahm, She is always communicating, always on time, punctual and always asks questions when she needs help. I can only think of one occasion when she misunderstood a customer.

Vital Journey Ltd
Schedule your FREE Consultation Call Today